Four ways taking a co-op program can get you the job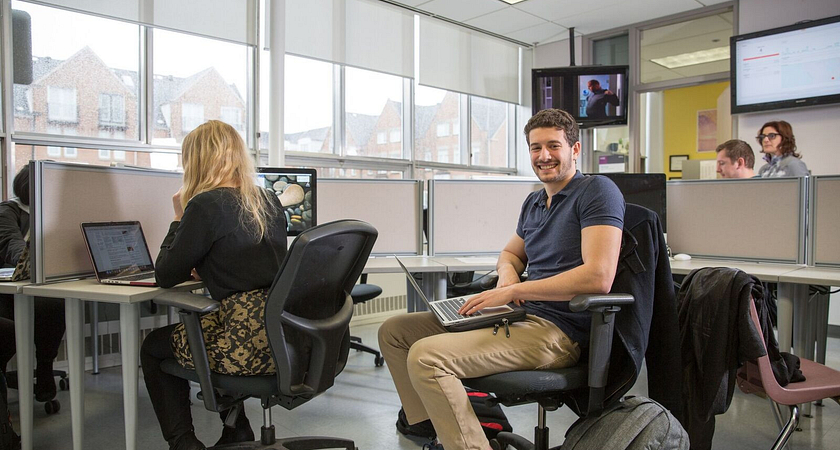 Centennial College's programs have always been about to get you a real career once classes are done. One way we do this is by teaching hands-on skills, instead of only theory. Another way we do it is by connecting our students directly to employers. Those two methods combine in our co-op programs, which give you real-life work experience while you're still a student, and more importantly, give you a way to get your career going. When you take a program that has a co-op component, the program will come with full-time work for a total of one year, while you work in a position related to what you're studying for a career. Here's more about how a co-op position will get you hired:
1. It's the best way to learn a skill
The absolute best way to learn will always be by doing, and co-op is as hands-on as it gets: You're doing your job before you do your job. Basically, it's a trial run of your job in a safe environment where you can make mistakes. On top of that, you can even get paid. Every bit helps when you're in school!
2. It helps solve the "years of experience" problem
You know how, when you're looking at a job application, it will ask for something like "three years of experience?" (By the way, I've been told that's just wishful thinking on the part of the employer and that you should apply anyway.) If you're just starting out, and don't have those years of experience, it can feel like an obstacle. Well, when you've been on the job during a co-op, you can count it as experience, since you're doing your job, and can add it to your resume as appropriate time served.
3. The networking begins here
During co-op, you'll be embedded in the industry you wanted to enter, getting to know people in the field. The contacts you make will be valuable as you break into the industry, and will help bolster your professional network. When jobs are coming down the pipeline, your network will be the first to tell you. You've already gotten ahead of the crowd.
4. It can give you a direct path into a job
You still need to apply and interview for a co-op position as if it were a job, with a professional resume and everything, which actually works to your advantage. From a company's perspective, if they've spent that much time training you, why not just hire you for real? It's not a guarantee, but plenty of companies will outright hire you when your co-op is finished, treating your time doing a co-op as a combination of training, rehearsal and tryout for the role you were performing.
By Anthony Geremia