All of the important questions to ask at a College Open House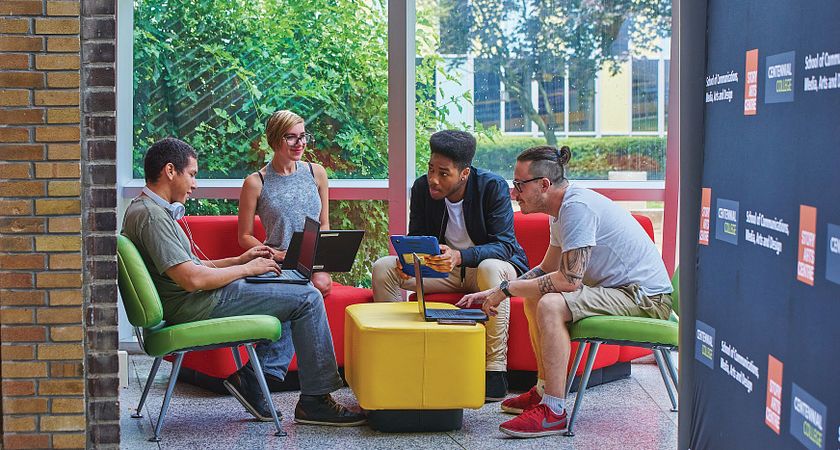 It's important to do the research when you're picking which college to attend, and that means more than just the details of the program you're interested in. You need to know what the campus is like, and the best way to do that is by attending an open house. Centennial College's open house is Sunday, December 3, at our Progress Campus. If you're planning to attend it, here's what you should be asking when you get there or making it your mission to find out.
Find a tour guide, and ask them:
What services do you have on campus?
This includes the gym (for exercise) and the library (for more than just books, namely multimedia and study services). You could even find out about more unusual services like legal advice and clothing stores (both things Centennial offers). Services like this often go unused, so the open house is a good time to find out about them.
If I'm having trouble in school, what will the college do to help?
You want to know about academic services and academic and personal counselling. If it's also a concern of yours, you can find out about disability services.
Where can I go to study?
Asking this makes sure the campus has good, quiet work areas where you can get things done once the program picks up.
Do most students live here, or commute? How do the students that commute get here?
What you get out of this depends on whether or not you want to live on or off campus. If you're interested in living here, you'll want to ask more about how residence works, and if there's student housing nearby. If you're commuting, you'll want to figure out if it's a better idea to drive or take public transit.
Find a representative of the program you want to take, and ask them:
Who's teaching the program I'm interested in? How available are you to speak outside of class?
A good college program will be taught by industry experts, so you want to find out who's going to be giving out knowledge in the program you want to take. You also want to find out how easy it'll be to talk to them, both in case you have problems in your classes and for networking and career reasons.
Does the program have internships and placements?
They're the best way to get practical experience, and an excellent connection to a career, so your program having them is a plus.
What's the usual size of classes?
Smaller is usually better since it means you'll receive more personalized instruction, and get to know your classmates (and instructor) better, as you move out into the workforce and make them the start of your professional network.
What's the most difficult thing in the program?
It's good to be prepared, after all.
Lastly, find a student, and ask them:
Why did you pick this school?
You'll find out what they considered to be the best things about the school and their program.
What do you do for fun around campus? Where do you go for lunch? What's the neighbourhood like?
After all, you'll be spending time in the area. You have to make sure you'll like that time and have plenty to do.
What was your first year like? What do you know now that you wish you knew when you started?
Once again, it's good to be prepared. A student can tell you what made their program challenging, and you can prepare for those same challenges.
Finally, ask yourself:
Do I like the location? Does it feel like home? Can I spend a few years here?
That's the real, important question, one that it's hard to answer with facts and research, and that comes down to how you feel about the space and the people in it.
Anthony Geremia