How to get a career in Networking Technology: Prepare for certification with Centennial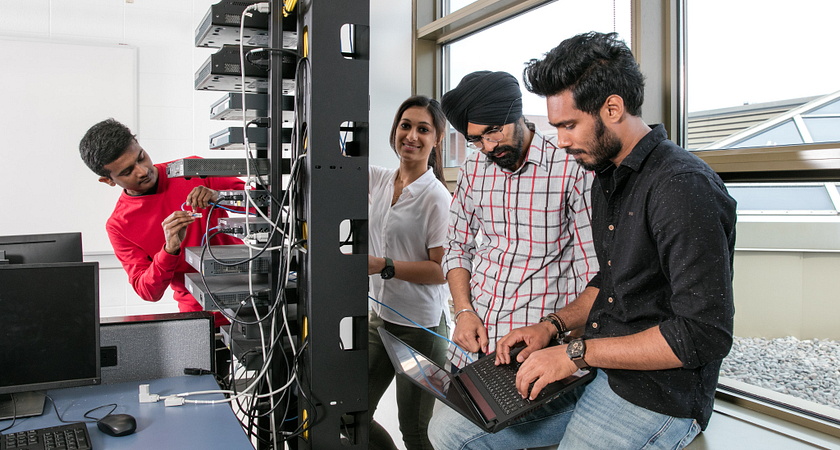 What do you do when your network or internet goes down? In a business setting, everything can grind to a halt without a computer network and internet access, which is why maintaining it is important. If you work in networking, that's your job, and if that's your job, you're probably working on systems created by Cisco, a company that specializes in networking products that make business IT solutions and the internet run.
If you're a current networking student, or someone looking to update your credentials, Centennial College offers the CCNA Bootcamp to help you acquire skills in Cisco IT Networking. It consists of an intensive, 12-week hands-on course, giving you the skills, knowledge and practical experience to prepare you to take a CCNA Routing & Switching (R&S) Certification test, making you stand out in the job market. Here's more about why you want in:
You can work at almost any company
"There are companies right around our campus area that use computer networks," says Greg Sanche, the Part-Time Learning Program Supervisor. But it's more than that. Every business today needs the internet and its own internal network to run, so by becoming a networking professional, you'll have a skill every company needs.
"All companies have a network of some sort," Greg says. "When we think of Tim Hortons, we think of it as a fast food chain, trust me, they have a network, and it's a very large, complicated network. Every business has networks, or IT infrastructure. There are no boundaries with respect to the potential companies that could offer you a job."
It'll make you stand out
In the crowded job market, having certification that places you above the crowd is always an advantage, and the CCNA certification will help you in your technical career, by showing that you know about the top manufacturer of networking equipment.
"In the networking industry, Cisco is a very well-known industry leader of networking equipment," Greg says. "For students to get a CCNA certification, it's a very powerful thing to add to their resume. It shows that they have the confidence and the industry knowledge that Cisco has deemed as important."
You'll work on real Cisco equipment
"The kind of work we teach is very technical, and requires hands-on experience with the equipment," Greg says. "There's a hands-on component in designing, troubleshooting and building networks, where they will be working with actual Cisco equipment; routers and switches, computers and other IT hardware and software. They'll be programming them so they can build networks within the classroom, test them and troubleshoot them." Students also have access to special software, called the Cisco Packet Tracer.
"It's a simulation networking tool which helps the student build and configure a network," Greg says. "Then they can take that knowledge and put it into practice when they get back into class."
You can use it to refresh your knowledge
While you might be a student in one of our college networking programs looking for further education, or someone in the workforce looking to advance your career, this bootcamp is also good if you are already Cisco-certified, but need to get it renewed.
"Every three years, your certification needs to be refreshed," Greg says, "so you may need to do a prep before you rewrite the exam and recertify yourself."
It fits into your busy life schedule
The bootcamp is a compressed learning experience, taking place over 12 weeks. It was designed this way because of specific demand, Greg explains. "They need to get this certification sooner rather than later." Classes are offered on the weekends, so if you're working full-time, you don't have to drop your job to take part, and you can advance your career more quickly.
Anthony Geremia