Four ways to keep you (and your stuff) safe on campus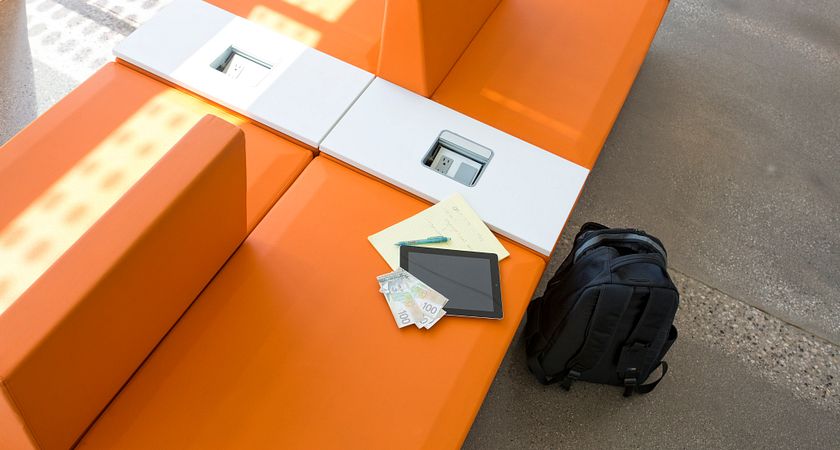 With all that goes on in the world, should be thought of as a safe refuge, where you can study and grow in peace. At Centennial College, we have plenty of resources to keep students feeling secure. Combine that with some general awareness on your part, and you'll be able to stop worrying and get on with your school life. Here's what you need to be familiar with, and a few easy steps you can do to make sure you (and your stuff) stays safe.
1. Download Centennial's Campus Safety App, and stay connected to security
Available as a free download on Google Play, the App store, and BlackBerry World, the Campus Safety App can instantly connect you to any resources you need. With only a few taps, you can place a call, send an email, or even send a photograph, or be instantly connected to the Counselling Centre, the Centre for Students with Disabilities, the Student Relations office, and emergency crisis numbers from outside the school.
The app can also give you valuable information about safety on campus, safety online, personal safety information, public transit and other tips. In addition, the app has the ability to turn your phone into a flashlight, and contains a personal safety alarm to blare noise when it's needed. Did we mention it's free? If you're a student here, there's no reason not to grab it.
2. Keep your stuff safe by keeping it on you, locked up, or at home
Most thefts are just crimes of opportunity, and aside from simply being aware, there are a few other things you can do to keep your laptop, phone, and wallet safe. Don't ask other people to "watch your stuff" while you leave for a few moments. In fact, if you have to slip away for a moment, just take your things with you. Losing a laptop, or a wallet, or phone isn't worth the time you'd save from not packing them up.
An easy way to protect your laptop and phone is to mark them up with stickers, or engraving, or anything else that'll make them unique. It makes them less likely to be stolen. Another way is to just leave them at home, or in your dorm, or in a locker. If you don't need them, keep them somewhere safe. Speaking of somewhere safe, it's a good investment to rent a locker to keep your valuables in when you're at school, and buy a safe to keep your valuables in if you're on residence.
3. Pay attention to your cash
There's a good chance that college is your first time managing your own money. Keep tabs on it, and that doesn't just mean making sure you don't leave spare bills lying around. With identity theft on the rise, it's important to check your bank account regularly. If you notice transactions you didn't do, then you may have been subject to identity theft, and the worst thing you can do is let it sit, when you should really contact your bank immediately. As for how to make sure identity theft doesn't happen, see this list of cyber-security tips.
4. Don't be afraid to use our resources
Campus Security is here to help, and have more to offer than just their (very useful) app. First of all, they're easy to contact outside of the app. On your phone, you can call 416-289-5000, ext. 5240 for general inquiries. If it's an emergency, call 416-439-4357 (HELP), which is a free call from both your cell or a payphone. You can also dial 2020 on any internal college phone. At the same time, we have yellow emergency phones located around campus, which directly link to Security, without the need to even remember a number. If you've spent any time around one of Centennial College's campuses at night, you've probably noticed those glowing blue poles in the parking lot. That's how the college marks those phones
Concerned about leaving campus late at night? Our Walk Safe programs can get someone from Security to travel with you. The service is available for free 24/7 and can be instantly accessed by going to each campus's Security office, or calling that helpline.
by Anthony Geremia