The faces of technology: Engineering and Technology students at Centennial College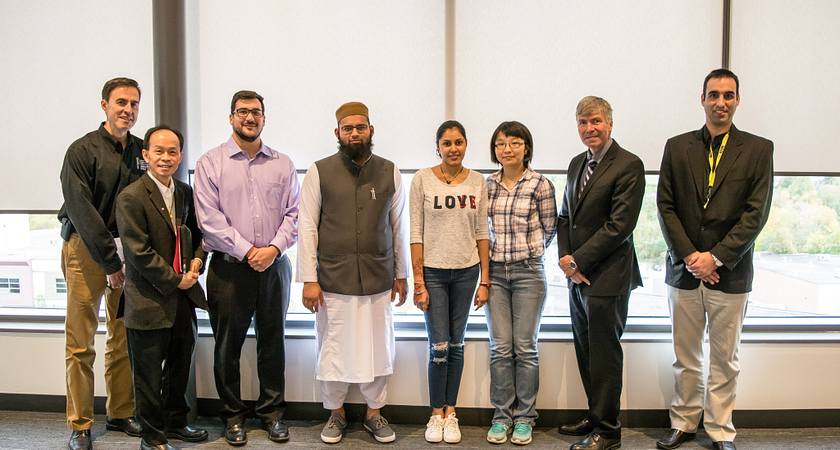 At Centennial College, every student is different. Where they come from, why they're here, and what they're going to do changes, but their desire to learn stays the same. In the School of Engineering Technology and Applied Science, we get to see the variety of students that enter our programs when we hold our "Register Early for a Chance to Win" contest. The rules are simple: When students register their courses early, cut ahead of the lines and select a timetable that better fits their schedule, they're entered for a chance to win. This semester, almost 6,000 students were entered simply by applying early, and three won. Their myCards were loaded up with 300 dollars each, to help them start their new semester off right. So, who are these students? Have a look, and maybe you'll see a bit of yourself in them. When Winter 2018 comes around, keep an eye out, and you can be a winner, too.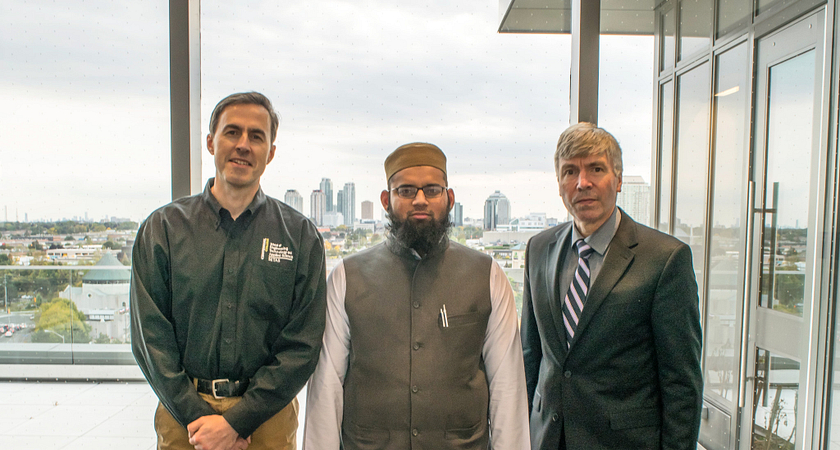 Waqar Ahmed, seen here with Dean Patrick Kelly and Predrag Pesikan, Chair of Information and Communication Engineering Technology (ICET)
His Program: Computer Systems Technology and Networking. Waqar is currently beginning his third semester of this co-op program.
Why he got into the field: "I came from Pakistan, and from the beginning, from my schooling, I had an interest in the IT field."
What he wants to do with his education: "I'm planning to find a career not to just get a job, but to invent something new in this field, to research or to do something new in the data communications field."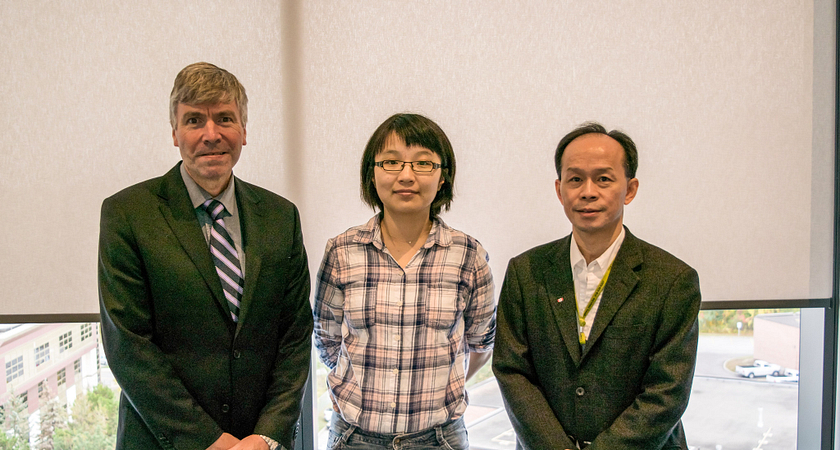 Yi (Zoey) Yang, seen here with Dean Patrick Kelly and Donald Wang, Chair, Advanced Manufacturing and Automation Technology (AMAT)
Her program: Mechanical Engineering Technician. Zoey is also in her third semester.
Why she got into the field: "It's a male-dominated field, but I get a sense that in general engineering, as long as you have work experience and knowledge, you can progress through the field. The career path and progression for me is, I feel, really straightforward, so I felt getting a diploma from this program was the first stepping stone."
What she wants to do with her education: "I'll get experience in the field, and once my portfolio is nice, I'll apply for professional engineering certificates."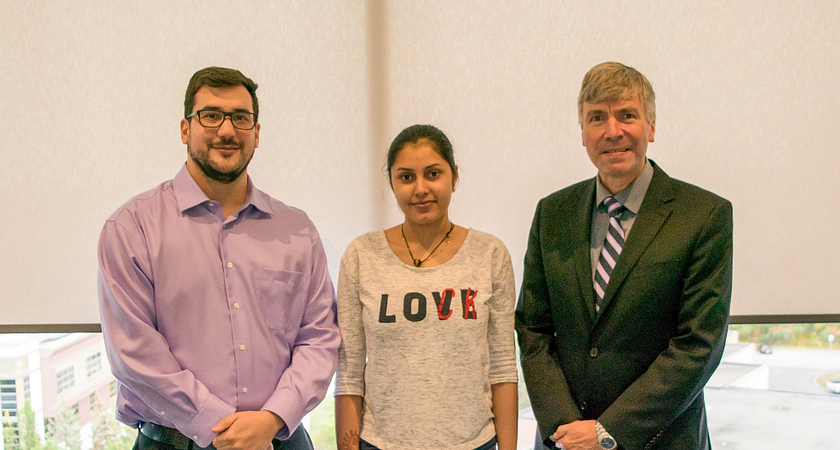 Ramandeep Sharma, seen here with Dean Patrick Kelly and Steve Boloudakis Chair of Applied Biological and Environmental Sciences (ABES)
Her program: Advanced Biotechnology. Ramandeep is in her second semester of this post-graduate diploma program.
Why she got into the field: "I love research and doing work in labs, so when I graduated back home, there was a professor, my professor of biochemistry, who studied in Canada. I was inspired by him, so I decided to come to Canada to do my postgrad."
What she wants to do with her education: "After I get a Master's degree, I may become a professor, or do more research. Either way, it'll be easy with my diploma."
By Anthony Geremia