15 Questions to ask at a College Fair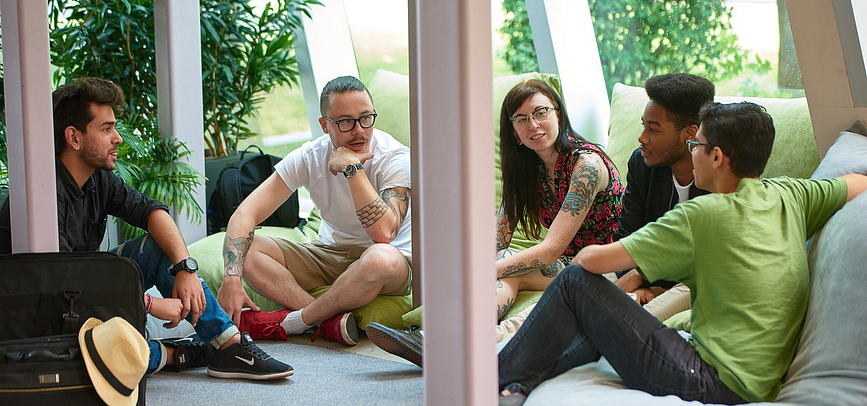 If you're figuring out your post-secondary education, and want to see the colleges you're thinking about attending, then a college fair is the perfect way to make it happen. It's set up like a convention, where each attending school shows off what they have to offer, and lets you meet with reps from the school. The 2017 Ontario College Information Fair (OCIF) will be happening on the weekend of October 24th, and Centennial College will be there. If you're planning on attending, here's how to make the most of it by asking the right questions to find out what you need to know, based on info sourced from Huffington Post, Career Vision, School Guides, and my own experience. 
Before you go
Figure out what colleges are going to be there, and figure out which ones you're going to visit. Bring something to write with, a list of colleges you want to visit, and a folder to collect materials. If possible, list the questions you're going to ask. Do some research on each school before you go! You want to avoid asking questions where the answers are easily found on the website, or questions with a simple yes/no/great answers.
Example questions:
What makes your school unique?
What does this college have that others don't? What are its best features compared to other schools?
What programs are your school known for?
What are the biggest, most well-known majors? If you know what you want to take, that'll help you find the best school to take it at.
Are any of your programs supported by official organizations?
Every program is improved when it's linked to a professional organization, such as the Human Resources Professionals Association. It means the curriculum will teach you the real skills you need to succeed in the career, and you'll have a direct connection to the job once you graduate.
Does your school/this program have any special admission requirements?
Generally, you'll want to know what grade averages and other special requirements are needed to get into the college, as well as their admission deadlines and fees. If you have a specific program you've got your eye on, you can also ask them about the special requirements for it.
What is the average annual tuition?
While it varies based on the program, you can still get a general idea of the cost. Even better, if you have a specific program in mind, you can ask about that.
What kind of financial aid does this college offer?
What kinds of scholarships and bursaries does the school have, and how many students use them?
What's your average class size?
In this case, the smaller the better, since it'll allow more one-on-one instruction.
What sort of support services does your school offer?
For example, if you have a learning issue, you'll want to know about the college's learning services. You'll also want to know if the college has counselling, student advisors, and career and placement services. Finally, if you have a disability, you'll want to know about the school's accessibility services.
What special learning opportunities do you offer?
This includes studying abroad, joint programs with universities, and internship opportunities.
What kind of living accommodations are there? Does the college have a residence?
What does it offer, and how do you get into it?
What kind of transportation or parking does your school have?
Getting to school can be a big deal that affects your time, money and energy. Can public transportation get there easily? Does the school offer any discounts? And if you drive, what's the parking situation like?
Am I a good fit?
You may be wondering whether or not you'd be a good fit. Different kinds of students include: Residents, commuters, undergraduates and graduate students. Maybe you want to attend an intimate campus rather than a crowded one.
What do students do outside of class?
On one hand, you want to know about extracurricular activities like student clubs and athletics. You also want to know how you can have fun on campus.
What's the town around the college like?
Is it urban, or suburban? How big is the campus? Most importantly, what local attractions is the college close to?
What do students like most about your school?
It'll help you figure out if the school has what you're looking for.
Anthony Geremia