Seven Reasons International Students Need to Take the OSLT Program at Centennial College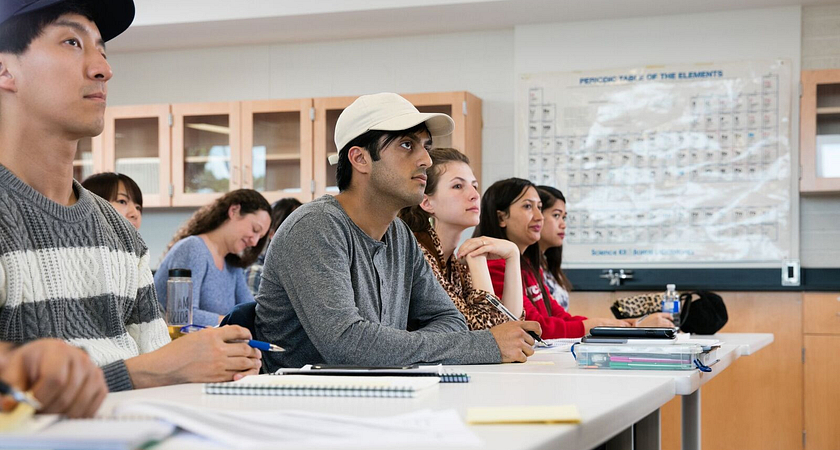 If you're a professional who has come to Canada and wish to advance your career, you need to adapt to more than just the language. To succeed in the Canadian workforce, you need to learn about Canadian working culture. Occupation-specific Language Training (OSLT) is a solution offered at Centennial College, courtesy of the Ontario Government, through Immigration, Refugees and Citizenship Canada (IRCC). The college's OSLT program contains four courses designed to help internationally-trained professionals improve their workplace communication skills, all based around cultural communication. If you have international education and experience, but speak English as an additional language, this program will teach you the cultural communication of the Canadian working world through 180 hours of instruction, two nights a week. Pamela Humpage is the coordinator of Centennial's OSLT programs, and she explains why an international professional coming to Canada needs to take this program.
1. The program is based on what students and employers actually need to succeed
OSLT's curriculum was created by talking to students and employers, and asking them what some of the challenges were that international students face when entering the job market.
"There were problems for newcomers when they started to work in terms of their ability to keep a job, because they didn't have 'soft skills,'" Pamela explains. "They didn't know how to behave, or how to address their supervisors and coworkers."
"A big part of it is just not knowing what their employer expects in terms of authority, punctuality, and topics like that," Pamela says. "There's also issues with language, knowing the polite way of saying something versus a way that will get the message across but won't get the best reaction from a customer or patient."
2. It's a program for experienced learners
The OSLT programs are not for students new to the field. Instead, they're for experienced professionals to learn how to bring their skills to a new country.
"Students have to be at a high-intermediate skill level in order to begin the program," Pamela says, "and they also have professional background in their previous country, through education or work experience."
3. You get to experience Canadian culture, and the culture of students from around the world
 "You might have students from up to eight different countries in a class," Pamela says. "We tell our students that they should see themselves as global citizens, because a lot of them have had experience in more than two countries, and the way of the future is towards globalization."
"I think the most important thing is that they learn about Canadian culture and communication," Pamela says, "but also, they can learn from each other, about communication in India, or in China, so they're better equipped to learn in a global environment."
4. You'll learn how to network your way into a job
"There's a general curriculum, and then there's a specific focus depending on which career we're talking about," Pamela says. "In the general, students begin by learning to introduce themselves in a professional way and by networking. They also learn how to present themselves, which is a really important skill."
5. You gain practical experience
"During OSLT's courses, we do things like mock meetings, or mock job interviews so that students have to answer what we call situational job interview questions," Pamela explains. "They do presentations that are based on their professions, so if I have a student that's interested in starting their own business, they will present some aspect of that business. It's very relevant to what their future goals are."
6. You're taught with a special combination of online and in-person learning
"One thing that makes us special is that we have what we call a 'blended course,'" Pamela says, "which means the students are doing both online and face-to-face classes. For example, in that first unit, when students are learning how to introduce themselves professionally, they're also checking for jobs on government websites to learn the requirements for those jobs, the income they can expect to make, and who's hiring."
"Because it's blended, they can complete the course faster," Pamela says. "We used to run from September to March, but now we run September to December, so it's cut the course length considerably, while letting students get better technical skills."
Thanks to the online part of the program, Pamela can also listen to voice recordings of her students and evaluate them online, too.
"Normally, in a class of 15, I would never get a chance to listen to someone for that length of time," she says.
7. You'll gain confidence and support
"It instills a lot of confidence in students," Pamela says. "I had a student who said, I felt really important in your class. One of the reasons for that is that it's an activity-based atmosphere. They're doing things, and not just sitting passively. The classroom provides a safe place in which to practice their English, and many participants bring in questions they have about interactions at work or elsewhere." "The students support each other, that's an important thing," she adds. "Whenever anybody has a job interview or gets a job in the class, they're really supportive of each other, and they're actually a good network for each other. It's a support group, really. They share information, and they help each other."
By Anthony Geremia