Seven tips for starting out at your college gym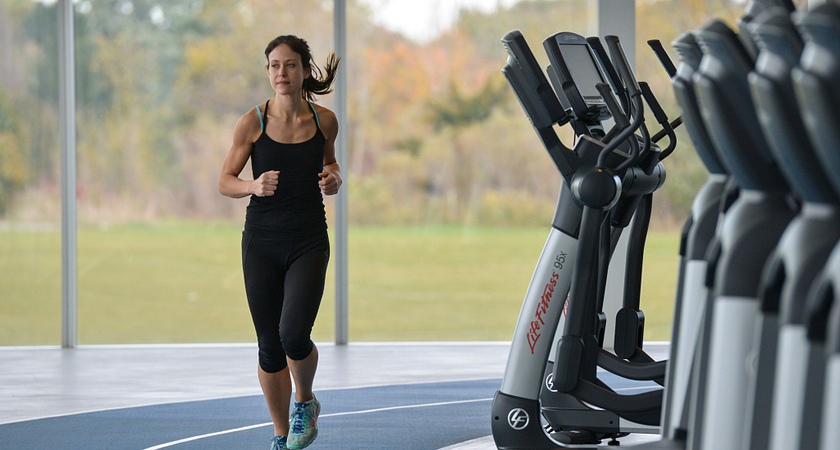 At Centennial College, we provide the means to keep you healthy and happy, and this includes our dedicated athletic facilities, which as a student, you have free access to, so long as you have a myCard. Our main Athletic and Wellness Centre is located on Progress Campus, and it's the largest facility. There are also facilities at Morningside, Ashtonbee, and the Story Arts Centre. If it's your first gym membership, it can be a little intimidating. As a student, it's a great way to keep healthy, and a healthy body means a sharp mind. If you're a newbie, here are a few tips to get you started.
Bring a lock
You'll want to store your things in a locker while you exercise. There's plenty of free ones in the change rooms for your use, but you'll need to provide your own lock, which you also need to remove at the end of each workout.
Bring music
Personally, I can't exercise without music in my ears. A good playlist of music will put you in the mood to move and sweat, and if things are tough, can distract you from it. Get your music player, some headphones, and a good playlist, and go.
It's fine if all you want to do is come in and run for a bit
In fact, it's the best place to listen to that music. We have plenty of high-tech treadmills and bikes in our facilities, and more importantly, running or riding is an exercise anyone can do, without practice. Any physical activity is good for you, so if you don't know where to start, start with running.
Bring some running shoes and pants. We provide the towels, though
You can't go to the gym in street shoes. If you're hitting the gym, you'll need a pair of runners to be your gym shoes. The good news is that there's nothing wrong with using old shoes, though. You'll also want some track pants to sweat in. Jeans or even shorts won't do. Track pants are easier to move around and sweat into and are a must if you want to work out properly. Don't forget to wash them regularly!
There's (mostly) not a wrong way to gym
As long as you're using the exercise equipment correctly, whatever you do at the gym is fine, since any exercise is good. Whatever routine you want, for however long you want, at whatever weight you want, it's fine. And don't worry, you're not being judged, unless you don't put your weights back when you're done. The AWC has specific rules about respect, and there is always staff nearby to make sure those rules are followed.
Make sure you have an idea of what you're doing
Like I said, you'll want to make sure that you're using all of the exercise equipment correctly, since you can seriously injure yourself if you don't, both in the short term (causing accidents while working out) and long-term (injuring your muscles). So, do a little bit of research before you start lifting those weights. YouTube is your friend in this case. We can be your friend, too…
Splurge on a tiny bit of training.
It costs money, but remember, your membership is free, and it might be worth it to invest a bit of money to start off on the right foot with some personal training. One of the AWC trainers will not only show you how to use the machines, but do a full rundown of your physical health, design a workout routine based on your wants, and show you how to do it. I did that when I started at the gym, so I was able to learn how to exercise right and keep myself healthy and happy.
By Anthony Geremia