6 Tasty Jobs you can get in Food Media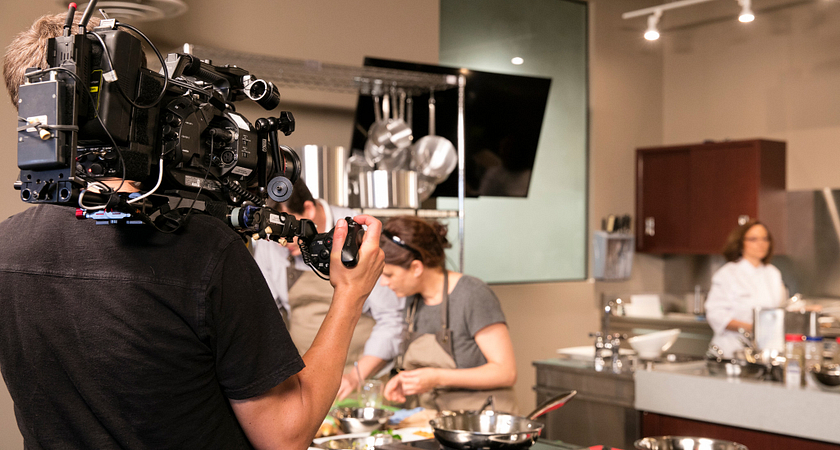 There's nothing like sharing a good meal. If you're a foodie or a chef, and you want to share food with the world, then a career in food media might be your culinary calling. Centennial College's Food Media program will teach you about using the written and broadcast mediums to bring the culinary arts to a wider audience. You learn about photography, writing, editing, production and social media as you gain practical experience in the art of making dishes as appealing to the other senses as they taste. This graduate certificate program was made for students who've already gotten some food or media education and want to combine the two to access this unique career field.
There's a whole selection of jobs out there for you in Food Media, and here are a few delicious examples, sourced from Media Bistro and Thrillist.
Food Stylist
Every time you see food in a magazine, on TV, or in an advertisement, it was probably put together by a food stylist. The top brands for food and restaurants need their products to look good for the photo or video shoot, and that's where you come in. As a food stylist, you need to make that food look good. We've heard stories of fake food, like mashed potatoes in place of ice cream, or gelatin in place of juice, but that's less true nowadays. You may find yourself spritzing and plumping food, though, as we previously revealed in an expose.
Food Photography
Aside from the styling of the food, the photography of the food itself is a career. If you Instagram your favourite meals, this could be a career for you. Be it through social media or advertising, every food company wants their work photographed or recorded. As a food photographer, your work could go on a billboard or a menu, and your video work could go on TV or the web.
Food Blogger
If you're a writer, taking your talent online is a good starting career that can lead to further authoring and writing. As a food blogger, you can be a critic, or you can be letting people know about exotic dishes and obscure places to eat. If you can find a unique niche that no one else has written about, so much the better. If it becomes popular, your own blog can be monetized ($), or you can join an already-successful multi-writer blog, like the Takeout. To make it happen, you need to know about food, have refined tastes and have the writing skills to back it up.
Copywriting
This goes hand in hand with blogging, but employs that writing in other places. If you're good at writing persuasive copy, you can also write descriptions for food and food products. Supermarkets, food companies, retailers and manufacturers of food all need good copywriters to tell people about the potential tastiness of what they're selling.
Food Author
We've talked about blogging, but there's more you can do with your writing than just that. Recipes and cookbooks need to be written, too. As the author of a cookbook, you can act as a translator between a chef and the average home cook. Or, you could write your own book, and bring your own recipes to the world. As for other print work, you can also write or edit for a food magazine, travelling the world to research, photograph and interview culinary culture –a popular subject these days.
Food Television
The cooking show is one of the most well-known pieces of food media, and there's a lot of different ways you could become involved with it. Aside from being the talent, you could be a producer, writer, or even a cameraperson. There's a lot of work that goes into a TV show, or you could put a do-it-yourself show up on the internet. You could also be a food segment producer, which is a specialized version of a television segment producer, creating stories themed around presenting, cooking or eating food.
Anthony Geremia