How Centennial College connects you to a career in Food Science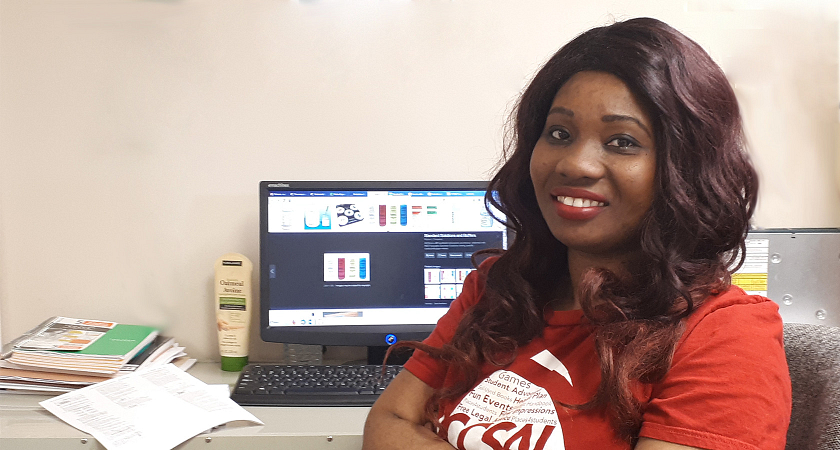 There's a lot that happens to your food in the journey from the field to your fork, and Food Science Technology is all about that process, blending together biology, chemistry and other kinds of science to make food healthy, tasty, and sustainable. If it's the kind of delicious science that interests you, you can make a career out of it with Centennial College's Food Science Technology programs.
Sashana Chattoo-Edwards came to Centennial College from Jamaica, already having earned a degree in food science, which allowed her to skip the first year of the program. Here's the most important part of her success: Our Food Science diploma program would give her the practical skills to get a job in the industry, as a Research and Development Food Scientist. Here's how Centennial's made it happen.
Getting a unique education
Sashana had actually wanted to drop even more courses outside of her first year, but found herself grateful that she didn't, thanks to the practical way they were taught in Centennial College's program.
"Even though I had already done them, they were taught to me differently here at Centennial," she says. "I was able to have a more personal interaction with these courses and with my professors, and I was able to relate more than before. My laboratory skills were sharpened; some of the things that I thought I learnt and knew, it was like I was learning them all over again with different techniques and different approaches."
"My program thoroughly and entirely prepared me for a smooth transition from college to work by providing me with the necessary skills needed to proceed and succeed," she continues. "This program taught me exceptional critical thinking skills. It taught me that the answers will not always be in front of my face and I must do extensive research to find the solutions. I learned how to solve complex problems and learned that high-quality results take hard work and dedication."
Prepared for a career
Speaking of job skills, the Food Science Technology program also prepared Sashana for her career through connecting her to the industry and preparing her to enter the job market.
"We even had resumé and cover letter workshops that prepared us for our job interviews," she says. "We had guest speakers from the food industry that presented to us thorough insights on the ins and outs of the industry, and we each got at least two industry tours where we got to visit different food companies. We were able to see the different manufacturing/processing and packaging steps, and also able to see some analytical techniques done in these companies."
"About six weeks before our program finished, Professor Parviz asked us if we think we were ready to work in the food industry and what areas we wanted to work in," she continues. "I was one of the first students to confidently respond by saying, yes, I was."
All of this training paid off for Sashana in the end, eventually earning her a career as a research and development food scientist.
"Before I was finished with my program at Centennial College, I got two job offers in my field," Sashana says. "At first, I had a tough time choosing which one was better for me. I ended up choosing a R and D scientist position. With the help of my professors, I was prepared, I was organized, I was knowledgeable, I was confident, and I was ready."
By Anthony Geremia