How to cook an award-winning dish from Centennial College's Culinary Arts program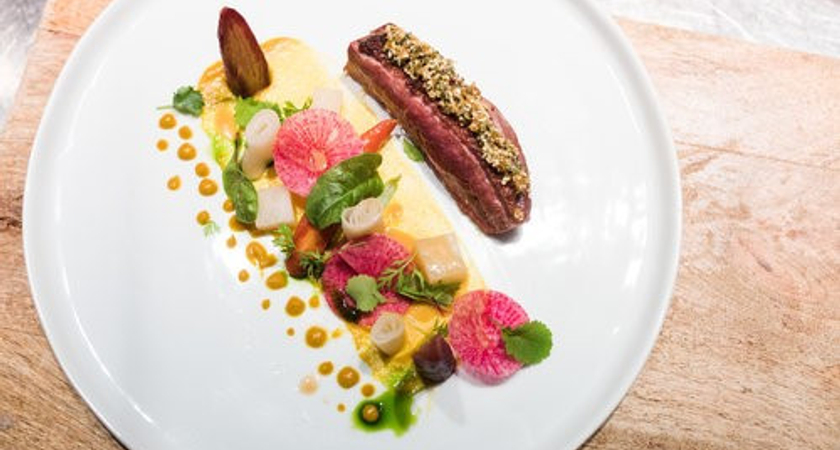 Photos courtesy of Michael Gozum, www.michaelgozum.com
Ever wished you had the skills to not just cook, but make the kinds of exquisite food you see on tv? Centennial's Culinary Arts programs can teach you how. Our new kitchen labs are the perfect place for you to learn cooking hands-on. We make complicated stuff like this easy, and our students have the skills to prove it.
Last winter, three students from our Culinary Management program took part in a competition against other Ontario and Manitoba schools at the Taste Canada Awards gala, and used their cooking skills to walk away with the gold. The awards celebrate literary food culture in Canada, and the contest was called Cook the Books. Samantha Laval, Alexandra Zykova and Danielle Daza took a recipe from the award-winning cookbook Araxi: Roots to Shoots, Farm-Fresh Recipes, prepared it for the judges, and proved themselves the best.
So, what did they make? Something called:
Seared Duck Breast with Fresh Horseradish and Sesame. And, if you're feeling brave, here's the recipe. And if it's too intimidating, well, it won't be after you take our Culinary Arts program, and learn to make dishes like this one. Our culinary students used the skills they learned to make this, and won first place thanks to their culinary skills and knowledge.
Seared Duck Breast with Fresh Horseradish and Sesame
Note: You need to start making the brine two days before serving it. Our culinary students were allowed to bring prepped ingredients, and so had prepared it in advance.
Duck Brine Ingredients:
2 tablespoons of granulated sugar
4 to 5 tablespoons of kosher salt
1 tablespoon of pink salt (also known as salt nitrate)
2 tablespoons of coriander seeds
1 tablespoon of fennel seeds
4 whole cloves
4 star anise pods
1 cinnamon stick
1 sprig of rosemary
1 sprig of thyme
To make the Brine:
Preheat an oven to 350 degrees Fahrenheit. Put the water, sugar and both kinds of salt into a small saucepan on low heat until the solid ingredients have just dissolved. Take them off the heat and set the pan aside.
Next, place the coriander seeds, peppercorns, fennel seeds, cloves, star anise, and cinnamon sticks on a baking tray, and toast them in the oven for about five or six minutes, or until you can smell the spices. Take them out and add them to the brine in the pan. Stir in the rosemary and thyme, cover it, and refrigerate it for at least 12 hours.
When it's done, strain the brine through a fine-mesh sieve into a container large enough to hold the duck breast in a single layer (i.e. you don't have to stack them). Toss out the solid parts of the brine.
Duck Breast ingredients:
The Duck Brine created from the above ingredients
6 duck breasts, each weighing 8 to 9 oz, each cleaned of sinew, with their skin lightly scored
3 cups of fresh baby spinach leaves
Sesame-soy Vinaigrette (recipe can be found here)
1 tablespoon of toasted sesame seeds
Finely-diced radish, as a garnish
Thinly-sliced daikon, or watermelon radish, for garnish.
To make the Duck Breasts:
Put the raw duck breasts in the container of brine, cover it, and refrigerate it for 12 to 18 hours.
Once again, preheat the oven to 350 degrees Fahrenheit. Then, heat up an ovenproof nonstick sauté pan on medium heat. Take the duck out of the brine, and use paper towels to pat them dry. Put them skin-side down in the pan (if you can't fit all six, put them in three at a time). After about 4 minutes, their juices should start to render (define), and their skins should shrink and turn golden. Once that's happened, turn them over, and cook them for about a minute on the other side.
If the pan you're using was big enough to hold all of the duck pieces at once, you can then put it in the oven for 8 to 10 minutes. If not, once they're all seared, transfer them into an ovenproof pan that's big enough first. You can check when it's done by sticking a sharp knife into the thickest duck breast, and checking that the tip of the knife is warm (or use a meat thermometer). The duck is best if it's medium-rare or medium.
When it's done, put it all on a plate, pour the cooling juices over it, cover it with aluminum foil, and let it rest in a warm place for 10 minutes.
How to serve it:
Put the spinach into a bowl, pour the vinaigrette over it, and toss it until the leaves are lightly coated. Put the spinach in a mound in the middle of a platter, and arrange the duck breast around it, drizzling them with more vinaigrette, and sprinkling it with sesame seeds. Finally, garnish it with the radish or daikon.
By Anthony Geremia