Just the facts about a modern career in journalism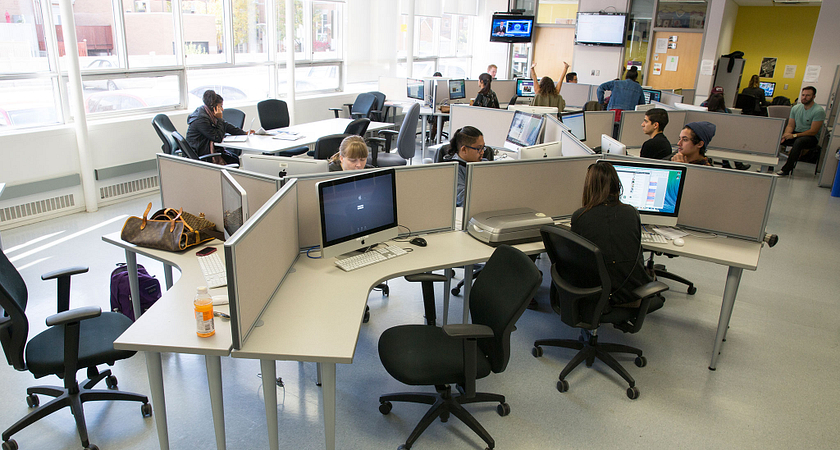 The news is an important part of how we see the world around us, and as technology and the culture change, the way journalism careers work is also changing. The man in the hat with a "Press" sign in it running from place to place is long-gone (for one thing, there's now more women in the field).
It used to be pretty basic: Print Journalism was focused on the written word, broadcast journalism was focused on video and audio, through radio, television and internet video. Most of Centennial College's Journalism programs teach a bit of both. More importantly, we now have a specialized Contemporary Journalism program, for a modern look at the career. Contemporary Journalism runs for three semesters, and equips you with the technology and career skills for the present journalism world. On the tech side, you'll learn about new tools and trends in journalism, important for staying relevant. On the career side, you learn about entrepreneurship and professional practice in the modern journalism world.
Here are some common questions I've gotten from students curious about journalism today, along with answers from my own experience.
What is a good reason to become a Journalist?
If you want to be a journalist because you like the news and love information about world topics, that's a good reason to take part in the career. The main purpose of good journalism is to speak the truth. If you want to do that, it's another good reason to pursue the career. And speaking the truth is more important now than ever. You just need to be willing to go the extra mile, since it's a changing industry with a lot of competition, though we'll prepare you for it.
Do I have to have knowledge in other areas, like science, history, law or civics?
You don't have to have knowledge in any particular subject area to be involved in journalism, just a willingness to learn. At the same time, having knowledge about a particular subject can help your career. Often, in journalism, you get assigned to specific "beats" that you're knowledgeable about. For example, if you know civics, you might be assigned the political beat. While it helps, you don't need to have a body of knowledge in different subjects to work in journalism. Just be prepared to do some research.
What skills do I need to succeed in modern journalism?
At the most basic level, you need to be aware of current affairs, read or watch the news regularly, and you need to be able to write and speak English very well, and you need to be able to meet tight deadlines. There's a whole second layer to modern journalism, though, in that you need to be aware of technology and trends, and you need to know how to market yourself, and if necessary, strike out on your own as an entrepreneur, all things that the Contemporary Journalism program can teach you.
Why does journalism require tight deadlines?
Journalism is fundamentally about producing content just in time. It's about reporting on current events, so stories have to come out quickly in order to be relevant. When something big happens, reporters need to be there, and they need to report what happened quickly and accurately. And now that we live in an age of social media and online content, up-to-the-second reporting is even more essential. Being able to quickly put out content is important to the job.
Is journalism a competitive career?
It most definitely is, which is why entrepreneurship and dedication are important. We'll teach you the former in Contemporary Journalism, but you need to make sure you've got the other half covered.
Is there a decline in print, broadcast and photojournalism jobs due to online journalism?
Rather than a decline, it's a change. All of these jobs are moving online, thanks to the internet being the main way we consume news, now. For example, consider photojournalism, because online journalism articles still need images. However, in the modern era of smartphone cameras, it's easier to obtain good-looking photographs, so more than just "being able to take a good photograph" is needed. Fortunately, Contemporary Journalism prepares you for that.
By Anthony Geremia