Inside a Centennial College Job Fair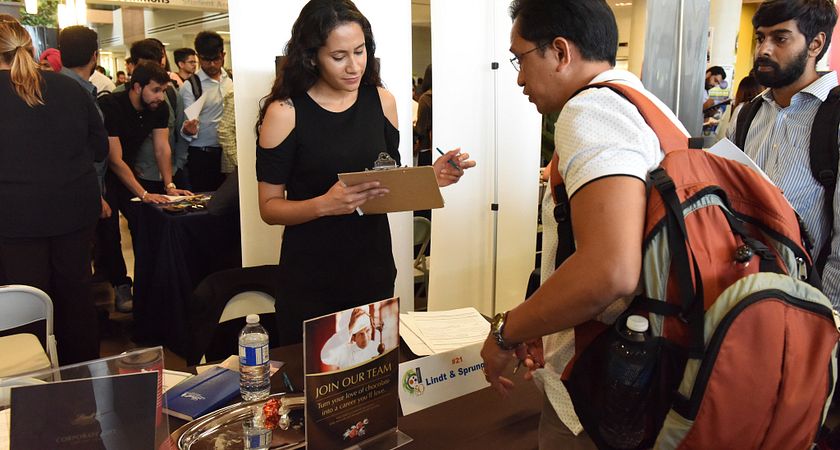 If you're like most students, you're heading to college to pick up the hands-on skills you need to get your career going. But career connections are important, too, and a good college will work on ways to link you to jobs, through methods like co-op programs, placements, and job fairs. Job fairs put you face to face with employers that want to to hire you, and you can research, make contacts, and work on getting hired before you graduate. At Centennial College, we take job fairs seriously, and hold many each year, focused them around specific groups of programs.
One of our largest job fairs takes place at the School of Transportation's Ashtonbee Campus in March, and focuses on our Motive Power – Automotive, Truck & Coach and Heavy Duty Equipment programs. Linda Lugli is a Co-Op Advisor and Job Developer at Centennial College, and this job fair is one of her favorite projects. She reaches out to employers, invites them to campus, and helps plan the fair. "I just get the ball rolling, and make sure the logistics are done, but I couldn't do it myself," she says. "It's really a team effort."
Here's how a Centennial College Job Fair works, and how it can connect a student like you to your next career.
How it got started
"We decided to start an Employer Open House nine years ago," Linda says, explaining how the Ashtonbee fair came to be. "Employers would come into the electrical lab and speak with students over two hours, and then go on walking interviews and tours of the labs."
"It just took a life of its own, and became a job fair," she says. "We started off with 13 employers nine years ago, and this past fair, we had over 50 companies in the morning for Automotive students, and in the afternoon, over 65 employers came to hire Heavy Equipment and Truck and Coach candidates." So, how did it get so big? The School of Transportation is known as a school that trains talented graduates.
"The School of Transportation at Centennial is very well-known," Linda says. "A lot of people came here 20, 30+ years ago, so they know the programs. There were some companies that were actually put on a waitlist for this past Job Fair!"
How it all works
"We had over 350 Job Seekers in Automotive, Truck & Coach, and Heavy Equipment that registered for the Job Fair," Linda says, "to come and meet with the 110-plus employers, who all had jobs, whether it was full-time, part-time, summer, or co-op."
Luckily, Centennial College students are prepared for the fair. Instructors and Career Services and Co-operative Education work with students to make sure they understand what they need to do when they get there. "We do some workshops to help them prepare ahead of time," Linda says. "We send them some job search and career tips. We make sure that when students come in that day, they know the importance of preparing, researching, and dressing well, and I'm happy to report that the students that showed up were very well-prepared."
What you're there to do
"As a student, you come in, we make sure that you meet as many employers as possible," Linda explains. While you're there to meet employers, Job Fairs also let you research different career paths you could take. For example, there were many types of employers at the morning Automotive Job Fair.
"This lets Automotive students see how they can fit it into different companies and consider roles in Parts, Customer Service or in the Shop as apprentice technicians," Linda explains. Speaking of research, even if you already have a job, you can still come to a job fair, since as a graduate, you have access to events and career services for up to two years.
"You speak to employers, learn about entry level roles in the industry, research salaries and benefits as well as career paths." Linda says. "This is great information for currently employed students who may be negotiating the terms of a full time position with their existing employer."
The Results
The biggest point of a job fair is, like the name says, to connect you to a job, and this one produced great results, both in terms of who showed up, and who got hired. "Over 110 companies and more than 350 job seekers attended the event," Linda says. In terms of results, according to word of mouth, many students have interviews already, and employers are planning to follow up with all the applications they received that day.
"So far, employer feedback is very positive and ongoing interviews are taking place and job offers are happening," Linda adds.
Want to take part?
Students and graduates from our Automotive, Truck & Coach and Heavy Equipment programs get to take part in this job fair. But if you're a Centennial College student or graduate in general, then there's a job fair at the campus for you somewhere that's focused around your specific program or career path. No matter what path you're taking, the college will work to set your career up. Just visit the Career Services and Co-operative Education website to find out about Job Fairs, Career Events and Employment Education Services.
By Anthony Geremia