The Most Important Tips You Need for Residence Life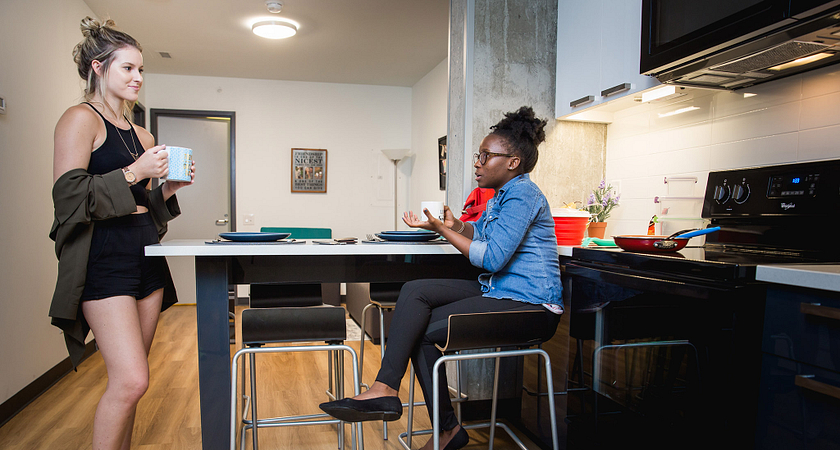 If you're planning to live on the residence when you come to college, it might be your first time living away from home. If it is, you'll want all the help you can get figuring out how life on your own works, and how to get the most out of residence life. If you're coming to Centennial College, you can stay at the residences at Centennial Place, right at Progress Campus. It's a good time to move in, because we just built Centennial Place a couple of years ago. Here's some tips on how to make your move-in and your time on residence easier, sourced from Her Campus, Study.com and ThoughtCo.
What to bring and not to bring
Luckily, Centennial Place residences are fully-furnished with furniture, so you won't need to bring any with you, unless you want to add to what's already there. The same goes for kitchen appliances, like a microwave. Usually, you'd want to bring your own, but in this case, we'll provide them.
Things that you should bring are
A good desk fan (to regulate temperature).
Some extra garbage pails (to make sure things stay clean).
Extra clothes hangers (because you're going to want to actually hang your clothes up, instead of keeping them in a suitcase or on the floor).
An alarm clock (in case your phone isn't available to wake you up).
A white board (for planning your days, important notes, and keeping track of yourself).
Duct tape (because you can fix almost anything with it).
Earplugs (to sleep or study with when things get noisy).
Kitchenware, like dishes, forks, knives and glasses (because you need something to eat off of after you make your food).
Things you don't need to bring
Anything fancy that you don't want to see scuffed up (since residence life can cause wear and tear).
Anything that's already included in the rooms (check the floor plans here).
Generally, space in your room will fill up fast, so anything you don't really need, you should leave behind. In order to figure that out…
Do some advance planning
Firstly, to figure out how much room you have, visit your residence in advance (or take a tour), so you can see what you can fit in your loving space. Secondly, if you know who your roommate is, you can coordinate who brings what stuff, so you can share. Speaking of that, make sure you're aware of residence rules in advance, so you can plan around them, and nothing takes you by surprise.
Join some campus activities, to get out of your room
Once you finish your move-in, you're ready to get the most out of college. For your health and happiness, rule number one is not to spend all of your time going from your room to class and back. It's important for your career and yourself to make some life connections with people around you, too. As for how to do this, there's plenty of stuff to do at Centennial Place, including a games room, a movie room and a gym. Outside of that, there's always stuff happening on campus, thanks to the CCSAI, and there's also plenty of clubs you can join, too. And be sure to take some time to get out of the college bubble, too, and explore the city of Toronto on your time off (it's easy to take transit to and fro).
Keep your space clean
It's worth taking the time to tidy, because you're never going to be able to focus or live comfortably in a mess. An easy way to make sure things get cleaned up is to make a specific schedule for cleaning. You could, for example, vacuum every weekend, clean the bathroom every two weeks, and figure out a specific time to do a garbage run. As a bonus, you can split it up with your roommates and take turns. Speaking of those roommates…
Be considerate of your roommates, and the other people on your floor
Both inside and outside your room, you want to be a good neighbor. You never know when people's classes are, when they need to be sleeping, or when they need to study. This means, for example, keeping loud music to a minimum, even when you're in your room alone, setting clear boundaries with your roommates about when people can come over, and when they need to clear out, and letting the people you live with do what they need to do to study and work.
Don't let your health slip
Without a healthy body, you won't have a healthy mind, and school will be harder. You have a fridge in your dorm, so fill it with vegetables, fruits and healthy snacks, instead of ordering junk food for every meal. It's better for you, and cheaper. And with Centennial Place's gym facilities, there's nothing stopping you from going for a run for 30 minutes after the end of a long day. You don't have to go on a hard diet or start on a big exercise regimen, but a bit of healthy eating and exercise gives you more energy, and a sharper mind.
Above all else, live and learn
Living on a residence like Centennial Place is an excellent time to figure out the ins and outs of living on your own, in an environment that's forgiving. So don't be afraid to make mistakes as you figure things out. You're in school to learn, and that learning continues outside of the classroom, too.
By Anthony Geremia