Four reasons why you want a Career in Electrical Engineering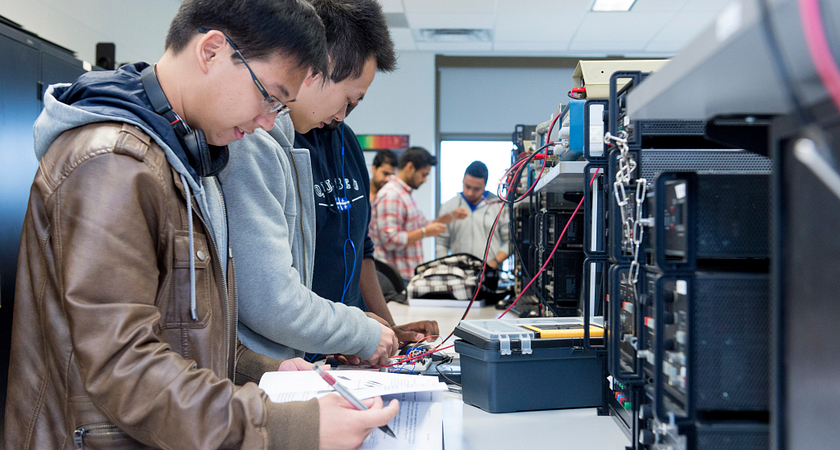 For all of our modern technology, the world still relies on the same old thing to make it all work: Electricity. Before any scientist, businessperson, doctor or writer can get their job done, they need the technology they use to work. Without power, the world would grind to a halt. Electrical engineers keep this from happening by keeping the lights on and the machines moving. If you're good at math or science, or if you like to work with your hands, an Electrical Engineering Technician or Electrical Engineering Technology career could be right for you, and it's a career that's only going to become more and more in demand. It's a growing, important market, and if you're looking for promising, practical long-term careers, this is it. Here's why you want into the career:
1. The world relies on you
Just think about all of the stuff around you that needs constant energy to make sure your life keeps moving. Your alarm clock is no good if you have to reset it because the power's out. Same thing if you can't plug in and power your phone. The internet's down? For many jobs, that means you can't get your work done. It's something you don't notice until it suddenly doesn't work, and keeping it working is what electrical engineering is all about. And that's before getting into the big, important jobs. A surgeon needs to know that the lights aren't going out in the middle of an operation, after all. Every industry, from transportation to communications to the government, needs electrical engineers. Every super-hot summer and ultra-cold winter that Toronto gets through without a blackout, we have electrical engineers to thank.
2. It's a growing job market
All of this means that electrical engineering has plenty of jobs, and more jobs to come. Just look at Service Canada's facts about the career. According to them, the industry boomed in the 90's, then shrank in the 2000s. Now, it's booming again, and there's a new need for students to learn to become electrical engineers, especially since older ones are retiring. Now's the time to enter the industry and get a solid career for yourself. And there's room to change and grow in that career, thanks to alternative energy sources like wind and solar power that also need engineers.
3. It blends a little bit of everything
If you like a career with some variety in it, Electrical Engineering involves a whole range of knowledge and skills. Basically, you're designing, developing, and testing new equipment, as well as solving issues with the tech that already exists. It's a job that finds a practical use for science and math, if that's your thing. Meanwhile, if you like working with your hands and tinkering with technology, it'll give you an outlet for that, and one that could see you applying your skills to automation, robotics, instrumentation, communications and power generation and distribution.
4. There's a clear way into the career
If you're interested in joining this career, Centennial's Electrical Engineering Technician and Electrical Engineering Technology programs can help you get into it. On top of the math and science, you'll learn, you'll get to live the job through hands-on experience in our laboratories at Progress Campus, where you work with the same equipment you'll use in the field. You'll also get to show off the skills you've picked up by working on a special self-made capstone project at the end of the program. After that, you'll take what you learned into the real world with a co-op placement, which has you working as a paid employee in the field. It'll help you get further experience, and get you out into the job market before you even graduate.
When you study electrical engineering, you're in the business of power, which touches almost every part of our daily lives. It's an expanding field that's more important than ever in our technology-centric world, meaning you'll always be needed. Enter electrical engineering, and be the one that powers the planet.
By Anthony Geremia