Five practical reasons why you need to get a career as a software engineer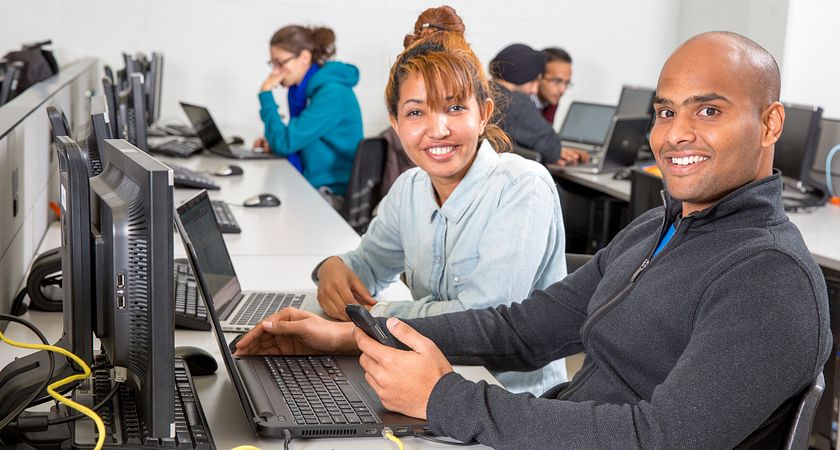 Think about the last store you went into, the last business you interacted with, the last thing you did in school. Someone was using a computer, and that someone was probably using a piece of custom software. Every business, organization, and government is fully digitized these days, and needs software to run properly. If you're looking for a career that every business needs, one that'll always have a place in the world, software engineering's what you need. It's a future-proof career, with a clear path to get into it through Centennial College. Don't believe me? Here's a few more hard facts:
1. There's a huge demand for jobs in Canada
According to the Government of Canada itself, "software engineers are some of the most in-demand skilled workers in Canada," and if you're a qualified engineer, employers are hiring you as soon as you become available. In other words, if you've got the skills, the jobs are waiting. The reason for this is that many, many different industries need software to function, not just tech companies. Nearly every business either buys custom software, or needs to make its own. It's a candidate-driven field, meaning you'll have your pick of jobs.
2. It's a future-proof career
It's not just right now that the job market's good. In the Toronto area, the employment outlook for software engineers and designers is projected to remain good into 2020, and there's even going to be a predicted shortage of software engineers over the next ten years. Speaking of Toronto…
3. Toronto's a good place to get a software career
If you want to get into the industry, Toronto's a great place to break in, especially since Toronto has the largest tech cluster in Ontario, with many digital media companies having a strong presence here, and the area attracting large investments in tech operations. Naturally, going to a Toronto school will directly link you to that industry.
4. If you want into this career, we can make it happen.
Over three years, Centennial College will teach you to design, develop and maintain software systems. Some of the tech you'll learn about includes QA, C#, Java, Java EE, Oracle, MS-SQL server, UNIX/Linux, Python, Microsoft's ASP.NET Core and HTML5/JavaScript/Angular. Do you know what those mean? If so, you're good. And if not, we'll teach you anyway. If you have previous experience, you can even skip the first two semesters of the program through the fast-track option.
5. We'll make sure you have completed projects in your portfolio before you even graduate
During the program, you'll take part in two different software development projects with a team, and use the skills we've taught you. No matter what you're making, you'll follow a project's entire lifecycle from conception to completion, and walk away with something real that you can show employers. Plus, if you take the co-op version of the program, you'll get to work with some of the biggest names in the industry, and get field work experience before graduating, too.
Come join us
You've got a career with excellent job prospects, one that's future proof, and one that you have an easy way into, thanks to Centennial College. What's not to like? The software industry always needs talented, well-rounded professionals, and there's plenty of jobs to go around, you just need the skills to break into it. Centennial College can teach you those skills, letting you get on board developing software right away.
By Anthony Geremia