Centennial health graduate helps you live well with Wehl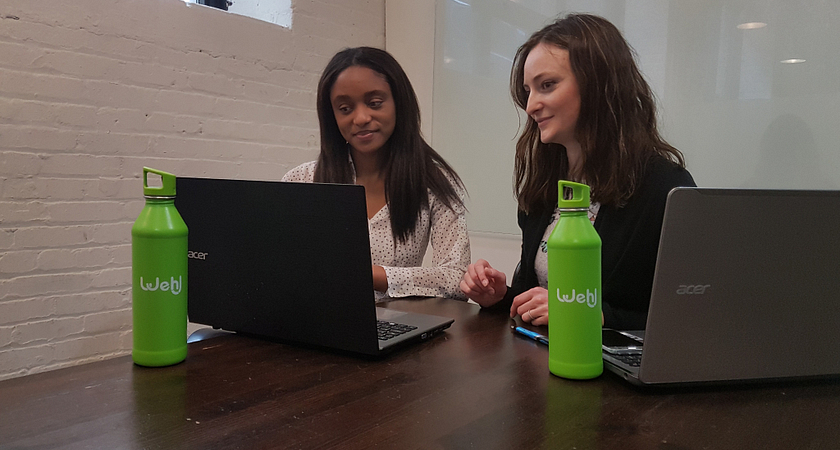 It can be tough to stay healthy when you're at work but to work well, you need to live well and be well. Companies know this, which is why you can make a career out of helping people stay healthy at work. It's a career that Centennial College can help you get into with our Workplace Wellness and Health Promotion program, which uses hands-on learning to teach you how to promote the wellbeing of employees in the working world.
Of course, you don't need to work for a company. Centennial College supports student entrepreneurs who want to strike out on their own as Jennifer Workman did. After graduating and working in public health for a number of years, she got inspired to create Wehl, a unique social network focused on health. And just as Centennial supports students, our graduates learn to support other students. Jennifer's paying it forward, giving a field placement to Sherika Nelson, a current Wellness student. Here's how Jennifer's path through school led her to the business she's in today.
How Jennifer came to Centennial
"I did my undergrad in kinesiology," Jennifer says, "and I enjoyed working one-on-one with people. But I really wanted to work on a bigger scale and reach more people with my passion for Health Promotion. So I looked into programs that could help me reach more people. I was particularly interested in public health."
 "The Centennial program was really unique," she says about Workplace Wellness. "I really liked that there was a placement with it and that I was going to get practical experience."
Following the completion of her field placement, Jennifer immediately got hired in a fulltime health promoter role in Public Health, where she continued to apply and build upon her skills from the program.
"To be honest, I was starting to become the unhealthy health promotor," she admits. "I'd been focusing on my physical wellness, trying to eat healthily and exercise, but I was missing a holistic approach, and it got me back to thinking about what wellness truly is."
"The knowledge I gained through Centennial was a big part of the inspiration for creating Wehl," Jennifer says. It was her field placement that really helped her find her career path.
Inspiring a company
 "We know that people know to be healthy," Jennifer says. "We all want to make healthy choices, but when it comes down to it, it's really tough without support from others. We are who we hang out with, both online and offline. Social networking has the potential to really help people maintain their wellness. So that's why we started Wehl."
"Wehl is wellness for social networking, and it's social networking for wellness," she explains. "That means it's a niche social platform where people can come together online and work together to improve their health. People can share information, gain motivation, ask questions and share tips, from a healthy recipe to a healthy product."
"The second side to it is wellness for social networking," she continues. "We know that the social aspect of wellness is very important and that social media can provide a good support system, but there are a lot of unhealthy things about it. What we really tried to do was bring wellness to social networking by building a platform with culture, content, design and features that will help improve and create a healthy experience online."
"We all want to be healthy," she says, "but we all have competing priorities, and getting people to focus on their health before it becomes a problem is always going to be a challenge."
Bringing on the student
"As the founder of the startup, I have the health promotion background, but I don't always have the time to focus into it," Jennifer says. "So I wanted to bring someone on who could focus on health promotion because I'm running everything that goes into the business."
That would lead her to bring on Sherika Nelson, a student of the Wellness program looking to do her own field placement, and enhance her own skills.
"My background is in pharmacy," Sherika says. "I'm from Jamaica, and I studied a Bachelor of Pharmacy degree. During my program, I was introduced to health promotion. It was one semester in my second year, but it stuck with me, and I never forgot that course. So when it was finished, I decided that I wanted to do additional studies."
"We had many options for placement, mostly corporate, community and hospitals," she says. "I did have experience in corporate wellness, but nothing quite like this. When I read about Wehl, there was nothing quite like it. I thought this would be a great experience for me to expand my knowledge."
Her job on placement involves community engagement, spreading the message of Wehl and its mission.
"I'm working to get the platform to where people want to come onto it and engage," Sherika says. "We brainstorm a lot of content and a lot of marketing strategies. I've got a lot of marketing knowledge now, and I didn't have that background even when I worked in the corporate world."
"I've been learning a how your social network can impact your wellness," she says. "I never quite thought about how social media impacts our lives, how positive or negative it could be, and how we could improve it, and use it to do more good."
What the future holds.
"It's still very early on in our experience with Wehl," Jennifer says, "but it's been really great so far. I'd give everyone the advice to follow their passion, be open to learning new things, and as long as you're excited to do good in the world, you're going to land in a good place no matter where you end up."
Workplace Wellness and Health Promotion at Centennial College can help you get there, give you the tools to strike out on your own, as Jennifer did with Wehl, and help others do the same, as she did with placement student Sherika.
By Anthony Geremia