Why High School Students need to take Dual Credit Programs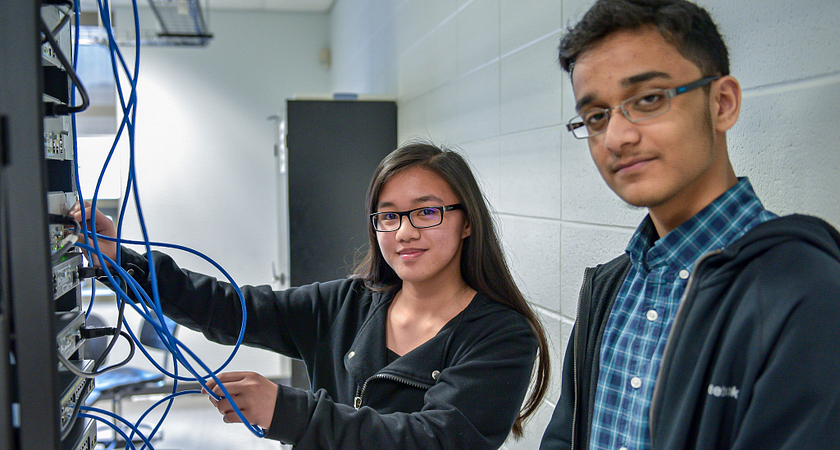 High school students: Have you figured out what career you want to go into yet? Do you know if you're going to college or university? Or are you not sure about either of those things? There's a way to get prepared, get ahead, and figure out what you want.
The Centennial College Dual Credit Program gives high school students the chance to earn college credits at Centennial College before they even graduate. These credits count for both college and high school at the same time! It lets you get a head start on your college education, get you prepared for college or university life, and helps you gain real career experience faster, thanks to the hands-on way you learn. Abdur Rehman Syed and Eulysis Pooten are two students currently using the Dual Credit Program to take Fundamentals of Computer Networks. Here's why they signed up, and what they think about the program.
Why did they sign up?
Abdur and Eulysis are both in grade 11 and learned about the Dual Credit Program from their guidance counsellors. They signed up for computer networking because it was a career they both wanted to get into.
"I was planning on heading into mechanical engineering," Abdur says. "My cousin's in it, and he's the one who got me into it. That's how I first got interested in going into engineering, and when I saw this course, Computer Networking, I thought it would be relevant to what I wanted to do."
Eulysis, on the other hand, wasn't as sure about what she wanted to do. She used the Dual Credit program to figure out if college and computers were a good fit for her.
"I'm currently taking a computer engineering technology class," Eulysis says, "and I heard about this from guidance. I decided to do this because I wanted to explore my options for the future."
What are they learning?
"Currently, we're taking what's called Fundamentals of Computer Networks," Abdur says, "and we're learning about computer networking, how the internet works, and how computers are connected together. Basically, it's focused on network administration."
The most important part of the program, like every college class, is the hands-on experience they're getting, by spending time with the real equipment they'd use in their career.
"The main part I've enjoyed is the actual labs, the hands-on stuff," Abdur continues. "At first it looks so alien, everything's different screens with different numbers, but once you actually do it hands-on, it's pretty rewarding. You see that you can actually make it work."
"Doing labs will help you get the gist of what you're actually learning, by experiencing how it works," Eulysis adds.
What do they like most about it?
"When I first heard about Dual Credit, I thought it would be really difficult," Abdur says, "but it's been really fun because you learn a lot in a short period, and they help you be more focused."
 "This program is actually helping me with the transition between high school and college," Eulysis says. "I'm getting used to longer classes, and having to meet specific deadlines, which is also helping me with high school."
Where they want to go?
There's a lot of reasons you might want to take a Dual Credit program, and Abdur and Eulysis are both planning to take their education in different directions after this.
"I'm taking mostly university courses, and I saw this course more as a way to explore my options and see how Centennial was," Abdur says.
"I'm actually planning to head into a college program because it's more hands-on," Eulysis says, "Since I'm going into computers, it would help me if I went into college. I'm planning to take more Dual Credit programs to explore my options in that field."
Advice for other students
Regardless of why they're taking this Dual Credit program, Abdur and Eulysis both highly recommend it for other high school students
"It will really benefit you," Eulysis adds, "especially with time management and balancing everything with your current high school courses."
"One of the main things I thought when I first learned about this Dual Credit program is that it would be really hard, like a college program," Abdur says again, "or that I was not smart enough for this course. But just dive into it. Once you get into it, it's not actually that hard."
Taking part in Dual Credit Programs will give you skills and experience that'll make college and your career easier. It'll help you get through school easier, and let you get your career started faster. For more info, you can talk to your guidance counsellor, or read about how to sign up here.