Centennial College's Impact on English Language Teacher Turned Student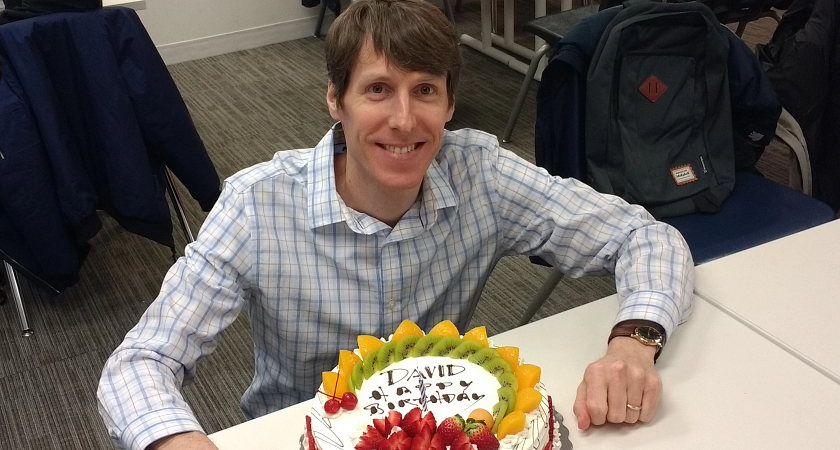 The 2010 summer semester was ending for students in the General Arts and Science – English For Academic Purposes course David Henderson was teaching. For one student in this English language program, it served as an opportunity to let his classmates know how much the undertaking meant to him by sharing a poem he wrote about his experience. Ten years later, Henderson still remembers the memorable moment. What's more, the teacher has now had his own opportunities to experience Centennial College's impact through the eyes of a student as he completes the two-part Teaching English as a Second Language (TESL) online program.
"The fact that this happened 10 years ago and I still remember it says something," says Henderson, who today teaches in the English Language Learning (ELL) program while simultaneously attending the TESL online program. "I, myself, have always felt motivated, engaged, stimulated and encouraged as both a student and a teacher."
After completing degrees in history and education in 1999, Henderson started his career by teaching an English language program in Japan. When he returned to Canada two years later, he acquired various teaching contracts in postsecondary institutions. But Henderson also learned that TESL Ontario, a non-profit organization serving the needs of teachers of English as a Second Language and English Literacy Development, did not recognize a Teaching English as a Second Language Certificate he had acquired.
Trying to find a way to juggle his teaching schedule while attending school to upgrade his accreditation proved impossible. That's until Centennial, where Henderson's been teaching consistently since 2012, began to offer the two-part TESL offering as an online program.
"As someone who is right in the middle of my career, the convenience of taking an online program to fill a credential gap while still working is amazing," says Henderson, who is a few courses shy of completing Part 2 of the program, which focuses on language teaching, learning, pedagogical theories and methodologies, grammar, phonetics and phonology, lesson planning skills, language and culture, assessment, and evaluation.
He adds, "The courses are well organized and very easy to follow. Something I've really appreciated is that the entire program, from Week, 1 is laid out. So, you get a bird's eye view of the entire program. I can look ahead and say, 'I have this big assignment next week, I can start it now when it's not too busy.' That's made it even easier to fit into my life."
While Centennial's TESL programs are mostly self-directed, they still present opportunities for students to interact with peers and professors. For example, students are often paired to exchange feedback on assignments before they hand them in. This, says Henderson, is one of the curriculum's biggest benefits.
"It's been quite enriching and I've had some great interactions reading comments from my peers," he says. "You get to see another person's approach to your assignment and consider what you may do differently. It's a positive learning experience."
Henderson is no stranger to positive learning experiences. After all, he's been creating them for his own English language program students for years — including at the start of the pandemic when Centennial's English Language Learning was transitioned from in-person to online delivery.
"For me, teaching is exciting because it's a combination of being able to work with people and ideas," he says. "I've had a wonderful experience and wonderful students, who are helpful to each other and eager to learn. Even during the transition to online, where we combine the use of Zoom, eCentennial and the occasional third-party software, students were understanding. Now, they are all just used to it and collaborating well with each other. With my TESL credential, I'm looking forward to more positive experiences at Centennial."