What everyone needs to know about cybersecurity in 2020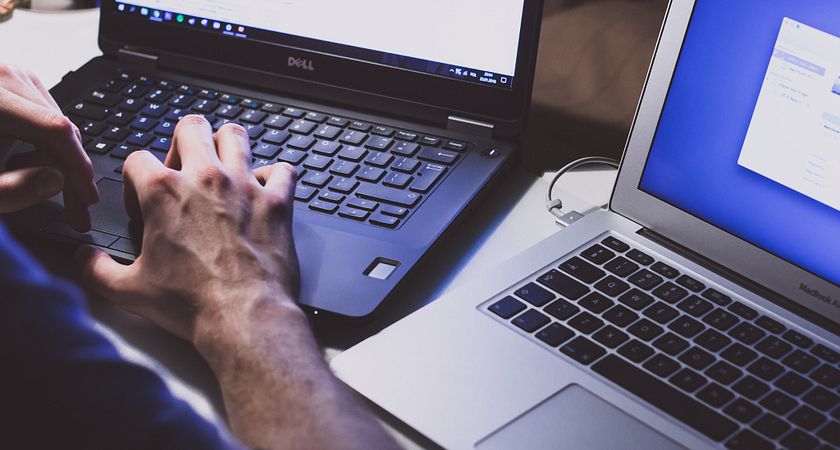 From banking, to shopping, to learning, to working, everything relies on a computer today. And because of that, those computers and the data on them need to stay safe from hackers. Cybersecurity is the practice of keeping computers, networks, and data safe, stable and secure. No matter where you work and what your job is, whether you're the CEO, or an everyday employee, cybersecurity is important. About 85 percent of modern cybersecurity breaches happen through non-IT employees, so it doesn't matter if tech isn't what you do, or even if you don't work at a tech company, cybersecurity is everyone's business. Here's what you need to know about what modern cybersecurity looks like, why cybersecurity is important, and what you should be doing about it.
Hackers jump on current trends.
Just knowing how to avoid the same old email scams isn't enough. Modern data thieves change with the times, and are willing to jump on current trends. A recent example of this happened during 2020's Coronavirus scare. IBM researchers became aware of spam emails being sent to people in Japan that claimed having info about the virus. These emails said that the virus had spread into their country, and asked the reader to open the attachment to learn more, when it really contained virus software. It's just one example of how hackers will use current events to spread their malware, based on the latest hot topic.
Further reading: Hackers are using coronavirus fears to send you a computer virus: How to stop them.
Cyberattacks mean big money losses.
Cybersecurity is a business issue, because cyberattacks can cost big bucks. For example, the city of New Orleans went through two crises in late 2019 and early 2020. One was the collapse of a hotel, while the other was a cyberattack that crippled city services. The hotel collapse cost the city $11.7 million, while the cyberattack was in the same ballpark, costing the city at least $7.1 million. Out of that, $3 million alone was spent cleaning their computers out, and paying the city's IT staff overtime. The rest will need to be spent on new equipment, security and staff, to make sure it doesn't happen again. Either way, the costs for the hacking were huge, and go to show that ignoring cybersecurity can cost you.
Further reading: City incurring millions in costs for Hard Rock and Cybersecurity disasters, but officials hope the bulk will be reimbursed
Ignoring cybersecurity can cause more problems than just money ones.
Cybersecurity incidents can cost you more than just money, and can disrupt your company's services, which is an even bigger deal when it's an important service. In early 2020, for example, the Democratic Primaries in Iowa were plunged into chaos, when an app that was supposed to report voting results to members of the Democratic party fell apart, causing a long delay in reporting the results, leaving the winner unclear. The blame was placed on the company that made the app, Shadow, and how they'd ignored proper IT and cybersecurity practices in the name of rushing the app out, something that you really shouldn't do when it comes to elections.
Further reading: Iowa Election Snafu: When IT And Cybersecurity Best Practices Are Ignored
Employees need cybersecurity training.
Now that you know what cybersecurity can prevent, here's how your cybersecurity can be improved. Cybersecurity isn't a problem that can be solved just by technology. It really comes down to the people in a company, and how they interact with technology, which is how cybersecurity can be improved. That's why the only way to fight these threats is to make sure everyone is trained in cybersecurity, from the CEO to the simplest desk job, no matter where they work, because every industry today involves IT in some way.
Further reading: How can we harness human bias to have a more positive impact on cybersecurity awareness? and The Four Es for Overcoming Cybersecurity Talent Shortages With Training
Some companies make cybersecurity knowledge mandatory.
More and more jobs require the people they hire to have some kind of cybersecurity learning. For example, the United States Department of Defense needs its contractors to have a basic level of cybersecurity knowledge if they want to submit proposals. For an employer, this helps ensure cybersecurity protection, and for an employee, this means getting some cybersecurity education will help you get hired.
Further reading: DoD to Require Cybersecurity Certification From Defense Contractors
Here's how we can help.
Centennial College can teach you cybersecurity for beginners in a quick, easy format that anyone can understand, no matter where you work. We've teamed up with xahive to create a series of simple microcourses that teach about defending a company from cybersecurity threats. Whether you work in health, finance, legal, entertainment or a small business, and these courses can tell you what you need to know, and where to start. They're two hours long, take place online at your convenience, and use simple terms, so anyone from the shipping department to the CEOs can follow along. And not only will it help guard your company, it'll guard your career, since knowing how to prevent cybercrime in the workplace is important to employers, meaning you can add those skills to your résumé, and become more competitive in the job market.