Five things you need to know about the Ontario College Virtual Fair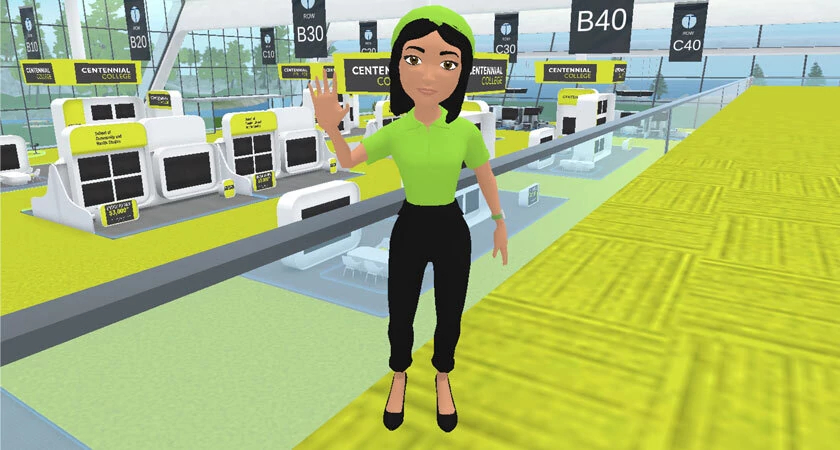 Want to take the next steps in your education or your career? The Ontario College Virtual Fair (OCVF) is where you can start. The OCVF is a one-stop-shop for Ontario colleges, giving prospective students like you the chance to learn about all of the different programs our colleges offer. But this year COVID-19 means that we can't all gather in downtown Toronto as usual, so Ontario's colleges are holding their first virtual fair on Wednesday, November 4 from 4 pm to 8 pm, and Thursday, November 5 from 9 am to 1 pm. Here's how it's going to work this year. And this time, it's not happening on Zoom.
The entire fair is online.
As the new name implies, since we can't see you in person, you can connect with us online and explore all 24 Ontario public colleges virtually, just by registering here.
The fair is now a 3D online virtual experience.
Instead of sending you to a website, or streaming the fair online, the OCVF experience has been gamified. The fair takes place in a full 3D digital space, where you create your own personalized avatar as you navigate virtual booths. You'll be able to learn about all kinds of careers we can connect you with, and the programs that lead to them.
Centennial College will have our own digital space.
In Centennial College's virtual OCVF booth, you'll be able to see videos, get important links and learn what we can do for you. Check out our virtual demos to see what we have to offer, and get more information on how and when you can apply.
Because the fair's online, we have room for every kind of learner.
One of the best things about going virtual this year is that we have way more (digital) floor space, so we have room to show you information on each of Centennial's different schools, as well as resources and student life, and inform you about virtual learning, housing, student services and more. At the same time, you'll also be able to speak directly with college representatives and learn what you need to know. You can ask questions about transitioning to college and pathways between college and university. Meanwhile, on Centennial's OCVF webpages, you'll find guides specially tailored for you, if you're coming out of high school, a mature student, looking to fast track or take a grad certificate or study part-time. There's a whole lot of information available for international students, too.
You can attend the fair from anywhere in the world.
One of the biggest advantages of this digital space is that there's no travel involved. Not only do you not have to come to downtown Toronto, you don't even have to be in Ontario. In fact, if you're an international student, the OCVF is especially helpful! So, if you want to take the next step in your career, sign up for the OCVF and see where a Centennial College education can take you.