Grads meet career goals through diverse Electrical Engineering program experiences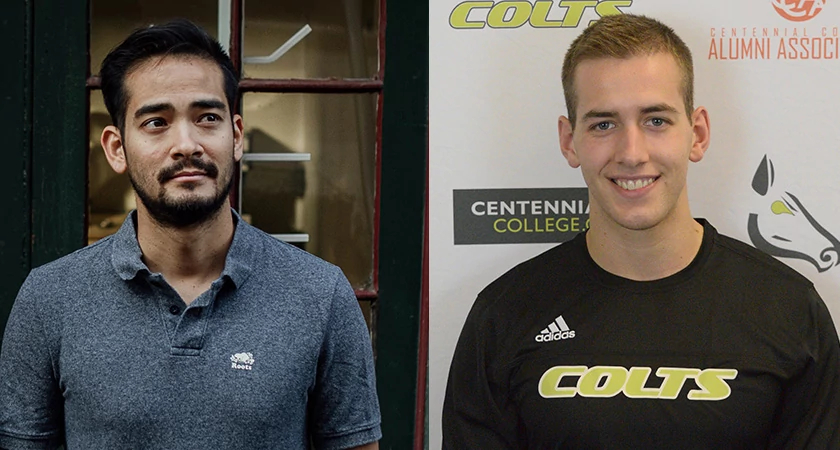 When Ben Pantin enrolled in Centennial College's Electrical Engineering Technology program, he did so with a master's degree and nearly 10 years of career experience. Although he already worked in the electricity industry, Pantin wanted to transition to a more hands-on role. Meanwhile, his classmate Benjamin Thistle had just completed a bachelor degree and wanted to launch his career in the trades.
While both alumni, who graduated in 2019, had vastly different aspirations and paths into the program, Centennial's dynamic approach to teaching Electrical Engineering afforded them unique experiences to meet their goals.
"The biggest benefit of this program for me was the application," says Pantin, a supervisor in Toronto Hydro's grid operations department, which oversees the monitoring and control of the city's electricity grid. "Coming from university where you're asked to think of esoteric concepts, there is something very refreshing about getting hard facts as well as the immediate reward of applying them and knowing that you've delivered something."
A three-year offering, with an optional co-op component, Electrical Engineering Technology teaches students the range of functions they will need for the industry — including the ability to design, adapt, analyze, troubleshoot, commission and install electrical systems as applied to electrical engineering. It also ensures they understand safety and compliance with relevant codes and standard practices. Students complete their learning in modern labs and through lectures.
While Pantin saw the most benefit in the practical application components, for Thistle the program's theoretical aspects have also proven valuable.
"When I went to job interviews, the theory classes gave me the ability to speak about advanced technological concepts, which was beneficial," he says. "For both job interviews I had, I brought one of my projects from my final semester and they seemed impressed by it."
Where Pantin and Thistle's commonalities lie is the applicability of the skill set they gained to their current electrical engineering jobs as well as their praise for the program's dedicated faculty members. Thistle, for example, is a rail transit car mechanic trainee at the Toronto Transit Commission and previously worked as an electrical apprentice at the Canadian Union of Skilled Workers. He still hopes to obtain his 309A license to practice as an electrician (construction and maintenance).
"What I'm doing is more of an electro-mechanical position," Thistle says. "So, I still work with wires and when we test for amperage and resistance, I know exactly what that is. I even use skills I gained as early as first semester.
"Also, it's important to mention that the professors are really helpful in giving advice on how to break into industry. A lot of people in the trades have family members who played a role in them getting a break, so it can be intimidating if you don't have that. Centennial professors definitely helped."
Adds Pantin, "There are very dedicated and passionate faculty, and that's really important. These are people who didn't just get PhDs and started teaching. They have actually done the work and are passing that expertise to students."
In addition to the direct benefits of the Electrical Engineering Technology program, Centennial students also have various opportunities to supplement their education beyond the classroom. Pantin, for example, brought his industry expertise to the Electrical Engineering Technology Program Advisory Committee (PAC), which he joined during his second year in the program and continues to contribute to today.
"I'm heavily invested in supporting students and helping to guide the program," he says. "I had a mentor in university who took a chance on me at Hydro One Brampton, which is how my career started. When I see brilliant and hardworking students missing out on opportunities because English is not their first language or because of a lack of networking skills, I think of how much we are missing out on as a society. I want to be able to tap into that knowledge and bring it to our company. The PAC is one way of doing that."
Thistle, meanwhile, says that experiences such as being a varsity athlete and helping to organize career and industry nights as a member of the Electrical Engineering Student Society strengthened his commitment to his education while presenting networking opportunities.
"If you're coming to school just to do school, it can get very stale," he says. "But if you join a sports team or a club, it makes your attitude a lot better. It's really about not thinking of school just as getting an education but also as having a community."
By: Izabela Szydlo