How Centennial College and Canada welcomes and supports International Students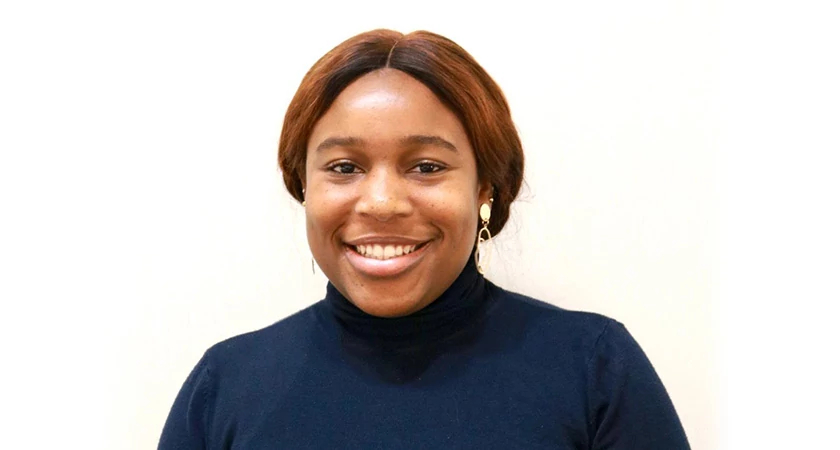 Coming to a new country to study is a big decision, one that offers its share of challenges. Luckily, if you're looking to come to Canada, you'll be in for a warm welcome, and as a school with a large population of international students, Centennial College will embrace you, too. That's what Mercy Mamman experienced when she came from Nigeria to study International Business Management. And when the COVID-19 pandemic happened during her time with the school, she discovered just how important the support of her friends and the school could be.
Coming to Centennial
Back home, Mercy already had a Bachelor's degree in economics, and was looking for ways to take her business know-how even further.
"I've always been interested in business," she says. "Before coming here, I had two or three businesses of my own that I started. So I told myself, instead of just having a Master's in economics, why not go ahead and have a Master's in International Business Management? Why not do a postgraduate diploma?" As she researched her choices, it was the co-op component of Centennial's program that appealed to her most.
"When I saw I had the option of having a placement after the school where I'd be able to practice what I had learned, that was one of the major things that made me pick Centennial," she explains.
On feeling welcome in Canada
"I've always wanted to come to Canada," Mercy says about her journey overseas. "But I didn't really have any close family or anybody here in Canada. So I just said, okay, I was always kind of a very friendly person. I'm an extrovert. So I would make friends. I'll meet people and I'll create a niche for myself."
"Coming here, I still felt alone because there was nobody that I knew closely," she admits. "But then I decided to be open to just enjoy the place. And when I came, I got a place in Scarborough. The family at the house I was renting were so warm, they welcomed me warmly. And right now they are kind of like my family as well in Canada, because they're always checking up on me, always calling me, because I've relocated from that place. But they made me feel welcome."
A school's support systems
Outside of Canada itself welcoming her, Centennial College would prove to have a number of resources to help Mercy feel at home in a new country.
"Pre-pandemic, as international students, we had an orientation where we were told about the different international advisors, people you could reach out to, and clubs you could also join to meet people," she says. "I think I met one or two Nigerians during the orientation as well. And so those were the things that helped me to transition and start my journey here in Canada and Centennial."
"One thing that also pulled me through was the club," she says. "I'm a Toastmaster, with Voice of Centennial." In fact, she was president for a term.
"It was just a place that everyone was welcome," she says about the Voice of Centennial. "You would be free to express yourself, feel free to connect with people, while also helping you improve your personal development, your communication and your leadership skills."
The importance of bonds
"During the first three months of in-person classes before COVID struck, I made friends with my classmates, I became so close," Mercy says. "They were my support system during the pandemic, when the whole lockdown was in full force and everybody was confused as to what is going on."
"We have a group chat, we're always putting ourselves on calls, always catching up, making sure nobody was overworked when school started online, and that nobody was overwhelmed," she says of her peer supports.
School support
Luckily, it wasn't just Mercy's friends that supported her. Centennial College offered plenty of special services during the pandemic, starting with friendly faculty.
"During the pandemic, our professors were really, really nice," she says. "I had a professor in particular that gave all of us his number, and told us that if anybody needed anything, especially international students, we could reach out and he could help make sure everybody was fine. From time to time, he'd send emails, just checking up on everybody, hoping everybody's okay, and all that. So that was really, really thoughtful." This support from the school continued well after she graduated last December.
"It's been hard to find jobs and all," she says, "but HireCentennial, they always pull off events and things online to help people with job searching, with our resumes, how to prepare for interviews, and all those things."
Looking to the future
Mercy is currently pursuing a Master's degree, and credits Centennial's International Business Management program with giving her a solid platform of learning to launch the next phase of her life from.
"I think the postgraduate diploma that I got from Centennial has been a great help to me in transitioning to my International Business Management career," she says. "It's made me develop certain skills, and be aware of things I need to know, before I go into the Masters program, because Masters is another level entirely. Without prior knowledge, I don't think I'd have been able to take up most of the workload." And after her Masters?
"I'm considering going into consultation, leadership and communication in business management," Mercy says. "And for leadership, I have experience from my Toastmasters as well. I also went through the leadership passport in Centennial College as well, because I want to be a leader that leads by example, I want to be able to help people."
Remember to be social!
"The advice I give to anybody is to take every opportunity that Centennial has," Mercy says. "There are lots of very good communities you could be part of. Be open to joining clubs and societies, because you get to meet people, you get to meet friends you will have for life. And you have skills that you don't necessarily get to learn in the classroom. Soft skills, skills that might not be taught from the books and all that."
"Centennial has so many resources in whatever areas we all need," she adds. "So yes, always, always ask for help. Always try to join a community. Don't be on your own. It's not good to be alone."
By: Anthony Geremia