Well-rounded preparation leads Electrical Engineering Technician graduate to Skills Ontario success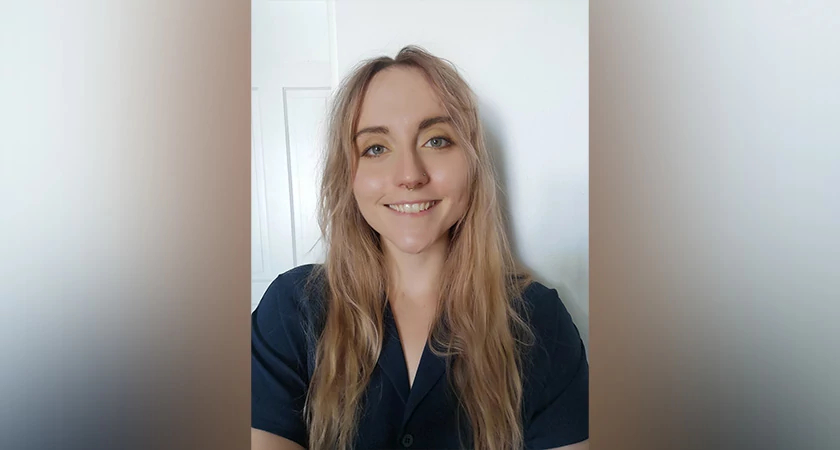 As Lindsey Rupert watched the 2021 Virtual Skills Ontario Competition closing ceremony, her phone started to light up. Text messages of congratulations were flooding her inbox. It took the recent Electrical Engineering Technician graduate a split second to realize she had missed the announcement that she won the silver medal in the Automation and Control category. In addition to being a major achievement, the win, says Rupert, is a testament to Centennial's dedication to holistically preparing students for success.
"I walked into Centennial with no experience in this field, and my classes gave me the knowledge to understand what I needed to get done during the competition, and what I need to do to succeed in my next step," says Rupert, who enrolled in the Electrical Engineering Technician program after she completed a Business degree and realized she wanted a more hands-on career. "I actually took a few career aptitude tests, and they suggested electrical engineering. There aren't many colleges in Ontario that offer this program. Centennial's location was convenient and the curriculum was hands-on. It seemed like the perfect fit."
Nearing the end of her program this April, Rupert said she felt fully prepared to confidently move onto the program's optional third year of study, which includes three consecutive work terms as an employee in the field. That confidence also led her to accept the challenge of entering Skills Ontario after a teacher recommended her.
"The labs really put the theories to the test, and I had a lot of light bulb moments during those classes," says Rupert. "Even when we had to do classes online because of COVID, Centennial did the best they could. So, when I was asked if I would be interested in Skills Ontario, I knew I wouldn't be able to live with myself if I didn't try it."
Held annually since 1989, Skills Ontario engages students in competitions to demonstrate experiential learning while showcasing career opportunities in skilled trades and technologies. Rupert was among 20 Centennial medal winners. Due to COVID-19, the competition, which typically takes place at the Toronto Congress Centre, pivoted to a virtual format.
Rupert and her peer, Matthew Natividad — who won gold in the same category — competed against each other side-by-socially-distanced-side at a Progress Campus lab. Their work was virtually monitored by Skills Ontario's officials. The challenge, for which they had just over a month of practice, was to wire and program a programmable logic controller (PLC) and to ensure all of their connections were correct. Rupert says her teachers' dedication played an integral role in her preparation, and win.
"Teachers, in their time off, would get together with me and Matthew to go over PLC problems and wiring," she says. "I understood the diagrams but was missing the hands-on because of COVID. So, by being involved in Skills Ontario, I actually also got a chance to make up for what I was forced to miss because of the pandemic. That was huge for me. I was over the moon that my teachers were so dedicated to helping me. The hard work paid off."
By: Izabela Szydlo