Centennial Women in Non-Traditional Careers: Lilian Cardoso cooks up her own success.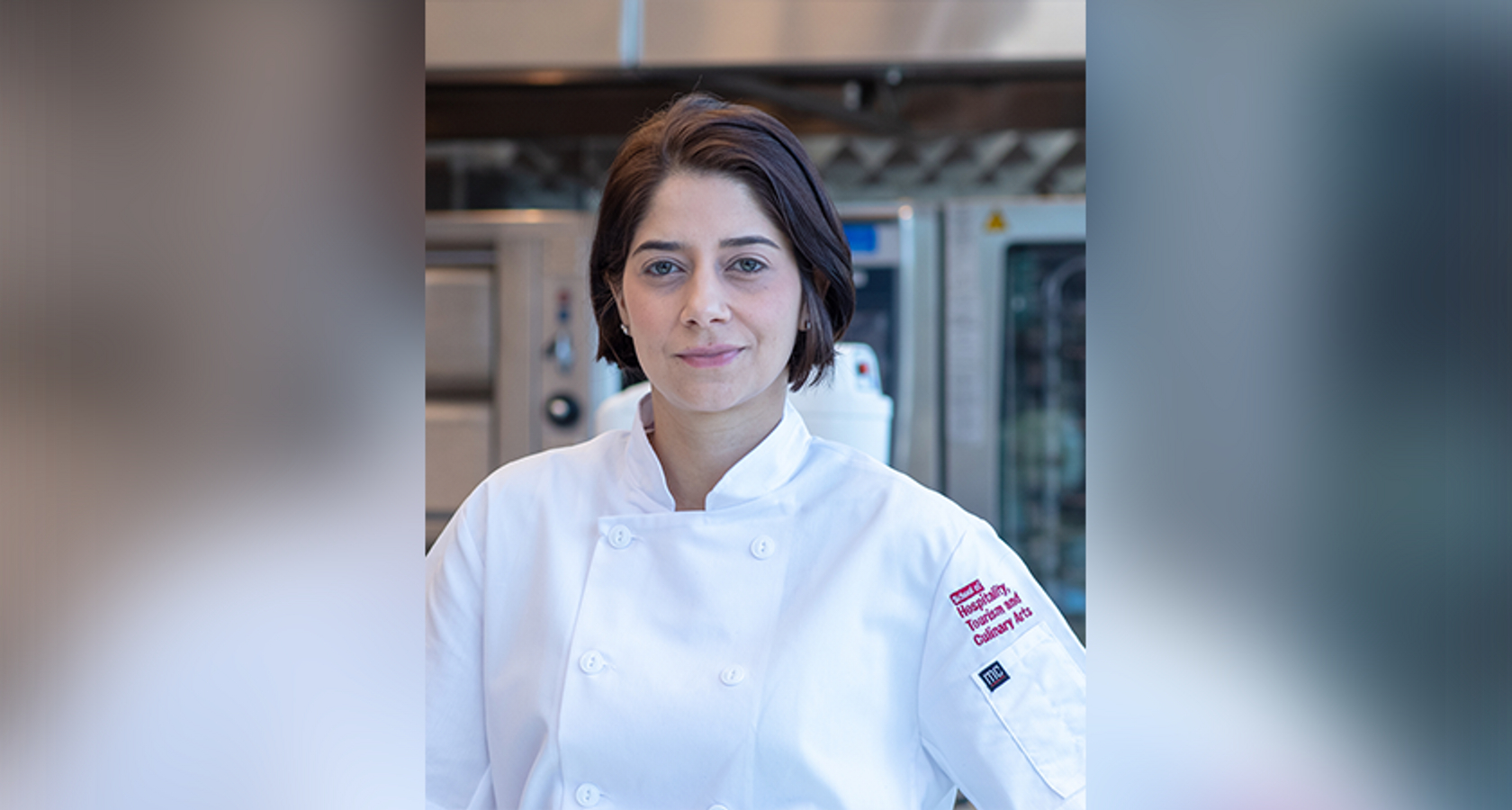 International Women's Day is a global day celebrating the social, economic, cultural and political achievements of women, observed on March 8. On International Women's Day, people come together to celebrate women's achievements or rally for women's equality. In Canada, while we still have a long way to go, we've made great strides when it comes to equality in education, employment and politics.
At Centennial College, we're looking ahead with events like our Conversation for Social Change, titled Another World is Possible: Women Leading Change, which you can register for here, and attend March 10 at 10:00 am. We're also celebrating how far we've come, by we're highlighting women at the college in non-traditional careers, to inspire others to follow in their footsteps.
Lilian Cardoso is a chef who teaches Centennial College Culinary Arts students everything she knows from her post as Executive Chef of The Local Café, Restaurant and Event Centre at our Progress Campus. Throughout her career, she's acquired a unique view of what it means to be a woman in the culinary industry, and what it takes to succeed.
What is your field, and how did you get involved in it?
"I'm a chef, and my interest in food started at a young age while watching my mom and aunts prepare traditional recipes at my grandfather's farm in Brazil. As a kid, I would help with small tasks: picking herbs from the garden, washing the vegetables for salad, collecting eggs from chicken nests. But my favorite part was watching the adults prepare the food from fresh ingredients. Now, I'm working in the field of culinary education as the Executive Chef of The Local Café, Restaurant and Event Centre. I have the privilege of training the next generation of chefs who are studying not simply to learn how to cook great food, but also to be conscious about the environment, the sociopolitical and scientific aspects of each ingredient and recipe."
How has gender shaped your experiences of working in your field?
"Prior to pursuing a career in culinary arts, I completed my Masters in biology, which, much like the kitchen environment, is an  industry dominated by men. Women have historically performed the domestic labour of cooking, and yet our contributions were not celebrated in the culinary arts world.  We are socialized as children and into our adult lives to perform gender constructs, and I'm fortunate to have been raised by a strong woman, my mother, who worked hard on the farm while simultaneously studying, working and becoming a leader in her field. I follow in her steps as a woman in the culinary industry, as I demonstrate resilience, determination, and truly believe in my practice."
What progress have you seen over time, and what still needs to happen in your field to achieve gender equity?
"I remember applying for kitchen jobs while studying biology in Brazil-- at that point I knew that cooking was what I was meant to do-- because I wanted to experience the industry and save money to pay to attend a culinary school in Canada.  I was only permitted to work in Front of House positions as a waitress, and was told that the kitchen was for "strong men" who can handle the "tough job," as if being a waitress wasn't a tough job."
"When I moved to Canada, I finally got a job in a kitchen, and I had to work hard to show that I could grill a steak as fast as and better than the men in the kitchen. I could also control inventory and operate a kitchen, manage staff, and be a leader. It took some time, maybe longer than it would a man to climb the ladder, but with focus, dedication, and eagerness to always grow and learn, I am now where I want to be. Over the years, the industry has evolved and so has the community; girls can now dream of being chefs, and can imagine themselves cooking as a career, not just cooking in domestic and familial settings. We still have a lot of work to do, and I believe education is the first step to eradicating discrimination in the industry."
What advice do you have for women and non-binary folks in navigating a career in your field?
"I advise everyone who is passionate about culinary arts to study, explore, find inspiration, and be curious. It is important to believe in yourself and to surround yourself with people who believe in your potential and dreams. It is important to self-empower and transform negative experiences into learning opportunities and allow your unique perspective to guide you as you move forward. Finally, enjoy the journey, because being a chef is not an easy job, but committing to your passion will make it rewarding."
Who is a women or non-binary person you admire, and why?
"The French Chef Anne-Sophie Pic is an inspiration of mine, because she is one of only four female chefs around the world awarded three Michelin stars. Chef Anne broke down those barriers and is a pioneer who paved the way for woman who are chefs to showcase their work and to be industry leaders."
 Written by: Anthony Geremia