Supporting her fellow students: Christina Olebu and eMentorship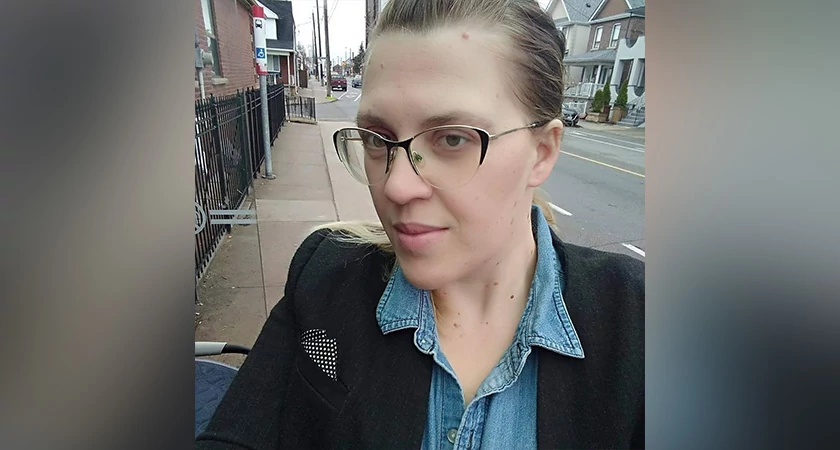 Centennial College is a proud host of many international students and does all that it can to make the college a home away from home. But being an international student still has its challenges – and being a parent, too, adds another layer of complexity. Christina Olebu was both of these things when she enrolled in Centennial's Law Clerk program. Though there were difficulties, she wasn't alone. She received help from Centennial College, and opted to return the favor by becoming one of the college's eMentors. Here's her journey, and what being an eMentor means to her.
An unexpected career move
With her passion for human rights, Christina had been involved with the legal system for most of her career, despite not initially wanting to pursue law herself.
"I worked all my life with lawyers in the legal field," Christina explains. "In my last workplace in Israel, I was a legal secretary in an office that assists Holocaust survivors. I worked there for seven years, and my boss used to tell me, 'Christina, go and study law, you're going to be a lawyer.'"
"I didn't feel attracted to law at that time," she admits. "So I told him, when life brings me there, I'll take it." After her move to Canada, life would finally take her there.
"I came to study in a private college as an office administrator unrelated to the legal field," she says. Christina would have a change of heart and started her career path to obtain a Postgraduate Work Permit. She decided on Centennial College with her sights set on Office Administration.
"Unfortunately - or you know what - luckily, Office Administration was closed to registrations," she says, "so it led me to the Law Clerk program."
Learning and practicing her skills
"I got legal knowledge, and some professors would give you their own tips, because they were all legal secretaries or lawyers at one point in time," says Christina about her Law Clerk classes. "The professors guide you to where you want to go."
"You get to practice your communication skills and hone your other skills on a placement," she adds. "Because of the pandemic my placement had to be done virtually; however, it was still a good experience. I got to practice and familiarize myself with criminal law. We didn't study criminal law in the local programs, so my placement opened my mind to different areas in law."
A unique set of challenges
Despite how much she enjoyed the program, her time at Centennial did come with a few bumps in the road.
"Being an international student brings its own challenges," Christina says. "I was lucky because my husband is from an English-speaking country. I was able to develop and practice my English skills while we were together."
"Being a parent and a student also has its own difficulties, because sometimes the kids are sick, sometimes you don't feel well, and you have to take care of your family," she says. "Studying while you have kids is also challenging, because you need to concentrate, study for the tests, exams, quizzes and assignments." Fortunately, the college offered her several supports to help.
"I used several sets of services in the college," Christina says. "When I was pregnant, for example, my professor, Tanya Domize, suggested I go to the Centre for Accessible Learning and Counselling Services. I was able to get extra time on test and assignments, and the flexibility I needed."
On top of that, Christina used the college's International Department for tips on immigration, and accessed the HireCentennial portal to get a post-school job. It was these resources that Christina wanted to guide others towards, and would start sharing her advice by way of an eMentorship position.
How she got into mentorship
"I was following the CCSAI student association on Instagram and saw the eMentorship advertisement," Christina says. "At the time, I was working as a summer student. It was before my third semester and I thought to try it, because I knew it could help me in the future. It can even help me now! I sent an email, went through an interview and was accepted to the program after being trained."
"Being an eMentor is kind of similar to being a mother, except your kids are new students," she explains. "You guide them, help them make the most of college resources. You show them how to utilize the college to help them further in their career. You are also supporting them by being there for them and listening to them."
"I didn't have this option when I started as an international student, and I wish I had it," she admits. "But now, I can lead others in their new chapter of their lives by giving them tips and listening to their concerns. It was very rewarding. It helped me to improve as a person by developing my own communication skills, and helped boost my confidence when speaking with people." What's next
What's next
"I graduated in April 2021, but in the summer of 2020, I was hired as a summer student in the Office of the Public Guardian and Trustee (OPGT). While working as a summer student, I applied for a better position." Christina says. "Two months before graduation, the office manager offered me a role to work for the OPGT as a legal secretary. I feel so lucky."
The eMentorship program enriched her life by helping her strengthen her communication skills, boost her confidence, and help her in her own career development.
"If you want to be an eMentor, just do it," she says. "Even if you have hesitation. It's the first step of the next step. Have confidence that you can achieve what you want."
By: Anthony Geremia