Get some Leadership Vibes with the new season of the Centennial College Podcast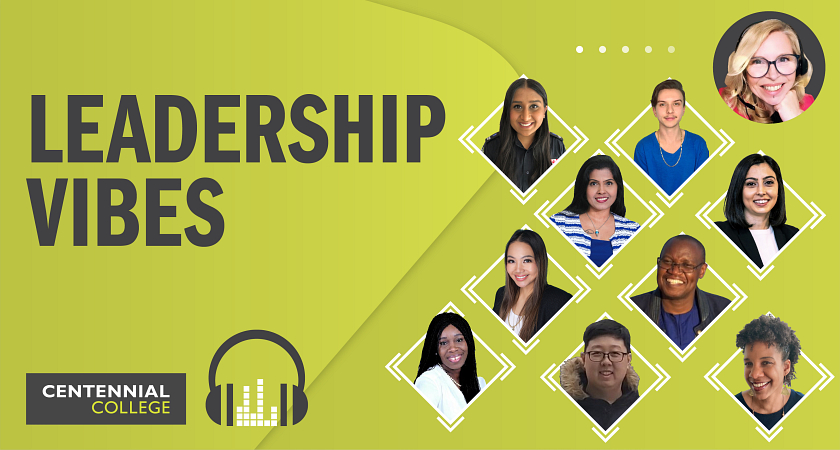 Since 2019, the Centennial College Podcast has helped students get the most out of their learning, and out of their post-school careers, by connecting them to resources, people and ideas. And in 2022, we'll be helping you take charge of the New Year with our eighth season, Leadership Vibes. College is an excellent time to develop your leadership skills, perfect for helping you succeed in class, your career, and in life. Here's why you'll want to listen.
Leadership is everywhere
When we think of leadership, we might think of a President, Prime Minister or Chief Executive Officer (CEO), but the fact is that leadership is embedded in things both big and small. You can be a student working on a project in a team, or a parent, or a friend organizing a weekend get-together. That's why the podcast will be exploring what different kinds of leadership look like.
Leadership has changed
What does leadership even mean? These days, it means that we can all influence others and guide people with a common purpose. We can all be leaders, but also that it's important to lead responsibly, and leave a positive mark on the world. Defining leadership is just one topic in the eighth season of our podcast.
Let's talk about Leadership Vibes
This season, the show is hosted by Ella Bates, a Leadership Specialist with the Centennial Leadership Academy. In the podcast, we explore what different versions of leadership look like by looking at strategies, philosophies and lessons that student and alumni leaders have learned, all to help you prepare for leadership success in a changing world.
In each episode, Ella will talk with a few students and recent graduates who will share their leadership development experiences with us. In the first episode, premiering January 12th, Ella Bates will be speaking to two Centennial student leaders, Basirat Naphew and Frincess Arbour, who will share what matters to them, what drives them, and what gives purpose to the leadership roles they've already taken in their lives.
Future guests can be current students, recent grads or alumni who've gone on to bigger things. Guests will come from a wide variety of backgrounds, and a broad selection of career paths, from paralegal to paramedic, from business to media. Listening will help you think about what's important in leadership, what your values are, and what you want to accomplish. More importantly, it'll help you plan out how to make it happen.
What you can do at the school
If the podcast makes you want to take part in leadership activities at Centennial College, you might want to check out the college's leadership programs for students. We run the annual Student Leadership Conference (January 14 and 21, 2022: Join us!), Toastmasters – a public speaking club – the Leadership Café, a weekly discussion forum, various skill-building workshops and the Leadership Passport program, which leads to the Distinction in Leadership. All programs are conducted through Centennial Leadership Academy (CLA), the architects of the podcast's current season. The CLA is all about helping students see their leadership, and through this and other activities, help students become better communicators, better team players, and better at making an impact in their communities. Connect with us and learn all about our programs via the Student Leadership team on MS Teams.
Your leadership capabilities can make a big difference in your education, career and life. But more importantly, they can affect the people and the world around you. So, listen in to the new season, learn, take part, and take leadership of your future.
Written by: Anthony Geremia