By students, For students: An event to wake the leader within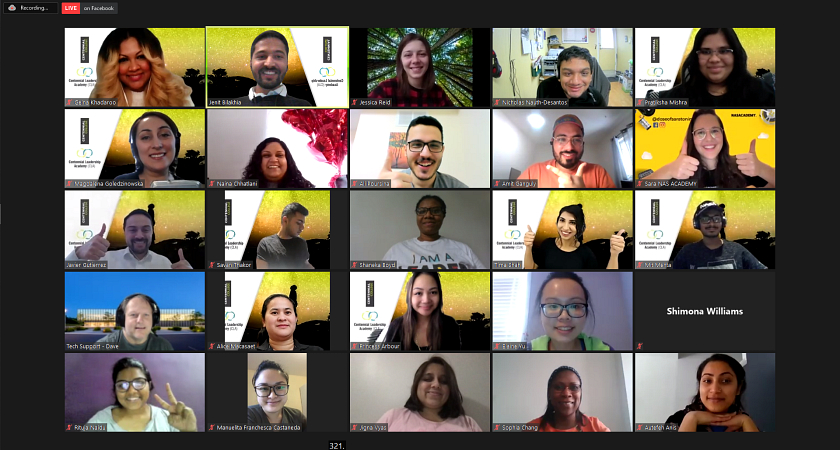 Over the past few years, Centennial College has found a new way to welcome the New Year. As we celebrate a fresh start and set new goals, we take the opportunity to guide students towards becoming leaders who can make an impact. How, you ask? By connecting with others who seek what we seek. Building meaningful connections and gathering resources is a way to get moving on the quest to become more effective as a student, professional, friend and community member. And we've got just the event to make this happen!
The Student Leadership Conference is an annual event organized by the Centennial Leadership Academy, where everyone gathers to gain knowledge that will help them understand how to grow and nurture the leader within. The conference helps students and alumni by connecting them to each other, features skill-building games and activities, and showcases student leaders.
It's been two years since we've been able to enjoy the lively setting of the conference in-person. But the 2021 conference was so full of meaningful experiences that we started to appreciate the power of virtual connection. Students and friends joined us from all over the world with just a click of a button.
With New Year's resolutions on everyone's mind, there is no better time to challenge oneself. We can shed our past selves and rise to the challenges that await us, adapting to emerge as a more courageous, flexible version of ourselves. This year's Student Leadership Conference is all about growing our self-awareness, evaluating ourselves objectively and testing ourselves through new activities, all while having fun! And the journey of discovery and change does not have to be lonely. Our student leaders and volunteers will ensure you see how adaptability is key to overcoming most of our challenges, and how it can be a power in this dynamic world. Leaders: Adapt and Rise will be our central theme for this year's event.
A sneak peek at what's coming:
Do you know your natural conflict management style? We have an awesome session that will help you manage conflict productively.
Meet student leaders Jimmy Nyende and Asma Kadva, who will share stories about their journeys of personal and professional leadership.
Learn from Nas Academy guest presenter Sara Novoselac, video creator and engagement guru.
Get into the spirit of adapting to survive through our awesome survivor game. This isn't a survival of the fittest, though. Instead, we will collaborate and work as a team to win.
The conference is brought to you by the hard work and dedication of many student leaders and student volunteers to make your experience engaging, real and relevant. Don't miss this opportunity to Adapt and Rise – wherever and however it will be most useful to you. Follow the conference updates on the Student Leadership team on MS Teams and reserve your place by registering now.
Vishwa Patel
Semester 6 Biotechnology student
Experience Centennial Student Leadership Team and Conference Co-Organizer