Journalism student publishes full-page article in The Globe and Mail
Claire Floody, a journalism student, had an unforgettable Valentine's Day, but not because of anything romantic.
While couples expected sweets and serenades, all Floody needed was one text the night before from her instructor, Theresa Suzuki.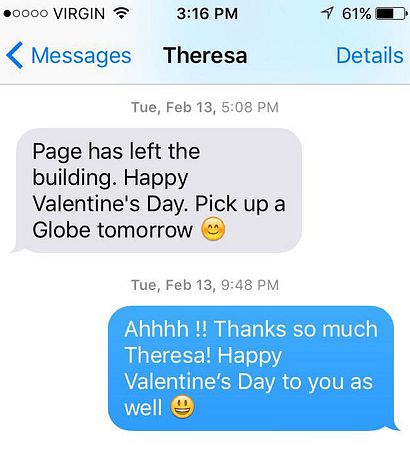 Theresa Suzuki revealed the good news after their weeks of work. Claire Floody exchanged around 30 emails with Globe and Mail editors leading up to the text announcing the publication of Claire's article. (Claire Floody)
The next day, she opened a copy of The Globe and Mail and saw her feature story.
"I was floored. I never really had this 'a-ha' moment because I was working on it for so long. I always kept in my head this wouldn't happen," she said.
Floody started working on the project in October, without any plans of pitching her story.
The project originally aimed to uncover joy in dreary places, but as it progressed, she learned about the surge of young women entering the funeral service industry.
"It became a story and it opened up a whole world to me I didn't really know existed," Floody said.
Suzuki saw potential in the piece from its inception.
"It starts with a little flicker of an idea… as a teacher, I was trying to help her along, but as an editor, I think she was incredibly hard-working," Suzuki said. "Claire is obviously talented and that's why this happened."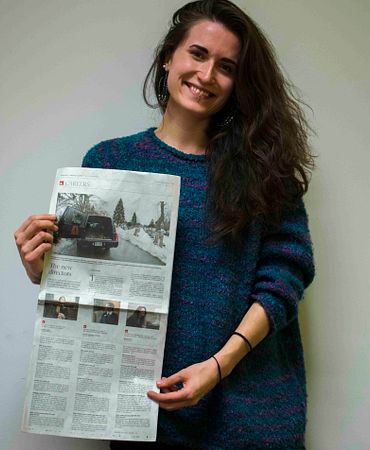 Claire Floody, 24, with her copy of The Globe and Mail she picked up on Valentine's Day. (Bobby Hristova)
Much like the focus of the article, females budding into male-dominated domains are familiar feelings for both Floody and Suzuki who work as journalists.
Floody cherishes the connection she and her instructor made while working on the story.
"It feels really good to have another female role model in a male-dominated industry," she said.
Although journalism students publish their work in the Toronto Observer and East York Observer, instructors encourage pupils to pitch stories to publications beyond the program.
Tim Doyle, the program coordinator, says Floody's accomplishment is an ideal their instructors have for everyone in the program.
"When you arrive here, you're a student, but we treat you like a journalist," he said. "Students surprise themselves sometimes with what they can achieve. So much of this game is about building confidence."
When a @centennialjourn student knocks on your door with a FULL PAGE story they just published in @globeandmail ...congrats @claire_floody! pic.twitter.com/62HJZCfYHN

— Mary Vallis (@maryvallis) February 14, 2018
Floody aims to publish more work in national newspapers and she says anyone in her program can do the same.
"I thought people would see I was a student and write me off, but that didn't happen," she said. "If you have the passion, go get the story."
By Bobby Hristova