Eight reasons to pursue a career in Product Design and Development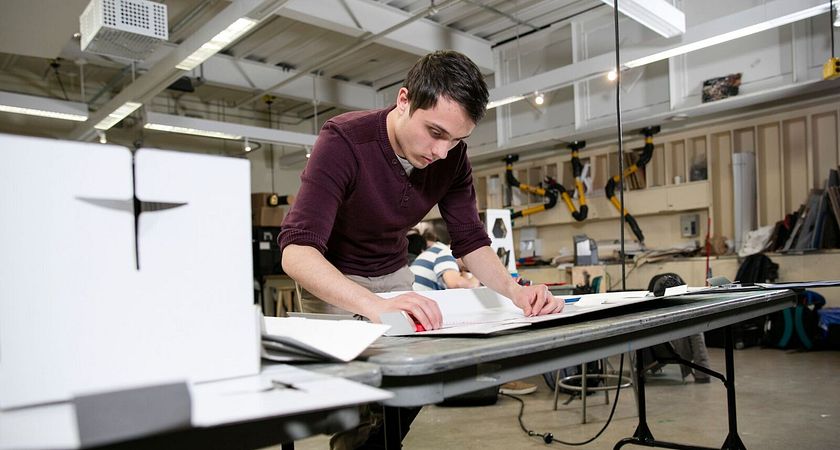 Take a look around you at the items, tools, and technology you're using. The computer or phone you're reading this on? Someone's design. The furniture in your room? All intricately crafted by a team. The world we live in was constructed and designed by people, and by getting a career in product design and development, you can become one of them.
Centennial College's Product Design and Development program is an interdisciplinary offering, where you engage in real-life learning through classroom projects, and augment that learning with a 14-week field placement. You participate in every part of a product's life cycle, all the way from concept to production. This brand-new program is a three-year advanced diploma, with classes that take place at both our Progress Campus and Story Arts Centre.
But aside from that, here's why it's a career you want:
1. It's a good outlet for your creativity
Product Design and Development teaches you complete development of a product, and this starts with the creative part, the design. If you're a fountain of ideas, or you like design and aesthetics, this is a good outlet for that creative side of you.
2. It's also a good outlet for the technically-inclined
Product Design and Development, both as a program and as a career, is a joint effort between design and engineering, meaning the other side of the coin is the practical, technical part of bringing those designs into the real world. In Centennial's program, you learn how to make products that are high-tech, while also being ecologically and socially responsible.
3. You'll learn about both design and technology
"Design is a marriage of science and art, the creative and technical," says Miro Glisch, Program Coordinator. In other words, you need to know how a product works, why it works, and what you can do to improve it. Some of the skills you can acquire during this multidisciplinary program include idea generation, the design process, drawing, model making (physically and digitally), and rapid prototyping, among other things.
4. You'll also learn about business
Even the best product needs to have solid marketing, manufacturing and business sense behind it if it's going to succeed. That's why on top of the functional and aesthetic principles of design, you'll also learn about the business aspects of product development, including product life cycle management.
5. Product design is a part of our lives every day
Every item we use on a daily basis that was made by people was designed at some point, so getting a career in Product Design and Development will net you a role where you can touch all aspects of someone's life, one that'll always be needed.
6. There's no limits to what you can design today
Thanks to technology, it's easier than ever to create the product designs you dream up, with programs like CAD, the Adobe suite, and machines like 3D printers, all of which you'll learn about in this program.
7. You can only get this program at Centennial College
This program is one-of-a-kind in Canada, available only at Centennial, meaning you'll be part of a very small, elite group of creators, ready to offer the working world your unique skillset.
8. You'll be more than just a creator
The Product Design and Development program was created for one specific reason, to fill an industry need for talented people who understand the many different aspects of a product's design and creation. That's why, while you learn, you'll be challenged to solve real problems from the industry. The program also ends with a Capstone project, where you put your ideas to work creating something special. When you graduate, you'll understand both the current and future needs of the industry, and be a job creator, instead of just a job getter. Potential careers range from consumer product development, to electronics, furniture and transportation, among others.
So, if you've got a talent for design, technology or business, find out what you can create and sell to the world through product design and development, and make your ideas a reality!
By Anthony Geremia