The Secrets of Graphic Design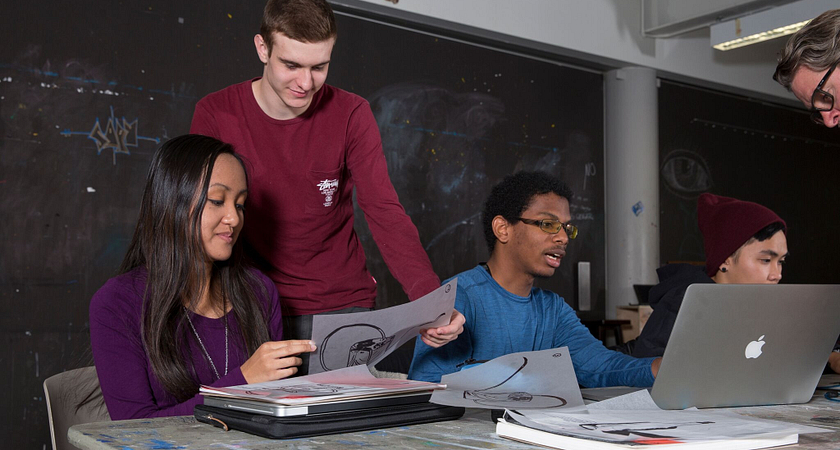 Maybe Graphic Design is something you really enjoy doing and want to get into as a career (in which case, we have a Graphic Design Program for you at Centennial College), or maybe you just got stuck making the visuals on your group project. Either way, here's some secrets on how to make your graphic design work really resonate with people, sourced from Garrison Everest, Pixel 77 and Think Design.
Know what graphic design is really about
Whether you notice it or not, graphic design is present everywhere in your life, in everything from the t-shirt on your chest to the food on your plate. Why? Before we can even read, we understand pictures and symbols. A picture's worth a thousand words, so a good design will give you a thousand words about whatever it's promoting, and help you make decisions that fit your wants and needs.
There's a bit of psychology behind good graphic design
In an age of media and content overload, a bit of good design will cut through the noise and grab your attention, which is why it's an important tool to any business or organization (or a student looking to turn in a really good project). There's psychology to graphic design, and a good designer needs to know, for example, what associations people have with specific colours, or what imagery appeals to the group you're trying to reach with what you design.
It's not just about making it look pretty
Making a website, logo, book, or any other set of graphics as pretty as you can sound good on paper, but it isn't always what you actually want to do. Resist that urge, and make sure what you're making is functional first and foremost. It doesn't matter how attractive a website looks, if it's not clear what it's about and how it works, it'll scare people off. You want to communicate meaning before anything else. You can still have a beautiful design and get the results you want, just never place form above function. People might love how it looks, but if it isn't useful, they won't come back to it long-term.
Don't be afraid to copy what works
Speaking of that, while it's true that you want a design that stands out from the rest, you don't want to take it too far and start breaking too many design rules just to be different. Conventions exist for a reason (like a logo always being located at the top left of a website), and that's because they work. In other words, there's no harm in copying popular conventions and trends, they're there for a reason. Take inspiration from the designs of others, and make them your own. So, don't be ashamed of graphic design that fits the norm.
Collaborate with others
No one's an island, and by working with other people and getting their opinions, you'll make something stronger. That's the key to figuring out if your design looks good, but also that it does what it's supposed to do. By going out of your way to interact with other people in the graphic design community (like, say in a College Graphic Design Program), you'll learn even faster. It'll help you form connections, and turn it into a career.
If you want a career in it, make sure you pick up a lot of different skills
A good graphic designer is adaptable and flexible, especially if it's something they want to do as a career. The more transferable skills you have, the bigger variety of jobs you can take on, from multiple design programs to both 2D and 3D design, and more. Centennial College's Graphic design program focuses on giving you a diverse set of digital and artistic skills when it comes to graphic design. It also comes with a focus on recent tech and art innovations, along with the business and networking skills to launch that graphic design career you want.
By Anthony Geremia