Remembrance Day Ceremony Honours War Veterans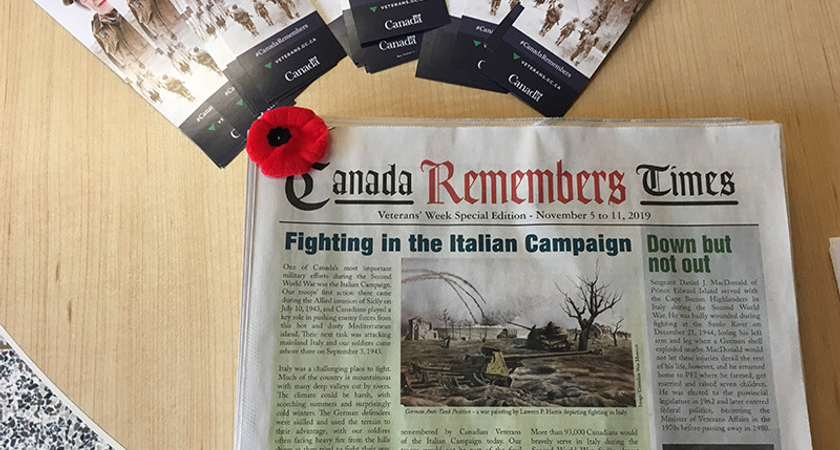 Our annual Remembrance Day ceremony was held at the Story Arts Centre on Friday, November 8. This year marked the 75th anniversary of the Italian Campaign when 93,000 Canadians pushed the German's out of Sicily and up the boot of Italy between 1943-1945. Not only was it a day to honour the men and women who fought, and continue to fight, for Canada, but it was also National Aboriginal Veteran's Day. The observance, which you can watch below thanks to the Broadcasting-Radio, Television, Film & Digital Media students who filmed it, allowed for remembering and giving thanks to Indigenous soldiers and their contributions to military service.
Malcolm Kelly, Professor at Centennial, author, and military history editor led the observance, with the addition of Centennial students from the Music Industry Arts and Performance program and Theatre Arts and Performance program to present the land acknowledgement, perform the national anthem, and read the poem In Flanders Fields. Nate Horowitz, Dean of the Story Arts Centre, was also in attendance to welcome everyone for coming and to remind everyone this day was "not only about remembrance, but learning."   
During the ceremony, Centennial Journalism students Sam Kavanagh, Amanda Da Silva, and Monique Thompson interviewed three war veterans. Journalism professor, Ellin Bessner, said "we wanted a lot of programs to be involved in this…so we tried to broaden it out with five or six programs, but as far as the interviewing goes, who better than senior journalism students who are trained in interviewing." Ellin described how each student "had to learn a lot about this in a short period of time". Sam, Amanda, and Monique did a wonderful job given the short time they had to interview each veteran.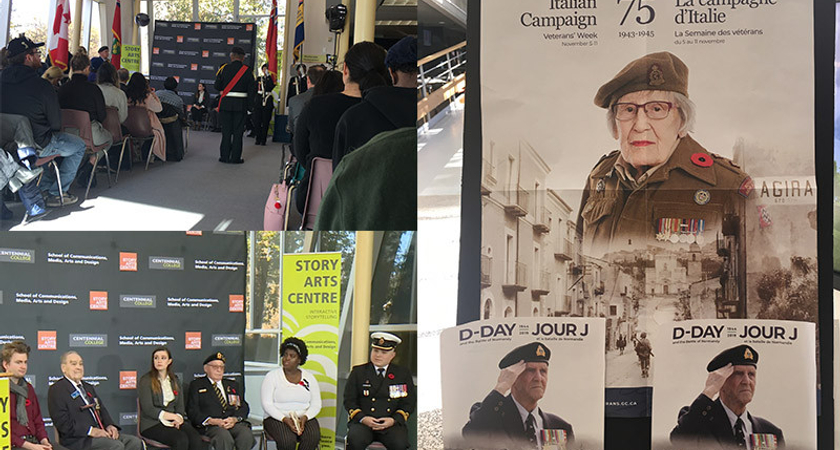 The first to be interviewed was a war veteran of the Royal Canadian Airforce, Bob Middleton. As a Navigator in a WWII Bomber Squadron, Bob was able to recall his time during the war and the experience of flying in multiple aircraft. When he was about to enlist in the war, he said to himself, "I always wanted to fly, now's your chance", and that's exactly what he went on to do. He survived 10 operations flying Halifax's and 23 operations flying Lancaster's. The job was high risk, as Bob remembers many times he thought he would receive a gold silkworm, which is when you have to bail out of an aircraft to save your life. His message to Canadians during this time is to remember how great Canada is. He said, "[journalists] in particular have to tell the general public what a great of a country we have. We have the best aircrew, navy people, and army people."
The second to be interviewed was a war veteran of the Second World War, Max Danker. Max served as a dispatch rider in Italy as part of the Royal Canadian Army. A dispatch rider had the very dangerous job of delivering messages to the front lines on military motorcycles. Max recalls the training to be a dispatch rider very rigorous since there had to be prepared for any circumstance. He remembers his time in Holland and having to maneuver his way down dark narrow roads that were often strung by copper wire as a mechanism to deter or untimely kill riders. Max went on to being the recipient of the  Military Medal for his work in the war.
The final to be interviewed was Royal Canadian Navy Sub-Lieutenant Rodney Carew who is currently in his 23rd year of active service and Health Care Administration Officer at the Royal Canadian Navy. Rodney had relatives who served in the Second World War, with two who were in the Navy, which inspired him to join. Rodney said, "the one thing that I observed as an outsider back then was that when someone says 'someone should do something'…people in uniform get to say 'well today I'm someone and I can do something', and I really wanted to do that so that's why I joined." As a sailor in the Navy, Rodney did a lot of anti-terrorism work overseas as well as helped our nation enforce counter-narcotics operations. From there, he graduated with a degree in health management and was commissioned as a healthcare administration officer. Since then, he was employed at the Health Services training center to teach medical personnel how to provide medicine in the field. Now, Rodney is the adjutant (senior administrative officer) at the Canadian Forces Institute of Environmental Medicine where military science is conducted.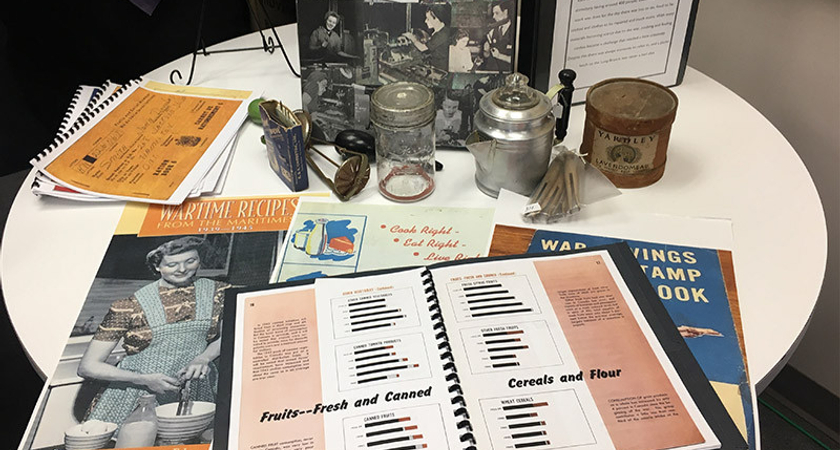 The ceremony concluded referencing to the display of five memory kits produced by Centennial's Museum and Cultural Management students. Each kit was filled with touchable artifacts and material that reflect the 'heyday' of the Small Arms Ltd. Factory in 1944.
The entire ceremony truly showcased the talents of students in multiple programs here at the Story Arts Centre. A huge thank you to everyone involved in running the event, and of course, to the veterans who shared their stories with us. The efforts of past and current military personnel will always be valued and appreciated.   
By Alexandra Few, Communications - Professional Writing Student