Why you want a career in Arts Education and Community Engagement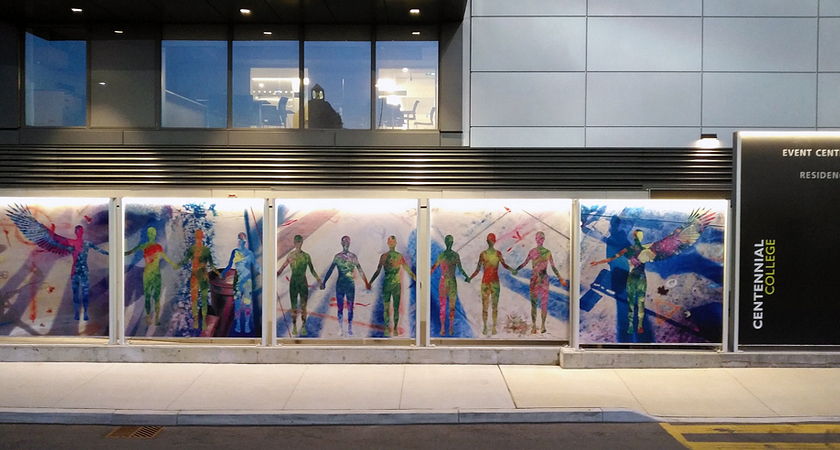 There's more to art than entertainment. There's real power in the creation of art, and how it can unite people. Museums, art galleries, and other public art institutions can bring people together, but so can community arts projects. That's the thinking behind the Arts Education – Community Engagement graduate certificate program, bringing art to the people through programs and projects that involve local artists and the community around them.
It's more than just for fun, though you can have fun with it. Sites like Americans for the Arts, The Brampton Guardian, The Guardian and the Project for Public Spaces all give reasons why Arts Education and Community Engagement is an important career. There are serious issues facing communities all over the country, and In order to fix them, we need to engage these communities. Community arts is an important stepping stone to making that happen.
Art projects bring people together.
In order to change the world, you need people moving and acting as one. If a community doesn't know how to do that, then they can't unite when they need to. A community art project or event, gets people in the same space, mobilizing for something fun. Arts projects also create public spaces for people to meet and just exist in.
Arts projects engage youth.
Young people need to feel like they can have an impact on their community, and engaging them with art is an easy first step, as well as a stepping stone to getting more involved in social and civic issues. Plus, engaging youth has another benefit, in that it brings adults into the picture with them.
Arts helps build communities.
There's a connection between the economic health of communities and their social health. The Project for Public Spaces talks about a Harvard study of Chicago neighbourhoods, and it found that the biggest factor in the health of each one was simply people acting together, and finding cultural ties. Arts projects can build up those strong cultural ties, and make the entire community stronger as a result.
Art makes people feel responsible.
The Project for Public Spaces also talks about "Preservation of Place," which means that when people become involved with the look, feel, design and creation of a space, they feel responsible for keeping it in good shape, because on some level, it's theirs.
Arts means unity.
These days, we need connections between people more than ever. The arts have the power to bring people together across lines of diversity, and in a country like Canada, known for its diversity, that's even more important. Art also means each different group gets to share their own stories, and add it to the vast story of the country.
Arts builds memorable cities, communities, and even the future.
Works of art are all around us. And when art is all around a community, it creates a place that's known beyond that community. As the Brampton Guardian pointed out in an interview with local artists, famous cities like Rome, London and Paris are specifically known for their art, in the form of installations and landmarks.
If you want to help build a community's future through art, we can give you a way. Centennial College's Arts Education – Community Engagement program lasts for just a year and was created for graduates that want some extra training in a niche field. You'll learn through research, mentorship and field placements, and get the skills you need for a career in arts education and community arts. When you graduate, you'll know how to create educational programming for diverse communities, and be ready to help a community near you.
Written by: Anthony Geremia