Dance Performance Program Navigates Online Learning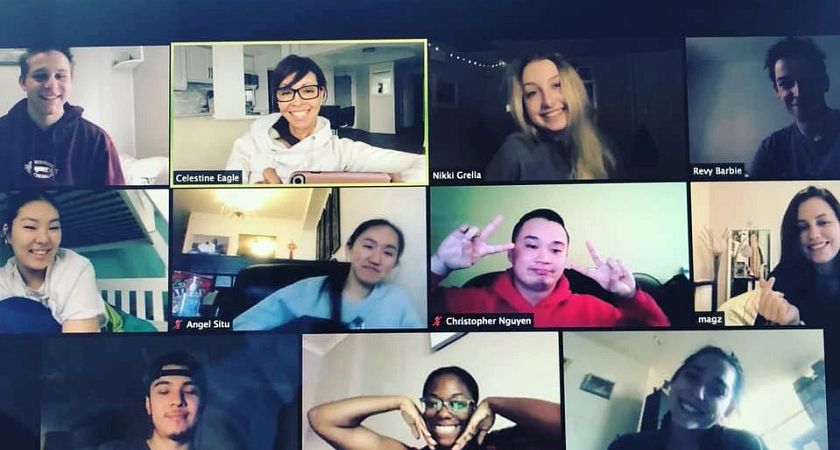 Navigating online learning can take some time to adjust to, but with programs that embrace such a sizeable in-person component, this adjustment can be a bit more complicated. Just like everyone else, the Dance Performance Program had to move their curriculum online, which you can imagine can come with some challenges. Luckily, things eventually settled, but at the beginning of this transition, Celestine Eagle, the program coordinator, was a bit concerned. "When I first found out that we would have to put our entire program online, I was concerned about how we were going to do it in a way that students still got what they needed from the program while also maintaining the community between students and faculty," she says. Upholding the community aspect that the students feel is such a critical component in the curriculum. Celestine says, "We all became a tight community in terms of being in-class together all day, dancing together, and learning choreography…. It becomes a big part of the program. So, I think that was one of the big things in terms of that being completely cut off."
Figuring out how the course would be delivered was also something important to consider. Learning specific styles of dance from an instructor over a computer is not an easy task. However, Zoom seemed to be the most suitable option, especially when considering elements such as lag when learning choreography, for instance. Celestine says that "being able to hear the music being played and the teachers speaking at the same time" were important components they had to consider since "it's quite different to being in the classroom environment." Various elements that were not considered before had to be well-thought-out for each class to run as smoothly as possible.
In terms of learning objectives for the program and what would be taught for the rest of the semester, careful thought went into planning the best course of action. "We had to restructure our last couple of weeks in our outline and then transfer those to online delivery. We structured our classes so that they are all a mix of synchronous and asynchronous, and we also kept their schedule in terms of time the same throughout the week," says Celestine. Keeping the same time was important because it provided students with some structure when making the transition. As well, Celestine says faculty were used to teaching on that schedule, so it worked out for everyone.   
In making sure the delivery of the material was ideal for students, discussions on whether there was too much synchronous or asynchronous instruction was reviewed and adjusted accordingly. Synchronous instruction occurs when online learning happens in real-time, while asynchronous instruction is delivered through various material without the element of learning in real-time. Having a balance of both was essential to Celestine when formulating the rest of the course.
Creating that perfect balance while maintaining the quality of instruction were important elements that this program had to consider. Students and faculty did a fantastic job carrying out the semester, and we are very proud of the work they've done and will continue to do.
By Alexandra Few, Communications - Professional Writing Student