Storyworks Case Study | Lakeside Long-Term Care Centre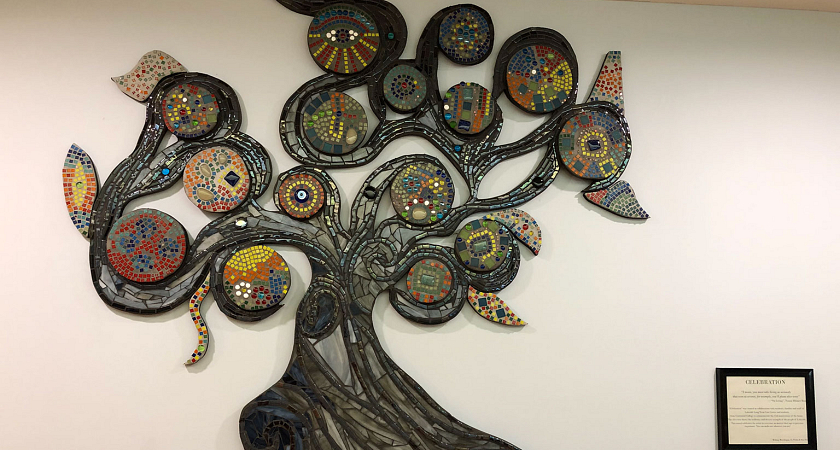 Students in the Fine Arts Studio program worked with Lakeside Long-Term Care Centre for their Storyworks project, which provided students and senior residents of the Centre an extremely valuable and rewarding experience.
The project involved creating a mural to be installed on one of the LTC floors. It was important for students to have something interactive for themselves and the residents. After meeting with the clients, it was decided that a mosaic mural that included the work of some of the residents of the Centre would be a great way to achieve an interactive piece of art. Lisa Binnie, Program Coordinator of the Fine Arts Studio program, says, "The students designed the mural and they built a lot of it, but they left big parts of it untouched so that the residents in the building could participate and glue down their own mosaic patterns on the small pieces of wood that they were given. Those were assembled into the larger finished piece, and that piece was then installed right outside the elevator doors on one of the floors of the building so that the residents could come out and see their [own] work."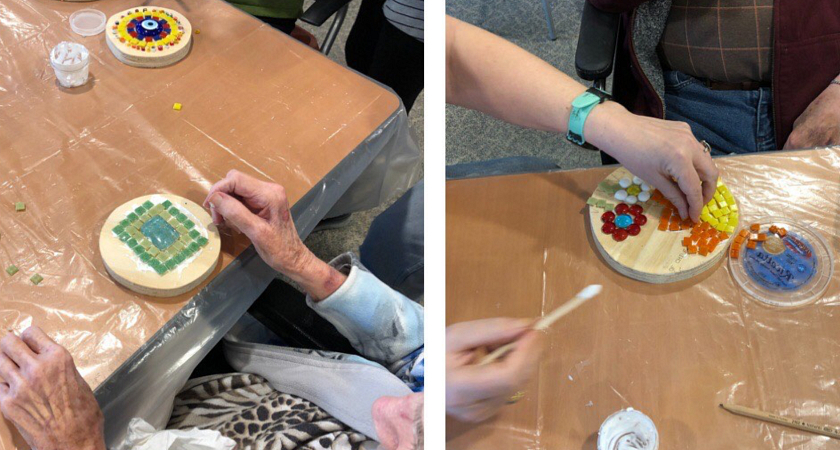 The work that was completed was outstanding, and Lisa says it was a big success. "The students had a blast, the residents had a blast, and they had much more of a turn out than expected. They had a room full of people every time… and it was a fantastic connection for everybody." The clients have asked for more students to come back so that they can add murals to each floor of the building, which Lisa says demonstrates the project's success from the client's point of view as well.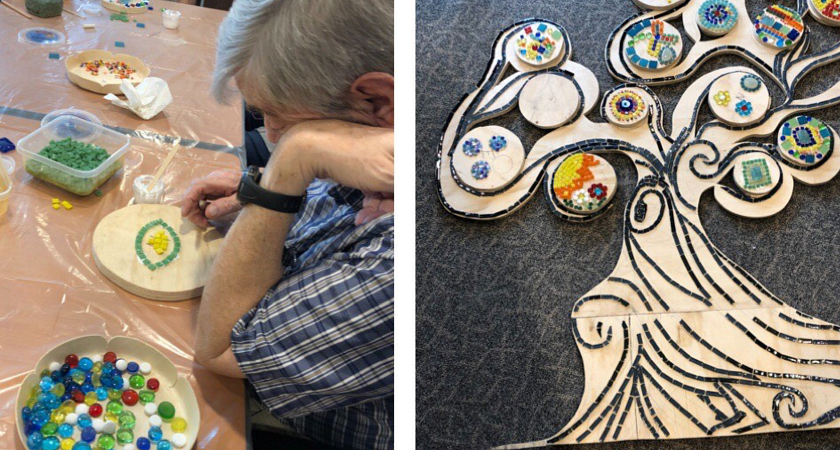 Working on this mural provided students with direct industry-experience, especially since mural work is widely popular in Toronto. Lisa explains, "The community aspect of it, I find, is really important because so much of the publicly funded art making is done on a community level, and there is always community interaction. The students that participate with this residence get to practice these skills of working within the community, and it opens their eyes to what is possible out there. It opens up all of these real possibilities for them when they graduate because they'll realize there's not only an interest in it, but there's funding, and it can help contribute to their income."
Mehtap Mertdogan, a student who worked on this project, had a great time interacting with the clients. "They were very welcoming and collaborative. The good thing is that I always felt the support in Storyworks. The client was flexible… and we worked with the seniors more than we planned."   
This opportunity provided a great learning opportunity for students because they were able to gain the practical, beneficial industry skills. Being given such a large-scale task allowed for collaboration and fulfillment on a number of deliverables. It is this invaluable experience that helps students gain the needed confidence to pursue future opportunities.
By: Alexandra Few - A 2020 graduate of the Communications – Professional Writing program at Centennial College who has first-hand experience with Storyworks and is an avid supporter of its push for experiential learning in the classroom.