ACCEL Presents: Start Me Up, Centennial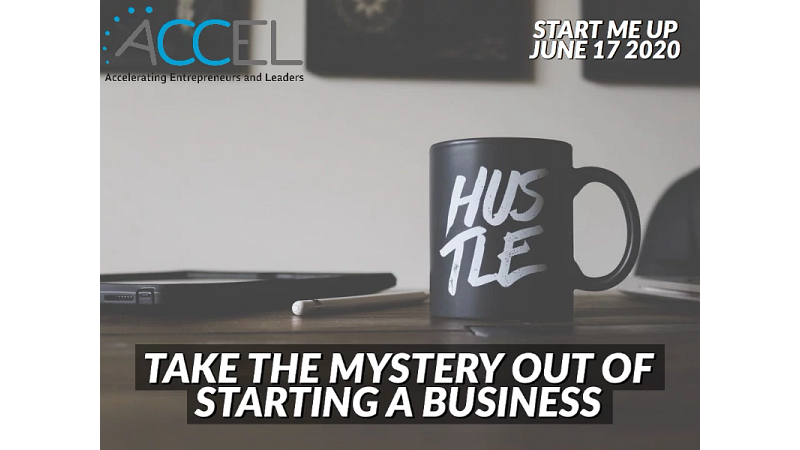 ACCEL (Accelerator for Centennial College Entrepreneurs and Leaders) is a resource available to students, alumni, and the community who are interested in starting their own business. ACCEL offers a variety of entrepreneurial services that provides guidance on starting or growing a start-up, and there are many valuable workshops, coaching from business professionals, and more.
Last month, ACCEL held a day full of virtual workshops, called Start Me Up, Centennial. Each one offered viewers extremely important information on key topics that entrepreneurs should know. With talks given by a variety of experienced professionals, what resulted was an immense amount of engagement and concreate learning for viewers. Jennifer McIlroy, the organizer/host of the event, expertly orchestrated every step along with the help of many others, including, Dean Nate Horowitz, who had an objective of helping students in this recent poor economy seek self-employment and job opportunities, as well as from technical support, the cooperation of the speakers, faculty, and the multiple moderators that helped with leading some of the talks and Q&A portions. Jennifer says, "The purpose of this particular program is to provide students who are about to graduate, or who have recently graduated, with some information they need in order to reconsider approaching the economy with tools and knowledge about entrepreneurship. This is meant to be a practical overview and very much tailored for this round of students at Story Arts. Writers, gamers, app developers, visual artists and animators don't necessarily see themselves in the context of starting a business, so they discount it. What we want to do is provide them with enough information so they make the right choice for themselves and use the information to either create a bridging opportunity to realize some income or perhaps realize a dream they had that they didn't think they could because they thought entrepreneurship wasn't for them."
To see the full breakdown of the day, you can check out the program, but here's an introduction to the speakers and some key takeaways from each workshop. 
The first workshop started with "Create your future!" led by Maggie Greyson, Founding Partner of Futures Present. With an engaging and interactive Lino Board activity at the beginning of her talk, it allowed for viewers to creatively think about the future of Toronto, with prompts of what we expect it to look like in 2050 and what is unlikely to happen. One important note she made was to "envision a future that might be undefined and see something specific and clear to you." Her future-focused talk allowed for discovery on creating your future in a meaningful way. Jennifer says, "Maggie is amazing in taking a look at where the trends right now are going to land us in the future, but then how to frame it so that you're ready proactively as opposed to reactively." Maggie also presented a video she created, which you can watch below:
The next workshop was led by Ashraful Hassan, Founder and Lead Consultant for Impactrio, called "Is social entrepreneurship for me?"  Ashraful provided viewers with information on how to bring change to your community as an entrepreneur and brought to light what a social entrepreneur is and what they can do. Jennifer says, "Ashraful is coming from a place of 'if you're going to think of yourself as an entrepreneur, know that it doesn't have to be for-profit, you can also create social good' which is another obstacle that a lot of the students in the Story Arts, in particular, might have."

Following this, Tony Cleave, Professor and Coordinator of Integrated Media at the Story Arts Centre, and Kirstin Hammerberg, Global VP, Business and Experience Design at SidLee, led their talk called "Steer your own EntrepreneurSHIP". They spoke on what one should know to make entrepreneurship easier and broke down their talk to include specific prompts to think about as an entrepreneur. For instance, start with why- why do you want to do this independently? Another topic included entrepreneurial pathways, such as giving and asking for advice, focusing on compatibility, and knowing that being a leader doesn't mean you have to be alone.
The next workshops were broken into two streams. Stream A was called "The legal and financial first steps every freelancer or new business should know" led by Sasha Boersma, Instructor at the Story Arts Centre and owner of Sticky Brain Studios, as well as Richard Hanet, Partner, Lewis Birnberg Hanet LLP. As the title appropriately states, their workshop focused on the legal and financial side of entrepreneurship and discussed many topics, such as how to set up a company, how to protect intellectual property, and how to set up finances, such as creating income out of a blank page.
During the same time, Stream B, "The first things to consider in selling your product and validating your potential customers" was led by Luiz Parente, Professor and software developer at Centennial College School of Engineering, Technology and Applied Science, and Deborah Day, President of Innovate by Day and former television and film producer. Their talk focused on figuring out who your customers are, if they're right for you, and how to attract more.
The final workshop of the day was led by graduates, for graduates. Fred Neuman, CEO of PsyMood and IMMT grad of 2017, and Khalilah Brooks, President of BAM Media and Children's Media Grad of 2019, discussed their path to success. Khalilah mentioned, "You don't have to look outside yourself, it's already there… it's the things you take for granted that are our gifts."  Fred also discussed pitching yourself to investors and suggested filming a sixty second pitch, then cutting it down to thirty seconds because of time restraints with investors. The importance of finding friends and mentors who share your vision, while having people in your corner, was of great importance in their talk.  
Overall, the event went smoothly, and it's apparent based on the large number of attendees, the information was useful and important to many. Jennifer says, "We need to get our students out from under the messages they are getting now, which is that, oh it's scary out there, and, you need to redefine the future, and we really need to empower them with a way of thinking that places them as a hero of their own stories, not as a victim of the world's story right now." She continues, "If I do nothing else than have a few students who feel, wow I have a few choices here and I can reframe my future with optimism, that would be so incredible. I will think that we served our purpose and have done what we're supposed to be doing."
The event was a major success and there is a plan on carrying out this program in the Fall. To find out more about the speakers of the event, you can check out their bios. Be sure to look out for future free events hosted by ACCEL through their social media platforms- @ACCELCC
By: Alexandra Few