Grads Rave about Communications and Media Fundamentals Program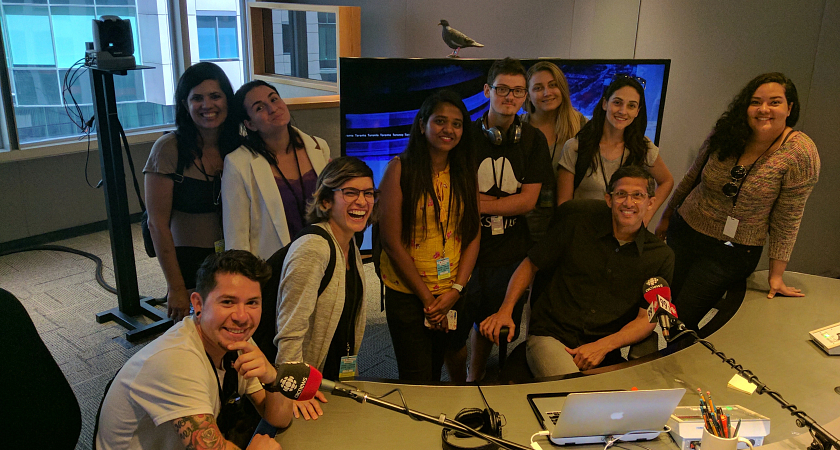 Communications and Media Fundamentals (CAMF) is a one-year program that provides an introduction to a range of communications and media industries. Students in this program who may not know exactly what field they want to get into, or who want to explore the media industries a bit more, can take a variety of courses that can lead them down several pathways within journalism, advertising and marketing, or broadcasting. 
Mike Countryman, Program Coordinator and Instructor, loves the program as he says it's very personable and hands-on, while at the same time very informal, and he enjoys building professional relationships with the students. The idea of a fundamentals program began around ten years ago in the Community College system. Mike says, "We've found many talented domestic applicants with a strong potential to succeed who were not yet ready for a diploma program, but we didn't want to lose them, and so we thought given a little extra preparation, they could be successful." He continues, "The program has evolved into a mix of diversity, strengths, and challenges. We have a few domestic students that come out of high school that are super talented and interested but are not sure of what they want to do. We also have intelligent students that are just not good with the high school system and so they end up leaving high school having some issues with their final grades. They're super awesome though and once they find out how awesome College is, and they're treated like an adult, they do well. Increasingly, we have an international cohort of students who are people with incredible experience. Some work in broadcasting in their home countries or as professional journalists, and they come because it's a one-year pathway to residency and a way for them to improve their English."
Here's what some graduates have to say:
Sergio Moyano, 2017 CAMF grad- "I found it to be a very comfortable environment and the professors were very open to explaining new things. Being an international student, you have some doubts in the language and there are cultural gaps too. When I came here, things were more on the electronic side, so you submit everything by email, and I didn't really do that too much back in Colombia. Something I appreciate a lot and that I learned from Mike was his willingness to help and work with me after hours. Even when we finished the class, I told him a few times that I like writing, and he would check my writing and say, 'you're thinking too much in Spanish, so let's try to fix it'. He sat with me outside at a table and gave me exercises, and I learned really quickly because he's a fantastic professor. He has the technique to teach and that is something I'll never forget because he was always willing to help…and he gave me a lot of advice. He was a mentor for me in those moments.
[After the CAMF program] I did a post-grad in Advertising, Creative & Digital Strategy. I found that if I started the [CAMF program] first, which was a little bit simpler, then it was going to be easier for me when I got to the second program. I definitely felt more prepared and more organized in the context of studying here in Canada.
I would recommend this program to people that are not really sure of what they want to do. If you like writing, editing videos, and things on the digital side, by the end of the program you'll have a better idea of what you want to do. I think it's a helpful course because when I was sixteen or seventeen, I felt like I was so immature during that time that it was really hard for me to decide what I want to do with my life."
Victoria Mateo, 2018 CAMF grad- "The program was beyond my expectations. I learned a lot about media and how it works in Canada. I had wonderful experiences and improved my communication skills in so many ways. I was working in media production in another country until 2017, and I wanted to develop my career here in Canada. I wanted to find a way to understand how media was here, and to get involved with it in a very organic way. This program had most of the fundamentals I needed plus other tools I was looking for. As a Hispanic-background professional, I learned how to understand a new and different cultural environment, built up my portfolio effectively to get my current job and other interviews at the time, have structure in my speech and writing, digital communication skills, planning, explore digital culture in general and find my creative potential through storytelling, all this while improving my English. All of those and more helped me communicate my potential and my work experience in great ways, plus, I got promoted in a short period of time at my current job."
Axel Navas-Talero, 2020 CAMF grad- Axel came to Canada as an experienced professional in the media industry. He chose the CAMF program after going to a College/University fair. "We went to a fair organized by a company in Colombia called Study Now and there were many people from Canada exposing their Universities and Colleges. In one of the conferences, there was this person, Minerva, who goes all around the world speaking about Centennial. When she was speaking, I said to my daughter on my side, 'that's where I want to go'. I talked to Minerva afterward and I decided to go to Centennial just because of what she said about the CAMF program. 
I was trying to get to Canada through learning and studying, and I think that was the best idea I had in my life. Entering Canada through the College, especially through the Story Arts Centre, was such a nice place to be because of the location, the size, the sign on the building, the atmosphere you breathe in there, and the piano in the main hall. I fell in love with Toronto, I fell in love with Centennial, I fell in love with the career, and I fell in love with Canada. At the Story Arts Centre, I met Mike Countryman and he was one of the best teachers I've ever had in my life. So, for me, it was the complete experience of re-learning things that I was supposed to know, but in a new twenty-first century point of view. I learned a lot because the last time I had to study was in 1995. I studied at the University of London and went on to receive a Master of Art in television…so I was studying the same fields I had to study before, but now from the point of view in the twenty-first century with the Internet and social media. It was like my brain was asleep and then cold water was thrown on to it…I am a very different person now after Centennial."
Axel works as a television director and writer with immense recognition, and he writes "fiction with a slice of social content". He says, "While I was in Toronto starting at Centennial, I was writing, editing, and being the showrunner of the first television series completely shot with a cellphone…. the series was nominated for the most important award that there is in Colombia for television." Axel continues to use what he learned in the CAMF program in his career and is so thankful for everything he learned. "Thank you to Centennial and all of the teachers, they were all very good. I am looking forward to the lockdown to finish so I can go back to Toronto and be around them all again."
Ana Lucrecia Chavez Tremont, 2020 CAMF grad- "After I got in the program and I actually started, I was super grateful because I'm very indecisive and I never knew what I liked, so when I started CAMF, I basically discovered what I like. I got into video editing, marketing, which is the one I wanted to do, and I discovered I'm good with account management and media. I also discovered that I actually write better than I talk, so there was a lot of discovering."
Ana started a dessert delivery business with her roommate after finishing the program. "We tried not to think about it too much because we knew if we thought about it too much, we wouldn't do it. We're using a lot of social media for it, and I'm using a lot of what I learned in the program. My roommate is really good at graphic design so I told her the ideas I had and she perfectly put it out there."
Ana suggests this program to "people who want to get into Communications but they're not sure of what to do." She continues, "It's really great and all of the teachers are there to help you. For me, I was super insecure about my English because of the fear that no one would understand what I mean or me not understanding what my teachers mean. It really helped me decide what I want to do because I used to go to Mike's office at least twice a day saying, 'I don't know what I want to do with my life' but this program really helps you learn the basics of what you want to do."
The CAMF program provides a wonderful opportunity to learn more about the media industries, as well as obtain critical skills that will allow you to succeed. Congratulations to all of the 2020 CAMF grads and we wish current, and past students of the program, great success!
By: Alexandra Few