Broadcasting Students Participate in Online Workshops Organized by Ontario Film Unions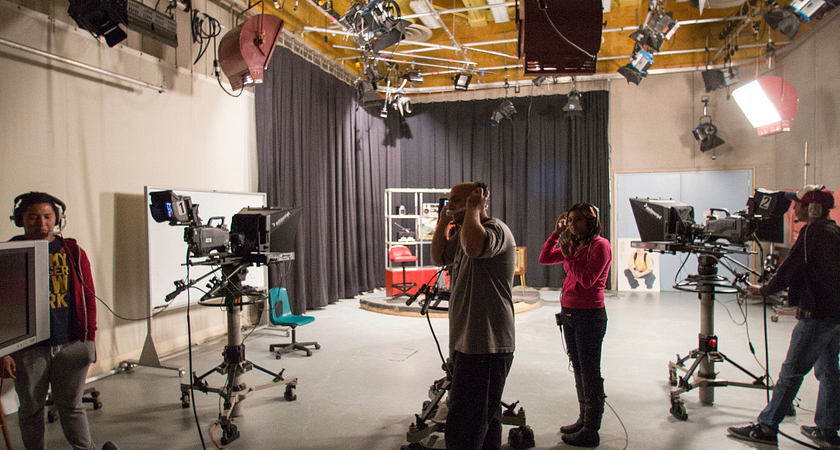 The Broadcasting- Radio, Television, Film & Digital Media program has had an ongoing relationship with some of the top Ontario film unions such as NABET 700, IATSE (873, 667, 411) and the Directors Guild of Canada. Union representatives often visit classes to answer questions and hold discussions, which was the plan for this May. However, with COVID-19 interrupting plans, this all had to change. Chris Terry, Program Coordinator and Professor, says, "Back in February, it was the intention that this Spring we would run a couple of workshops, and of course since the COVID-19 crisis kicked in, all of those got cancelled. So, I reached out to all of the unions about the second or third week into the crisis and said, 'why don't we try to run them as online sessions?' and they all agreed." 
The work with these unions have played an integral role in the material students have obtained from this program. Chris says, "The big two [unions] are NABET 700 and IATSE-873 and they represent most of the film work that we train for on the technical level, while the Director's Guild of Canada has come in on an organization and creative level. In the past, we've done workshops in the Spring with both NABET 700 and IATSE-873 where they'll come in for a day or two and do what is loosely called base-level or orientation workshops, so that anyone who took them, would be ready to start as a daily worker." When starting in the unions as a technical worker or labour worker, Chris says that one will often work on a production that is running where they will need extra labourers to help in the electrical department or to pull cable, which there are hundreds and hundreds of jobs available. He says, "You're hired on as base-level labour to do whatever they need you to do. On a daily basis, you call in very early in the morning or the day before, you see what's available, and you sign up and go to work. Sometimes you get called back and if you're really good and show up to do the work, you're basically hired on a more contractual basis. In order to facilitate that for our students, we've always tried to make that an opportunity." These workshops would thus aid in getting students prepared for that type of role. Thankfully, they were able to continue in an online format, just slightly scaled-back from of what they would have been in-person. 
With so much uncertainty in this industry, it is a bit difficult to navigate the next steps. Chris says, "Prior to the COVID-19 crisis, Toronto's production activity was skyrocketing and the prediction was over the next five years there were going to be ten thousand new jobs [in this industry]. If you look at all of the different productions that were flying, there was big stuff like heavy effect films, big dramas, studio-based films, and across the city there were millions of square feet of studio space being created. In turn, what that implied was there was going to be a demand for skilled labour to go and work on these films…and what a great opportunity for people starting out in the industry. Of course, now we don't know what it's going to look like and even when the start-up for the industry might be. Some of the unions are saying they're anticipating they can start doing some work in late summer, but we don't know…nobody knows for sure."
Chris is glad that the unions continued to work with students despite the uncertainty. "If you look at it in the point of view of what it means for a union, it means that they're trying to keep a positive outlook and to pave the way for new people coming into the industry that they know will need the right information in order to get going. It might not be happening tomorrow, or even in the next three to six months, but here you have a group of people that have the right information, they've been trained in a really good College program, and they're ready to take that next stop as soon as things start back up again."
Those who attended the workshops mostly consisted of final year students who have been trained in some of the core material already. "They need that extra little step to look at all of the departments and unions and see what training stages they need to go through. Of course, they do some basic training in the workshops which are centred around on-set protocols and what the specific set requirements are that we require as a union," Chris explains. 
Thoughts from some of the attendees
Francesca Coviello- I took the NABET 700-M Workshop on May 13. Overall, it was a pretty good experience. Sure, nothing beats an in-person session, but due to the current state of the world, this was the most fitting setting. I think this workshop helped me by giving me, as well as all those who attended, a heads up with what to expect on set, how to act when on set, and how to navigate your first few days as an apprentice/permittee/member. Our session was led by Peggy Kyriakidou, President of NABET 700-M, and she was more than helpful and clear throughout the whole workshop. Currently, I'm a student in the Broadcasting program at the Story Arts Centre campus and will be going into my third and final year. It's a great program that has taught me a lot. What I like most about it is how realistic it is on what to expect out in the industry. Nothing is sugar-coated because our professors are trying their best to prepare us for our future. 
Joel Souza- I attended the NABET 700 and the DGC online workshops that were offered to Centennial students. Overall, I found that the experience was quite positive, especially considering that both presenters mentioned their lack of experience in providing such workshops in a virtual setting. Both workshops were well structured and seemed to cover all the topics that would have been presented in their original format. I do think they were quite informative and helpful in me planning my way forward in my career. However, while I do think the structure of the presentation itself was well built in both cases, as I mentioned above, I also think there's quite some room for improvement in the way it is delivered and also on the technical aspect. Of course, I realize this is somewhat a new reality, but considering we're talking about unions that represent media professionals, I expected some of these issues to be figured out already (or at least in a more advanced form of development) instead of just presenting the same slideshow and narration of their in-person workshops, as online classes naturally need to be more engaging. Nonetheless, I really appreciated the opportunity to attend and have direct contact with union members to have my questions answered.
Mackenzie Floyd- I took the workshops for NABET 700, IATSE 667, and the Directors Guild of Canada (DGC). They were all great reminders that there are still jobs out there for people after COVID-19. The instructors were very detailed and gave us all the information we need to apply to their unions. In the NABET course, we even received a certificate we can use to apply for permittee status. All in all, it was very informative a bright spot in these dark times. As a broadcasting student, it has been hard knowing that our industry is delayed and this was great to help motivate students whose morale is currently low due to the ongoing crisis. I appreciate the school and unions setting this up for us during the break. 
The workshops were a great opportunity for students to further their learning and gain valuable knowledge in the industry they are starting out in. Although there is still uncertainty when things will get back to how they were, it is without question that these students have gained valuable information that is needed to succeed thanks to their hard work and dedication.
By: Alexandra Few