Centennial Grad and Professor Margot Van Sluytman Talks Poetry, Social Justice, and Being Nominated for Poet Laureate of Ontario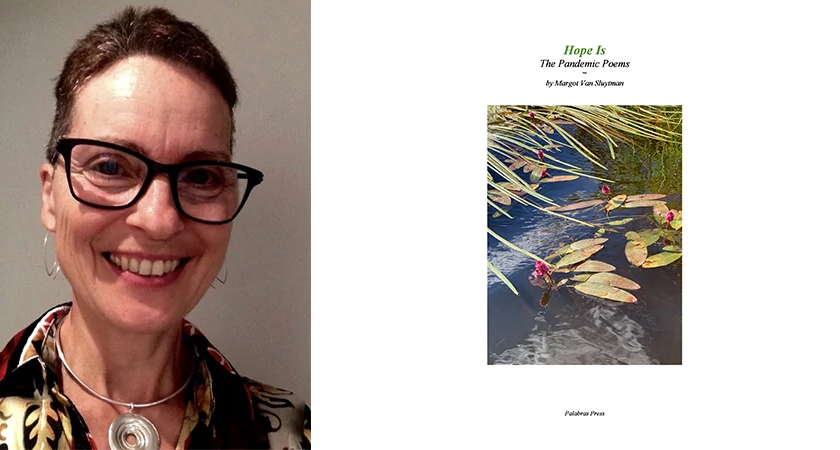 Margot Van Sluytman began her journey at Centennial College in the early 80s when she enrolled in the Book Editing and Design program, which is now Publishing – Book, Magazine, and Electronic. After discovering the program in its early years, Margot was amazed that a program like that existed, and says, "Centennial is always cutting edge and always offers something unique." Excited to learn about the publishing industry, Margot gained a wealth of knowledge about the field and notes that the program really allowed students to have a voice and agency, which she says is a major takeaway. Once completed, Margot went on to work in the publishing industry for many years, but always wanted to open her own publishing press. In the early 2000s, she did exactly that and started a small press. She says, "As a poet, what generally happens is that you will publish one or two [pieces] in magazines or journals, but I learned how to publish my own stuff." Fortunately, this catapulted her further into the industry, as people came to her asking if she would publish their work!
When it comes to her writing, a statement that she holds close is: "Poetry is art and healing". These words were formulated in a large online writing group she led several years ago, but it has since been a big inspiration. In fact, a significant award Margot won was for her poetry journal, Dance with Your Healing: Tears Let Me Begin to Speak, which emulates that statement beautifully. The journal includes poems along with questions the reader can answer. For example, the poem Up from the Ashes asks the reader what that means to them when they're feeling in pain, rejected, diminished, and so on. Furthermore, she is a member of the National Association for Poetry Therapy, which inspired another book called Layers of Possibility: Healing Poetry from National Association for Poetry Therapy Members, that highlights the words of those she worked closely alongside for many years.
Margot has always loved language and describes poetry as "vibrancy, image, symbol, creativity, and possibility." She further notes, "The thing with poetry is that it gives all of these images, it gives emotion, and it gives you a voice." Using this understanding, she has gone on to create a large body of work, mainly preferring to write free verse poetry. A unique component of Margot's collection is the work she puts toward creating videos, in which she recites poems from some of her published books. This added audio element brings the poems alive in new ways, and examples include: Alba the Spanish Woman, Nutmeg Girl, and Beautiful Harridan from her book Alba the Spanish Woman;  Lyricism, Skipping Rocks on Georgian Bay, and Freed Verse from her book Studying Love; and I am Ruby, Whale Rider, and Truth But No Logic from her book Of Dark Night.
With well over a dozen published books that include a vast array of poems, Margot has been recently nominated for the Poet Laureate of Ontario – an achievement that honours the late Gord Downie, the former lead singer of the Canadian rock band The Tragically Hip. If selected, the Poet Laureate has the responsibility of "writing poetry, promoting art and literacy in the province, celebrating Ontario and its people, and raising the profile of Ontario poets," according to their website that lists the breakdown of this achievement. Margot was nominated by the minister of the church she goes to, Reverend Anne Hines, who also happens to be a writer. To be nominated, the nominee must have made significant contributions to the arts and literary community, and the nominator is required to send in detailed pieces of information, all within a specific list of requirements. For instance, Margot explains that Reverend Hines had to acquire two supporters within the literary field to support the nomination, on top of the initial nomination. When Margot received the email informing her that she was a nominee, she felt both excited and extremely moved by it. As noted by the Legislative Assembly of Ontario, the selection of Ontario's first Poet Laureate is expected by March 2021.
In addition to poetry, Margot is also well known for her work in social justice, particularly for Sawbonna – a new model for restorative justice. She has written an immense amount on this, including a book called Sawbonna: I See You. A Real Life Restorative Justice Story, which is used in Universities around Canada, as well as her Master's thesis titled Sawbonna: Justice As Lived Experience that she wrote during her degree at Athabasca University. In fact, Margot was awarded Alumni of Distinction in 2018 from that very school, in addition to Alumnus of Distinction from Centennial College two years prior to that.
As for what Margot is doing now, she is currently creating a community around the virtual healing home she founded called Theodore's Place Healing Home for Crime Survivors, which she created in honour of her late father, Theodore, who was tragically killed when Margot was sixteen years old. As for poetry, she is working on her newest book called The Pandemic Book: Hope. She says, "There is art in healing. Let's use this scary time to say, alright, let's get creative. We can create possibility." She also currently teaches the GNED-500: Global Citizenship course at Centennial where she says she connects writing, agency, and voice within the material. "I speak to my students about the connection between global citizenship and social justice, and I relate it to poetry… because poetry goes across specialties," she says.
Margot's work is exceptionally moving and the accomplishments she has acquired along the way are immensely inspiring. We celebrate her nomination for Poet Laureate of Ontario and are excited to see future publications from her.
By: Alexandra Few