Centennial College is Officially Certified to Teach Houdini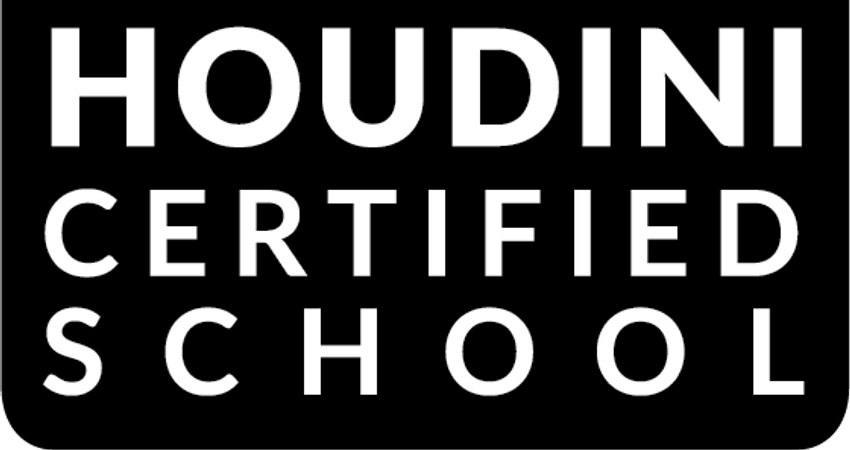 We are proud to announce that Centennial College is now included within the list of official schools certified to teach Houdini - a 3D animation software developed by SideFX. This industry-standard software is taught in our Digital Visual Effects (DVFX) and Animation – 3D programs, and it is used in studios around the world. Engaging with this software allows students the hands-on experience that is necessary to broaden their skillset, which is why becoming a certified school to teach Houdini provides an exceptional opportunity for current and future students who are entering this field.
Kim Davidson, President and CEO of SideFX, has been immersed in the world of 3D animation for over thirty-five years. What is now a world-leading innovator in visual effects with their Houdini software, SideFX launched in 1987, which Kim describes as "the early days where if you wanted to produce something, such as a flying logo, you had to write your own software." After developing and releasing PRISMS, a precursor to Houdini, for several years, Houdini was released and is now widely used by many award-winning studios around the world. "Houdini has grown leaps and bounds in the last ten years. It's probably the most mature, complete, and in-demand 3D software on the market today," Kim notes. Houdini is made of numerous parts, with its ability to handle modelling, motion, lighting and compositing, and much more! This vast range of sophisticated components is why Kim describes it as a complete software. Consequently, becoming a certified school to teach Houdini creates a wonderful learning opportunity for students. "Because it's in demand, students are in demand. You need training on any software, whatever that may be, so for students that means they are going to have greater job opportunities. Not only are they on the radar because they're certified, but it gives them the confidence that they have reached a certain level of ability to get the basics that these studios want," Kim says. 
Centennial has a long history with SideFX and Kim is happy to see students learning how to use Houdini, particularly in a market that greatly needs Houdini users. He notes that technology is moving quickly, but Houdini has been able to remain current and address the changing world. "Students will have the confidence that they're getting on a platform that is always current. If you're on this software, you're not learning something that's going to be out of style next year, as we've proven that for over thirty." 
Dean Nate Horowitz is also pleased to see Centennial take this step in becoming certified in the software, as he was the Program Coordinator of the Animation program when it launched in 1996. He notes that at the time, Centennial was one of the only Colleges committed to teaching Houdini, which then eventually began to spread out within similar programs. Describing the software as all-encompassing and comprehensive, Nate says, "Not only are we certified, which is an honour for the College, but this is used by companies around the world to make animations and games." To see some of the work our students in the DVFX program have created with Houdini, check out the video below.  
John Lee, Program Coordinator for both the Animation - 3D and DVFX programs, brings a great deal of digital animation experience to Centennial. "My professional experience ranges from 2D/3D animations, broadcasting design, game development to supervising the whole production pipeline for animated shorts and commercials. For over twenty years, I have worked as a lead designer at Rocket Science VFX, design director at Hatch Studios, senior designer and animator at Corus Entertainment, and many others," he says. Additionally, John has over 10 years teaching various courses in the Animation – 3D program, making him very familiar with the top industry software that is available. 
Regarding Houdini, John says, "The primary 3D software that we teach in the DVFX program has been Autodesk Maya, which is considered by many studios as the industry standard for creating various 3D elements that can be integrated into visual effects shots. However, with the recent surge of Houdini as a go-to software for creating special effects such as water, fire, liquid, or other realistic effects simulations, we have begun incorporating Houdini into our curriculum more and more. The program still focuses on teaching Maya, but with the increasing popularity of Houdini, we noticed the demands for more DVFX courses focusing on the software, and we expect the trend to continue." John notes that one of the great benefits of this certification is that students in both programs are eligible to receive a free one year license to Houdini, which is certainly an extremely valuable tool to have available, especially once outside the program.
Jorge Razon, Centennial faculty member and VFX/CG Supervisor at Soho VFX, has been with the College since 2014. "A few years ago, the DVFX program decided to migrate the dynamics portion of the course to be done in Houdini, and I re-wrote the curriculum to teach students the skills required to become proficient FX artists," he says. In his role at Soho VFX, he oversees all of the visual effects work, which includes communicating with clients and artists, leading research and development of effects and dynamics for various projects using Houdini, working with developers to create tools and improve efficiency, and more. Over the summer, Jorge worked with SideFX to start the certification process. He says, "In order to become a certified school, we needed to submit an edit of our students' work and projects to SideFX. Their work is put in front of over thirty-five judges from different high profile studios and the industry decides as a whole if our students' work is worthy of the certification. The certification process is an annual application that we need to continuously reapply for, which is a good system that SideFX put in place to guarantee that all certified schools are teaching the most current tools and skills to their students." He continues, "We are honoured to be a part of the Houdini Certification Program in 2020.  I'm happy to see that the industry recognizes all the effort and hard work that our students put into their projects. My goal is to continue getting certified on an annual basis and become a world-renowned program for teaching Houdini."
An additional faculty member, Michael Sun, also sees the great benefit this certification provides. He says, "I think having Centennial be a Houdini certified school is a fantastic boon for students. Not only will the students receive a full license of Houdini after graduation, but they will also have had experience with a state of the art production tool used in all major studios around the world. It is important for students because Houdini is a complex tool and any time spent in it would make the students more versatile when they graduate into the industry. Students have expressed interest in learning Houdini but a lot of the time have no idea how to go about learning it. That's where the school comes in to introduce a structured environment for them to get introduced to the tool and with the license provided to them to continue learning after they graduate. For future students, having the school certified by SideFX will signal to them that Centennial is a great place to learn Houdini, and they will know what they learn is and will be applicable in the industry so that they can be better prepared for their careers."
Becoming an official school that is certified to teach Houdini is an amazing step to add to the experience students will receive in the DVFX and Animation – 3D programs. We are honoured and thrilled to provide industry-standard training that will lead to long-term success for students in this field.
By: Alexandra Few