Journalism Programs Partner with Maclean's for: They Were Loved- The Maclean's Obituary Project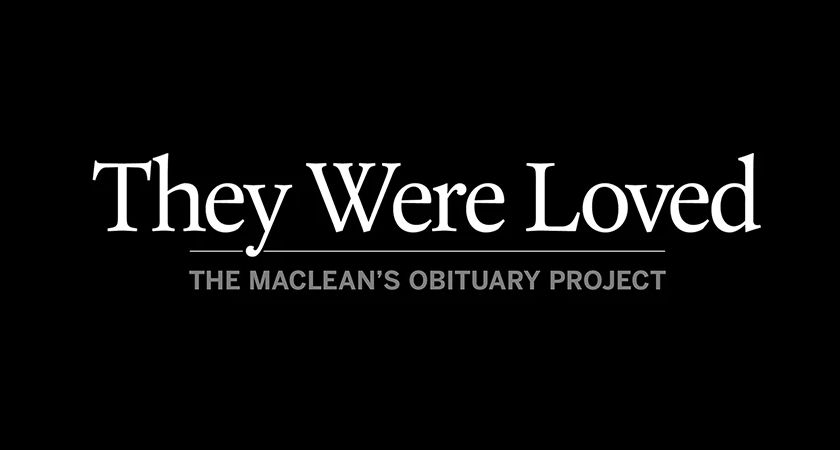 COVID-19 has the world of journalism buzzing with news stories and press conferences as a way to inform the public on current guidelines and important information. Unfortunately, what coincides with this pandemic, is the grim topic of death – something journalists have had to report on for centuries. To date, COVID-19 has taken the lives of over nine thousand Canadians, most often represented in the news by a statistic rather than a person and their story. Maclean's wanted to change that and decided to take on the sizeable task of creating an obituary for every Canadian that has lost their life by COVID-19, titling the project, They Were Loved – The Maclean's Obituary Project. What is unique about the project is that it involves the efforts of Canadian journalism students, including our very own at Centennial.    
Katherine Laidlaw, the Journalistic Resident at Carleton University, as well as the Coordinating Editor of this project, briefly describes its initial stage. She says, "Back in the summer, a group of partners came together at Maclean's; J-Schools Canada; the Giustra Foundation, which is a philanthropic foundation that wanted to do something to commemorate the victims of COVID-19; and Carleton University, through Brett Popplewell who's our Professor at Carleton and was the touch-point person for the project at that point. They came together and decided to try and do an obituary for every Canadian who died of COVID-19, which is an ambitious goal, but an exciting one too. The idea was that we could offer these pieces as stepping stones for journalism students to work on, as well as offer them a publication in a magazine like Maclean's and also get the experience of working on a story with a real-life impact."
Noting a similarity to the New York Time's series called Portraits of Grief, which commemorated the victims of the 9/11 attacks, Katherine says this project would "have the same impactive spirit where you're not necessarily telling the whole story of someone's life, but rather trying to capture their essence in a vignette and focus on what really made each person special." This project will carry on long-term, but the work done has already been impactful. Katherine says, "It has been amazing seeing the pieces come in because it has been a real education in how much you can do with one life." As well, including journalism students within Canada is something that Katherine says is important. "I think we're seeing, at least I hope we're seeing, a shift in journalism towards more empathetic reporting approaches and more trauma-informed journalistic practices, and I think an exercise like this gives students some experience with that. I remember as a journalism student that I didn't confront grief in this way until I graduated and was working as a newspaper reporter, and I think knowing how to talk to people who are in pain is a skill journalists need to have, given the work that we do. I think offering that as an experience to students where they have the support to guide them through how to navigate those conversations and how to navigate how they're feeling about those conversations is really important."
The students in our Journalism programs will be playing a direct part of this project, which Journalism Professor Mary Vallis describes as a natural fit. "I teach Reporting 1 and 2 and one of the first assignments students have in one of those courses is to write their own obituary. People dying make news all the time and it's a standard format they're going to use throughout their career as journalists. We give them the assignment of reflecting on their own lives to help them realize that everyone has a good story to tell, and even someone who is young, already has an amazing story that's worthy of telling. We don't focus so much on the death part of it, and we very much empathize that obituary writing is about celebrating the life of a person and finding themes in what they've done to date in their lives," she says. Mary also reflects on the opportunity this provides students, as she says, "It's a way of making the pandemic relevant to the students journalistically, and it's a way for them to practice this very common format of journalistic writing; we were on board 100%. What's also nice about this project is that it gives students the chance to get published by Maclean's. All of the work that's submitted is published on their website and then they're picking a selection of obituaries produced per month to be featured in their magazine." Since journalism students around Canada will be included within this project, Mary points out a long-term impact this will have on them. She says, "It provides a uniform experience for all of the journalism students in Canada. Twenty years from now when they're working in various places and meeting each other, they will probably realize they were all involved in this project one way or another."
The overarching goal of this project can create such an impact on everyone involved, as Mary says it "connects students with their own community in a meaningful way, in a safe way, and in a way that plays a role of social good." This is a great opportunity for students to advance their journalistic skills and is another positive reflection of our journalism programs as a whole.
By: Alexandra Few
*Photo Credits: Maclean's