Faculty Member Errol Nazareth Hosts CBC Music's New Radio Show Frequencies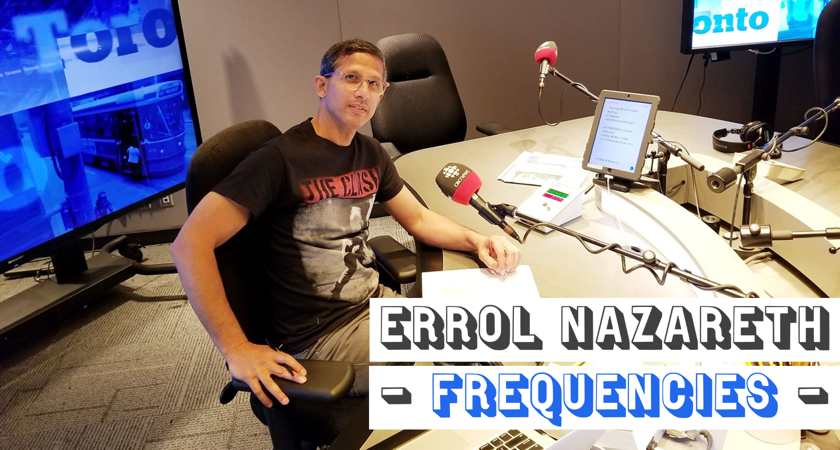 Errol Nazareth has been making great strides in the world of media for over twenty years. Being the co-producer and host of the successful CBC Radio One show, Big City Small World, amongst many other national shows, Errol continues to shine his journalistic talents across the country.  
In February of this year, CBC Music's new radio show, Frequencies, debuted to listeners across Canada. Hosted by Errol, and produced by Reuban Maan, Errol describes the show as a "weekly global music show that highlights music – and the stories behind the music – emerging from communities who don't get the love and support they deserve in print and on the airwaves."
Prior to the show commencing, Errol says the planning process was quite simple given the mandate. "Here was an opportunity to draw from years of experience advocating for musicians who've either been ignored or not properly promoted and supported and to show the country there's more to Canadian music than indie rock or singer-songwriters with their guitars," he explains. Having aired for several weeks, he says, "It's a lot of work but I love the experience. Hosting a weekly national show like this has been a dream for many years. COVID has prevented us from inviting artists into the studio for an interview but we've found a way to include their voices on the program by asking them to send audio clips talking about a song or the creative process behind a song." 
Frequencies, which airs weekly for one-hour, covers various themes that listeners can tune-in to and reflect on. "My producer Reuben Maan and I think hard about possible themes for each show. When we come up with one, we immediately start throwing around ideas for artists and/or songs that fit the theme. I pride myself on telling interesting stories behind songs, and once we draw up a list of artists for a particular show, I research like crazy and look for nuggets of info about the artists that I think listeners will find interesting," Errol says. Already, the show has been met with such positive reviews. He shares, "The feedback/engagement on social media has been pretty overwhelming. It began a week before the show started airing, and the engagement is quite high every Tuesday. It's very clear that so many listeners love being introduced to new sounds and artists."
In addition to hosting, Errol teaches two media writing courses and a music journalism course at the Story Arts Centre, and a connection between the two is exceptionally prevalent. In terms of how he presents material to his students, Errol says, "I put a premium on visual and engaging writing and an emphasis on storytelling," and this is thanks to his expansive list of professional experience in the field he teaches within.  
Interested in listening to Frequencies for yourself? You can keep up-to-date on episodes by visiting the CBC Listen website. 
By: Alexandra Few