Austin Clarke Portrait by Fine Arts Studio Instructor, Neville Clarke, Displayed at the ROM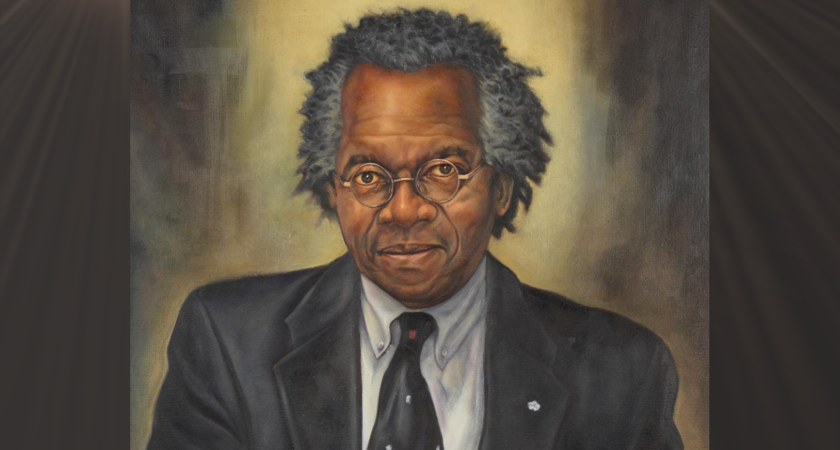 Neville Clarke's journey to becoming the award-winning artist that he is today starts in his childhood. Growing up in Kingston, Jamaica, his love of art ignited within him thanks to a book full of illustrations from some of the great artists we know today. He shares, "My father had a big book on the shelf filled with illustrated images of a religious subject by great Italian Renaissance masters, such as Leonardo da Vinci, Michelangelo and Raphael, to name a few. The complexities of the life-like figures within the composition, and the accuracy of proportions, were intoxicating to behold. This was my first introduction to art, and my hope always was to learn and develop my skill in becoming a great figurative artist."
This passion has since grown into a successful career, where he not only makes art but teaches it in the Fine Arts Studio program. One of his most recent pieces of art that he has created, a portrait of the novelist Austin Clarke, can now be seen on full display in the Sigmund Samuel Gallery of Canada, located at the Royal Ontario Museum (ROM). He says this accomplishment is an honour and one of his greatest artistic achievements.
He shares, "Seeing the portrait several months later hanging in the Sigmund Samuel gallery alongside articles by Austin, commanded a presence that educates and engages conversations. Austin had been an activist for marginalized people. He himself was discriminated against for being black and felt excluded. He coined the phrase omniculturalism, with hopes to affect change for a better Canada. I believe this portrait exemplifies his steadfast beliefs and convictions and hope viewers discover these attributes for themselves. My hope is that this is a stepping stone towards soliciting people of colour to play an equal role in the history and development of Canada and its ever-changing culture." 
Getting to this point involved not only working hard but studying hard as well. Neville moved to Canada in 1974 and lived in Orillia, Ontario, where he began taking painting lessons at night at a local college while still attending public school. After high school, he enrolled at Sheridan College and then the Ontario College of the Arts (OCA) in 1980. From there, he had the opportunity to travel and absorb various art forms in different parts of the world. "I was chosen as part of a group of students to study with the OCA off-campus program in Florence, Italy for my final year. I also spent an additional six months studying from master drawings, paintings and sculptures at the National Gallery in London, England, the Louvre Museum in Paris, and the Museo Nacional del Prado in Spain," he says.
Neville has always leaned toward making figurative art, which he describes as expressive and "done in the classical or traditional manner, yet contemporary in execution". He explains, "Like many of the great masters, I use light to reveal three-dimensional form using tonal values. My work expresses mood and emotions as well as projecting atmospheric space. Although the classical approach is apparent in my work, I also enjoy the process of experimentation for self-discovery and to informing my practice with new ideas in moving my work forward."
In an interview published in the Fall 2020 edition of ROM Magazine, Neville described that his approach to creating the portrait of Austin Clarke involved a rather different process than what he is used to. In that interview, he explained, "Painting and drawing portraits from life is my usual and preferred approach. However, working from photographs and other reference materials can be integral to the creative process. In this case, numerous photos – amateur and professional – were gathered from family members, friends, and public spaces." Since Austin Clarke passed away in 2016, using these images, and additional information about who he was, helped Neville immensely in his creative process. As well, meeting Austin in person on several occasions in the past certainly allowed him to get a better idea of the person he was, which ultimately went into crafting the portrait.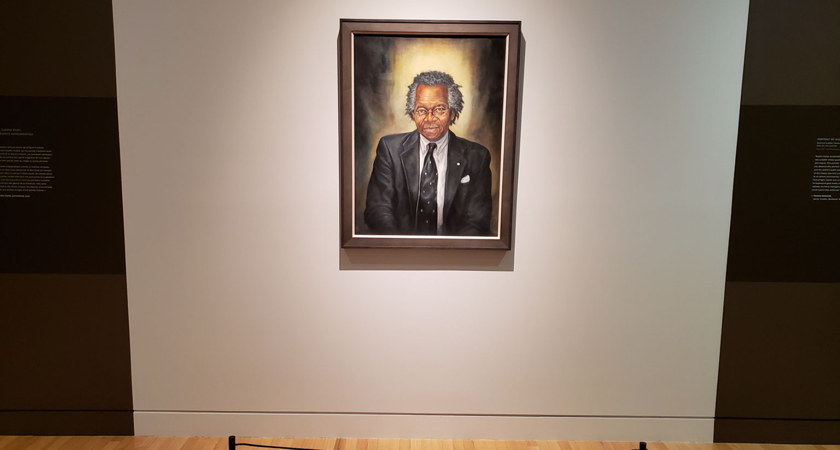 In the same interview, Neville said that over a six-month period, he made a range of "studies in pencil, watercolour, and acrylic paint" as a way to familiarize himself with Austin. The end result involved the use of oil on canvas, which you can see in the image above. His commissioned work is part of the ROM's ongoing exhibition: Austin Clarke: Recognizing A Literary Great, which will be available to see in person when the ROM can re-open to the public.
This is such a phenomenal accomplishment, and Neville wants to thank Arlene and Pamela, who he says were instrumental in him being selected for this commission. Congratulations, Neville!
Written by: Alexandra Few