Grad Profile: Jasmine Vanstone, Arts Management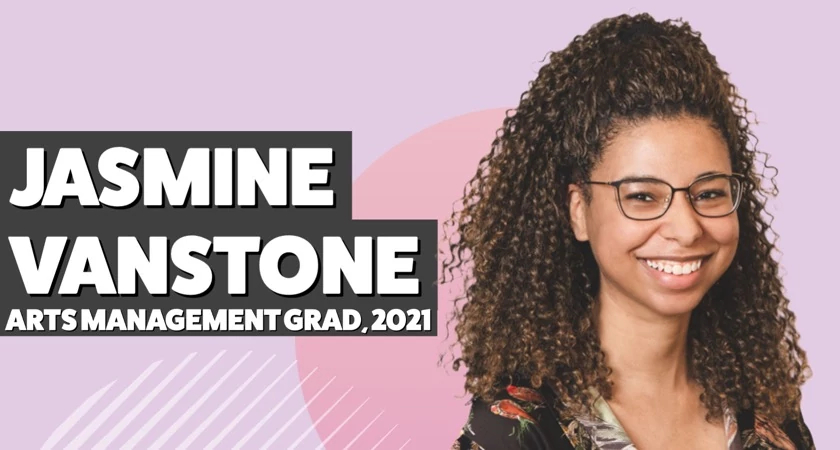 Jasmine Vanstone, a 2021 graduate of the Arts Management program, is an emerging professional who is flourishing in her field with an abundance of knowledge and expertise to back her up. "My goal in this industry is to be a catalyst for creating community arts programs that can facilitate healing, dialogue, and change," she says.
Prior to enrolling at Centennial, Jasmine completed a BFA with Honours in Visual Art & Art History, in addition to a Certificate in Cultural and Artistic Practice for Environmental and Social Justice at York University. With the intention of wanting to use the arts as a tool for community healing, she had the opportunity to intern at North York Arts. She explains, "This experience is when I understood that art service organizations and community arts are how I can channel my calling."
After about a year of job hunting, Jasmine received an email that was unknowingly going to change the trajectory of her future career path. "I came across an email in my York student inbox that advertised Arts Ahead – strong marketing tactic! I didn't want to pass up the opportunity to engage in meaningful discussion and networking to examine the changes happening within the arts and its management. Attending a student-led symposium that touches on artivism and emerging arts professionals' integration into the field, inspired me to enroll in the program, accompanied by a cheerful chat with Rebecca Peirson, the Program Coordinator," she explains.
Key Lessons from the Arts Management Program
Jasmine says that the main foundations of any non-profit include: leadership in the arts, fundraising, and policy. Within these three pillars, there are many key lessons that Jasmine will carry with her now and in the future. "Institutional Leadership taught me that board structure and leadership style influence an organization's life cycle. Board members need to revisit their key values, intrinsic motivations, leadership identities, unconscious biases, and personal definitions of success to make sure they are in alignment with the organization. Board members need to have strategic and tactical intelligence. Strategic is the future-forward generalist initiation of ideas using strategic planning and tactical is currently specialized reactions to operational processes… Hot tip: Volunteer on a board if you can."
For Fundraising 1 & 2, she says she was taught that "storytelling and emotions are the roots of fundraising, not just the ask for money. Fundraising is not strictly about numbers; it is about focusing on cultivating relationships. A great fundraiser has strong communication and active listening skills and can be strategic and innovative in channelling their inspirations into appropriate action."
In her Policy class, she explains that "policy must be frequently updated to address and update antiquated ideas and processes." She continues, "As the policy is created in discussion with a group of individuals, the resulting policy reflects the power structures and people present during its formation. Pursuing social inclusion and accountability through advocacy efforts while maintaining policy as a living document allows decision-making processes to be informed by the constituents of which a policy affects."
Learning Remotely 
Luckily, Jasmine was already somewhat familiar with online learning due to her experience in blended classes (online + in-person) in university, and although this school year brought immense changes in many respects, Jasmine was still able to obtain great success from the program.
"I feel that I benefitted a lot from learning online because the time that would otherwise be dedicated to travelling could be spent on researching and attending panel discussions in the arts. I value the sharing of tools and resources that can help the transition during the digital pivot – such as mental health supports, accessible software for smaller organizations' operations, methods in attaining/maintaining funding during the pandemic, and communicating impact in a new societal structure. Many special visits by guest speakers highlighted personal experiences and feelings about the pandemic. With every insight shared, I gained the understanding that everyone is in this together," she explains.
Taking a Trip Down Memory Lane
Despite not being able to be there in person, Jasmine recalls memories from the program that centre around the connection she was able to make with her classmates. "I am fond of the Friday Night Socials that my classmate Ciragh Lyons hosted because it created a space where we could get to know each other in a deeper capacity. We truly were able to talk about anything under the sun and enjoy each others' company, provide advice or words of encouragement, and celebrate the beginning of the weekend!"
She adds, "Another fond memory of the program was meeting Onika Powell, again – the first time was at Arts Ahead in 2020! In the Careers 1 class, she spoke about her journey as an artist and arts professional and her motto that "everything happens for a reason." After reconnecting in that class, I wanted to pursue a mentee-mentor relationship with the help of Diana Webley. I am very thankful for meeting Onika again, her encouraging me to take up space, and having faith in my abilities as both an emerging artist and arts professional. She inspires me as she is rooted in community and aims to uplift voices of the unheard - a type of person I aspire to become in the community arts sector." 
Internship at Art Starts 
One of the exceptional benefits that several programs offer at the School of Communications, Media, Arts and Design is the opportunity to fulfil a placement requirement. This allows students to build upon what they have learned throughout the program and apply it within a real industry position in their given field. 
Due to the pandemic, pursuing a placement looked a tad different this year, as Jasmine says she felt many Arts Management students were feeling nervous because the pandemic brought financial hardship for the arts and cultural sector. She explains, "This meant many experienced professionals were laid off or had reduced hours and arts organizations were trying to stay afloat with limited human resources."
Regarding her own experience, Jasmine had the opportunity to pursue a placement with Art Starts – a Toronto- based, non-profit organization that encourages social change through art programming. Reflecting on this placement, Jasmine shares, "I am grateful for my professor Patty Jarvis's help in connecting me with Art Starts, a community arts organization that delivers amazing programs for all ages with the help of a passionate team. At Art Starts, I was the Program Liaison Intern who managed many of the logistics for the programming team, created program evaluation and onboarding documents and procedures, attended meetings with community leaders, and much more. My placement at Art Starts was greatly beneficial to my learning because I was able to utilize my knowledge in real-life applications. Every person I met during my internship energized me and gifted me with new perspectives during my emergence into the field."
Looking Ahead 
With the immense passion Jasmine has cultivated within this industry for several years, she is ready to take what she has learned and apply it even more in opportunities that will make a change. She is currently the Program Coordinator at Art Starts, as well as a cohort member of SKETCH Working Arts' NextUp! Leaders Lab.
In terms of advice for those entering the Arts Management program and this field, Jasmine says, "You must have an open mind to maximize your connections and growth. Success is the willingness to learn and apply yourself and your values to all that you do. No question is ever a bad question, be open to constructive criticism, and ask for help when you need it!" She adds that her biggest assets of the program include the mentorship, Storyworks, and the field placement. "They helped me to become more well-adjusted in my practical skillset." 
The work Jasmine has done so far is amazing, and we are so proud to see where her next adventures take her! To follow along on Jasmine's journey in the arts, you can find her work on Instagram @articulately_jasmine
Written by: Alexandra Few