Student Profile: Kai Little-White, Children's Media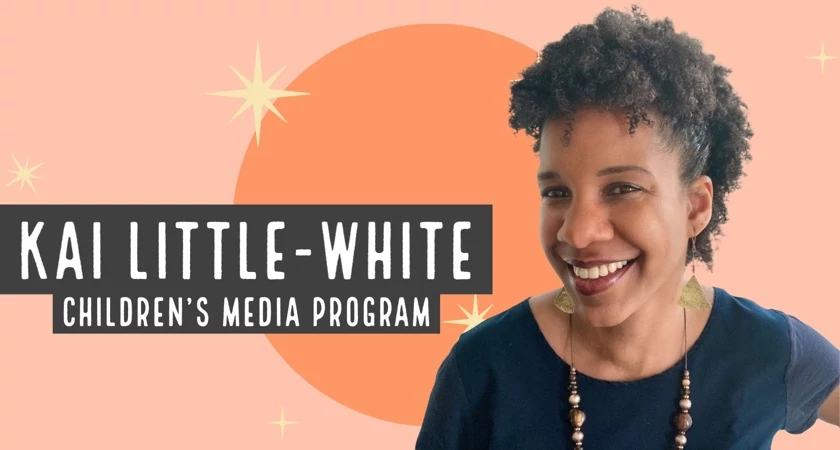 Kai Little-White is a current student in the Children's Media program but is no stranger to the world of creating, producing, and children's entertainment. With an expansive background in the industry and an abundance of opportunities she has embraced, Kai continues to shine through her work thanks to her dedication and passion.
Deciding on the Children's Media Program
The children's media industry sparks great interest for Kai, as she says, "I've always had a deep interest in people, culture, and circumstances and the way these intersectionalities create opportunities for perspective-taking. Growing up in the Arts in the Caribbean, I have always felt most comfortable expressing myself through media. As I started working more with kids in media projects, and kids made their way into my personal life as well, kids and family took hold of imagination and focus." 
Now nearing the end of the program, Kai explains that before she applied, she had the intention of blending her two worlds together - media creation and curriculum development. "The Children's Media post-grad program creates multiple opportunities for storytellers to find their voice in a range of mediums: linear TV, children's books, games, short-form videos, licensing and merchandising and more. I came into the program with a long-term goal of writing and developing IP, and that remains the same on the other end of the program," she adds.Creating a Multi-Season Reality TV Show in Jamaica 
Kai has a diverse professional background that ranges from experience in the media industry to becoming a classroom teacher. She says, "I'm the child of cultural revolutionaries who raised me in the worlds of media and the arts between Jamaica and Canada. I always had a fascination with understanding people and characters, which led me down a path of biology and psychology with a lot of hands-on experience in research and working with clients. I kept doing media production summer jobs and upon graduation, I went full-time into live-action production and eventually became a multi-hyphenate producer." 
While in Jamaica, Kai worked year-round on scripted and unscripted, long and short-form content, such as commercials and music videos. "I even created a challenge-based reality show for teens and new adults that ran for three seasons. It was a first in the Caribbean. My passion for scripted storytelling led me to Toronto where I worked in development at Conquering Lion Pictures and as a line producer and associate producer at Hungry Eyes Film and Television. These experiences helped introduce me to the Canadian media landscape. I love sensory-rich storytelling and authentic perspectives with innovative approaches, which had me thinking feature films were the only avenue," she adds.
Kai also had the opportunity to be a teacher, curriculum developer and researcher, which she says provided her with a "sense of responsibility to create and promote fun and enriching experiences." She adds, "The biggest hurdle was being able to put on that game face to deliver clear and engaging classes to kids and presentations for my peers. This was scary but doing it, again and again, helped me develop personal strategies to face small and large groups with the appearance of confidence and a little bit of sizzle. I have a great deal of respect for theatre performers."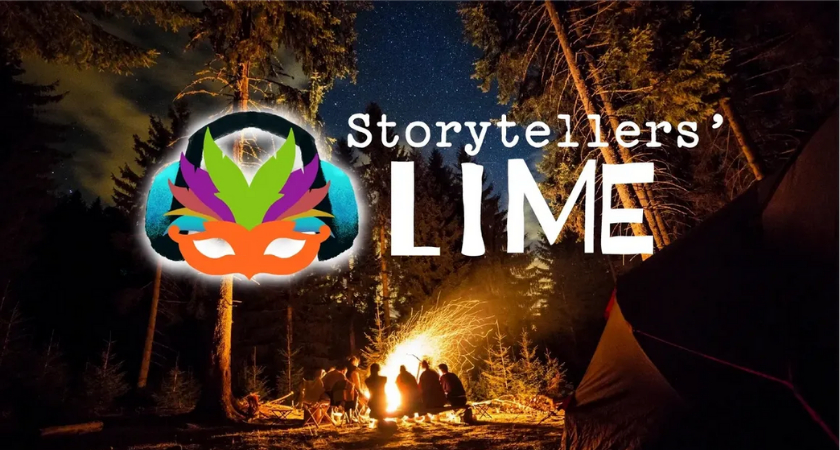 Storytellers' Lime 
Storytellers' Lime is an interactive, narrative podcast for youth between 11 and 15 years old. Kai explains that it spotlights the best middle-grade and young adult books by authors of the Caribbean and Latin America, and it is this representation that drove her to make the podcast. "In one of our classes, our professor was unable to find some key Caribbean and Latin American (CLA) texts. I knew they were out there and became determined to make sure CLA could be more easily discovered. Magdalena Goledzinowska, from the Leadership Academy at Centennial helped me focus my energies through the Dynamic Leadership pathway within Centennial's Toastmasters Club," she explains.
After launching an event that brought together the Story Arts Centre's community, which Kai says included seven storytellers (three current Centennial students) representing six cultures, the plan to create more events, which eventually turned into the creation of the narrative podcast, fell into place. "Going into the event, Anya-Kaye Parks from the Public Relations post-grad program suggested I do more than just a one-off event. So, I flashed back to Term 1 when Polly Beel had led us down a research path into podcasts, ebooks, and audiobooks, and Laurinda Shaver taught us the nuts and bolts of interactive media. In response to Any-Kaye's challenge and the obvious white space, the idea of a narrative podcast POPPED! In Term 2 Suzanne Wilson had tasked us to create a mini-business plan for an original project and Marc Repin had guided us to take a user-centric approach to develop projects that filled an unmet need. It all clicked. I reached out to Helen Sanios, the Children's Media Program Coordinator, who put me in touch with Amanda Logan from the Broadcasting program for a crash course in podcasting. David Cowdery, through ACCEL, helped me with early brainstorming, research and identifying viable business models… Thank you Centennial for planting this seed."
Entering the Transmedia Zone
The research Kai completed on Storyteller's Lime led her to the Transmedia Zone (TZ), where she says she could develop her project "within a community-focused incubator that would support experimentation in storytelling across entertainment media platforms and would encourage pushing the boundaries of what's possible."
When she applied to the Transmedia Zone, she repurposed the work she did for her mini-business plan in her program, in addition to using the pitching skills she acquired. "Storytellers' Lime got into TZ with the expanded team of Tandra Jhagroo, audio-engineer and music producer and Jared Lorenz, Technical Producer and Lit-Enthusiast. We're actively looking for more partnerships." 
She continues, "The TZ Zone includes a summer bootcamp, ongoing personalized advisor sessions, and other supports to help us develop the project and get it to market. We've incorporated the fictional characters and world I developed through the Children's Book class at Centennial taught this year by author, Nadia Hohn. The podcast now features the co-hosting teen characters and their solarpunk world as a framing device to spotlight the best middle-grade and young-adult books by authors from the Caribbean and Latin America. The podcast takes a campy sci-fi approach to explore each book, interview its author, and bring excerpts of the book to life through sound-rich audio plays. There's also an embedded interactive choose-your-own-adventure twist which I'm super excited about. It's like a mashup of some of my favourite podcasts like Welcome to Nightvale, The Rez, and Time Storm. The project has been resonating with people for different reasons and that's been exciting to know that we're touching on things that matter, so we're leaning into that."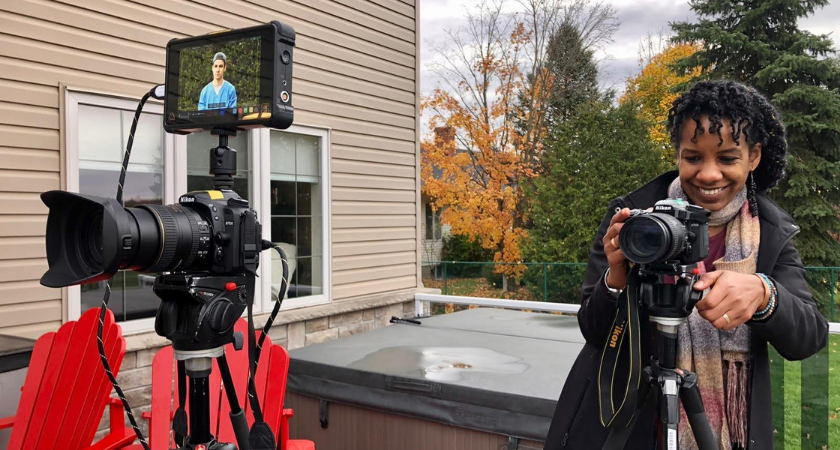 Receiving the Banff Scholarship & Feature in ReelWorld
The Women in Film Toronto (WIFT) Banff World Media Festival Scholarship provided two WIFT Toronto members with full access to the virtual Banff World Media Festival, and Kai was selected! She thanks Jennifer McIlroy for doing a great job preparing students for the opportunity, and in terms of the festival, she says, "I met a lot of peers and people whose work or company I admire.  My plan is to focus on writing in the kids and family space, so I'll nurture the seeds planted at Banff and am very grateful to WIFT for the opportunity."
Access Reelworld is a platform for Canadian Black, Indigenous, Asian, South Asian, Middle Eastern and Latin American creatives in the screen industry, which Kai has been part of since moving to Toronto. She was recently included in their Reelworld Spotlight, where she talked about her experience in the industry and her time in the E20 Program, which is an initiative run by Reelworld. "Reelworld is consciously increasing their community engagement, including spotlighting alumni," she says.
Favourite Traits of the Industry
Looking at the media industry, Kai says she appreciates the "capacity of media to entertain, engage, enrich, and inspire all at the same time." She continues, "In children's media content is often more evergreen, which to me, adds more value to the process of creation. There is a wonderful sense of community in the kids' media space. Everyone I have met in the children's media space has a deep love of children and really wants to do their best by kids and their families—for today and the future."
In terms of her goals and what she hopes to achieve in this industry, she explains, "I'm a chronic daydreamer who grew up building rich worlds, so career-wise, I am pursuing working as a writer of scripted kids and family content. With my multi-hyphenate background, I would also like to work as a showrunner or a development executive able to guide projects from idea to audiences."
In her program at Centennial, Kai worked on several projects that she really enjoyed, including Pandemic Talks (a COVID-19 PSA that won two awards), Oh Deer! (an Eco Science HTML5 game) and Kids Esteem (a mental health magazine for young kids recently launched in Ontario). She says, "[Each project] allowed for collaboration, creativity, and the creation of fun experiences with the purpose of enriching the kids and the world around them." 
To keep up with Kai, you can check out her website or contact her through Access Reelworld. Also, be sure to check out Storytellers' Lime for more details!
Written by: Alexandra Few