Graphic Design Student Raquel Scott Creates Anti-Racism Poster for Michael Garron Hospital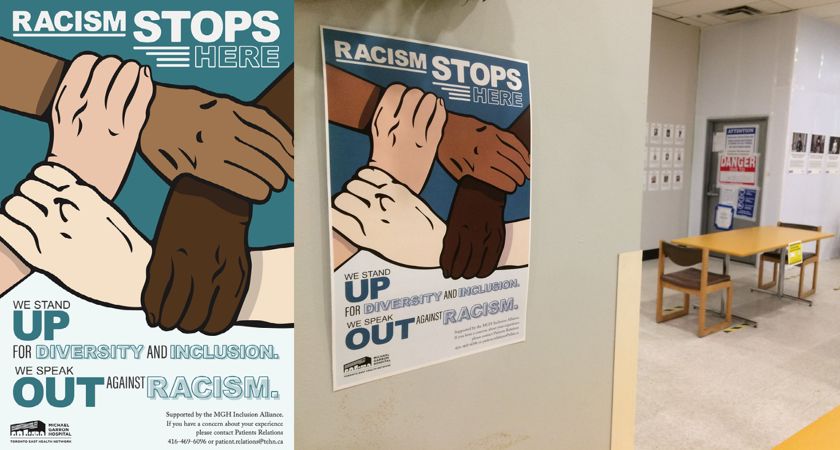 Graphic Design Instructor and Program Coordinator, Lisa Rebnord, was approached by the communications department of Michael Garron Hospital (MGH) and was asked if she had a graphic design student in mind that would like to take part in creating an anti-racism poster that they could display around the hospital. After recently launching an Inclusion Alliance in September 2020, the hospital continuously aims to address racism and discrimination across its organization, and they were looking for a poster that would help reflect this.  
Lisa connected with Kevin Holm, the Graphics Coordinator at MGH, who originally reached out to her with the request. "Knowing that our College is in the same community, he reached out to me and asked if I could connect him with a BIPOC student that would be able to work on this project," she explains. After scoping out what the project was and why they wanted it, Lisa began to search through her student list, and after reaching out to a few students, Raquel Scott responded to Lisa and was excited to join the project.
"It's nice for our students to participate in real projects. I think the hospital was great to work with, and they treated her like a professional. She was invited to meetings, and she presented work to the committee, so she gained that professional practice," Lisa explains. She is extremely proud of Raquel's work and thinks she did a great job at clearly communicating the concept behind the poster. She says the illustration is strong, modern, and has beautiful typography.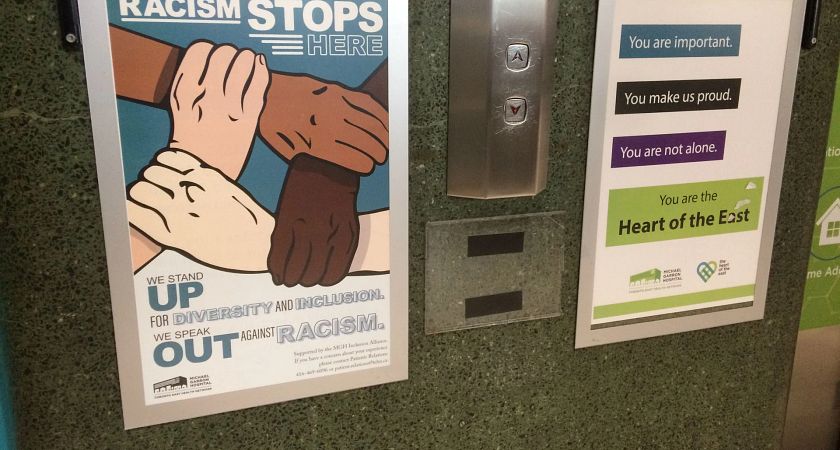 Raquel, who is in her final year of the Graphic Design program, was a bit hesitant in her abilities at first when Lisa reached out regarding the project. However, she is glad that she decided to follow-through because she says it was a wonderful experience working with MGH and a great way to kick-start her freelance business. "Once I connected with the MGH reps, everything went smoothly, and I formed great relationships out of it," she explains. 
The scope of the project included several key components that Raquel had to deliver. She explains, "The guidelines included the poster size of 11x17 inches as well as to include the hospital's logo and their message to the hospital patients, visitors, and employees. They also wanted the poster to feel warm and welcoming, but also to convey a clear message without being too serious. The intent was to show that the hospital, supported by the MGH Inclusion Alliance, stands up for diversity and inclusion and speaks out against racism. They also want to create a safe environment for people to speak up if they do experience racism within the hospital or in the community surrounding the hospital. 
With this in mind, Raquel began to think of ways that she could portray the message the poster intended to convey. "At first, I did some research on what could represent racism as well as diversity and inclusion. A well-known display of diversity is the joining of hands from people of different ethnic backgrounds. I thought this would be a great idea to grab the attention of people walking by. I did some sketches of this idea as well as another option which included a stamp of a black hand to imply 'stop' and 'stop anti-black racism'. I then converted these ideas to digital roughs which were sent to the Inclusion Alliance reps to decide between."
Being a graphic design student has allowed Raquel to acquire numerous skills to advance herself in the field, which ultimately helped her navigate this project. Already with a University background in Studio Art, which included drawing, painting, and sculpting, and a diploma in Pastry Arts Management from Centennial, she decided to choose the graphic design field with the hope of a more stable career in the art industry. "Digital Art is the way the world has been heading, therefore I wanted to expand my art skills into this field and see if I enjoyed it, which I definitely do. I chose Centennial because, of course, I already have experience with this school as I am already an alumnus, it is close to home, and the program looked intriguing," she says.
Her classes have provided an immense learning experience for her. When asked what she enjoys about the program, she says, "Honestly, everything. I have thoroughly enjoyed my experience in the program. I feel like every class that I took prepared me for my future in Graphic Design, and I loved every minute of it. Some of the classes were challenging at times, but it pushed me to where I am today as a designer."
Raquel's work for MGH has certainly given her a great opportunity to add to her portfolio while adding to her overall experience in the Graphic Design program. Another benefit is that she has been able to see her work displayed throughout the hospital. She says, "I am very proud of myself for taking this project on, and the positive feedback that I received from the Inclusion Alliance members was quite uplifting and encouraging. It is also very cool to have my work up because my mom is actually an emergency nurse at Michael Garron Hospital, so she gets to see my posters whenever she goes to work. I am also proud as a Black woman to be able to create a statement poster that stands up for diversity and speaks to anti-black racism."
Congratulations, Raquel!
Written by: Alexandra Few