Journalism Student, Akash Sidhu, Fills Bus with Food Donations for Mississauga Food Bank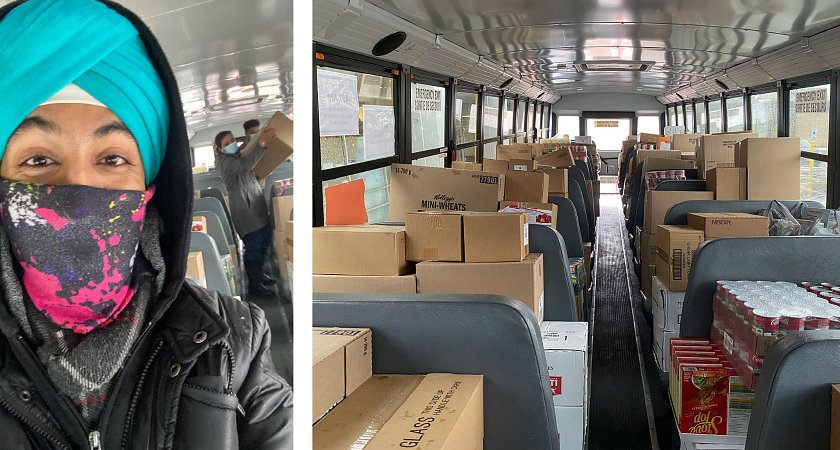 Contemporary Journalism student, Akash Sidhu, has a tradition of trying to give back to his community every year on his birthday. Despite being in the midst of a pandemic, Akash found a way to safely continue this tradition by loading a bus full of food to give to a Mississauga food bank, Seva Food Bank. Why on his birthday? Akash explains, "A lot of it stems from the fact that whenever a birthday comes around, we start thinking about our age and life in general, and for me, I think, what is our contribution? Life is so finite, and what have we done to benefit our fellow humankind?"
More commonly known as the "Stuff A Bus", Akash says that you typically work with the community, such as grocery stores, business people, and anyone in the public, to receive as many food donations as possible in a day to give to a food bank. With COVID-19 restricting interaction with the public, Akash went to small businesses to see if they could pitch in at all. Once he pulled everything together, he made a bulk purchase from a store, where he used their discounts and bundles and gathered a sizeable donation to fill the bus.
Choosing a school bus to donate items may be uncommon, but there was a very special meaning behind choosing this mode of transportation. "To me, the school bus is really cool. When we think about a school bus, it brings back memories… and when someone sees a bus, and there is some excitement towards it, it helps break the ice," he explains. Switzer-Carty Transportation worked with Akash to get the bus, which helped to make all of this a reality.
Akash's selfless act has garnered a lot of attention from local media outlets, including CBC. Broadcasted on Here and Now Toronto with Gill Deacon, Akash took part in a radio interview to discuss the details and purpose behind his food donation. For the interview, he says that he wanted to be a general voice as a way to represent Canadians, young people, and volunteers. Other news outlets like blogTO and iHeartRadio also shared details of the donation, which Akash has been very grateful for. With the media often showcasing negative news, he says, "I was noticing a lot of people were saying thank you; finally, some good news," which Akash says was the coolest thing about it. "The reason why I even wanted to post about it or share it with anyone, was to inspire other people so that they can realize one person can make some small difference," he says.
Being a Contemporary Journalism student, interviews and story features are not new to Akash. He says, "So far, [the program] has been great. The community and the professors have been very supportive." He wants to give a special shoutout to instructors Ellin Bessner, Tyler Anderson, and Tim Doyle, as he says, "they've been supportive and helped mould my journalistic abilities to be able to do things like I'm doing." This program really stood out to Akash, as he explains, "I was looking for something where I could become a better communicator and a better writer. This program immediately stuck out to me, and a lot of the faculty that are there are really awesome."
Akash's plan of delivering the sizeable donation stems from his volunteer experience with Seva Food Bank. He says while he volunteered there at an earlier stage of his life, he learned about how food banks work. He was also able to meet those who used the food bank, which gave him the spark to want to do his own type of contribution. In addition to that, Akash explains what being Canadian means to him. "As Canadians, what separates us from any other nation in the world is our spirit and the fact that we wear the maple leaf in our hearts, and we give back to each other. That is what it means to be part of this country, and that's what it means to be Canadian. If everyone does their own little part, that's how a community gets stronger, and collectively, that's how Canada gets stronger."
Great work, Akash!
By: Alexandra Few