Journalism Student Morgan Lightle Gets Published in the National Post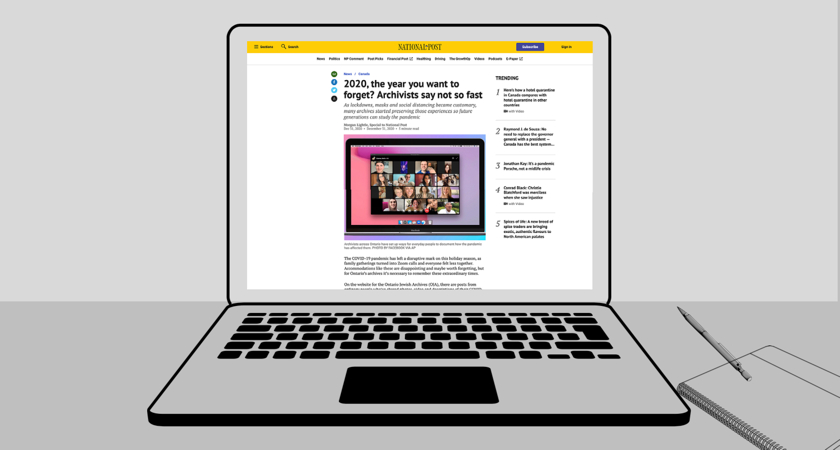 Morgan Lightle, a current student in the Contemporary Journalism program, was tasked with an open-ended writing assignment. Unsure of what to write about, he approached his instructor, Ellin Bessner, with an idea that he wasn't fully confident in. With another student writing about a similar idea, Morgan decided to scrap it and start from the beginning. When Eillin recommended archives to him, it sparked some ideas. Knowing he had an interest in memory and how we as humans culturally respond to traumatic events, such as COVID-19, Morgan began to research. "I googled COVID-19 archiving in Ontario and found that mostly University archives are doing all of this digital work and asking for donations or doing questionnaires, which I thought was really interesting. There had been a few articles about it at the beginning of the pandemic, but nothing really later, and so I thought there was a gap I could fill."
This is what led Morgan to write: 2020, the year you want to forget? Archivists say not so fast. Taking a viewpoint that focuses on the historical significance of COVID-19, Morgan outlines how various archives within Ontario are looking to document this time we are all experiencing as a way for future generations to study it. He writes within the article, "The pandemic is an obvious historical moment, and no one knows this more than archivists. As society went into lockdown, individuals and families isolated, and the wearing of masks and social distancing became customary, many of Ontario's archives started preserving those experiences so future generations can study and understand the pandemic."
After submitting the article for the assignment, he received feedback from Eillin, in which she mentioned that the National Post could publish it. Morgan says he thought that would be really cool but didn't' think she was serious. "Professors have talked about it happening for other students, but I didn't see it happening," he explains.
After the holiday break, he opened his email inbox to find Ellin had pitched his article to one of the editors at the National Post! Morgan ended up sending his article right away after he viewed the message and says he did not see it coming at all. 
COVID-19 has certainly affected several areas within media, with journalism impacted significantly. However, Morgan says, "COVID has given journalists a reckoning, and has maybe helped other people recognize how important it is to have accurate information." He entered the Journalism program in 2020 for two main reasons: a desire to contribute to society and a love of writing. Although he entered the program not knowing COVID-19 would be as impactful as it has been, he says, "the practical skills and what we are learning is very fascinating." 
Congratulations on this exciting achievement, Morgan! To read his full article, click here.
Written by: Alexandra Few