Music Industry Arts and Performance Coordinator Jesse Feyen Creating New Music Under the Name Ancient Relic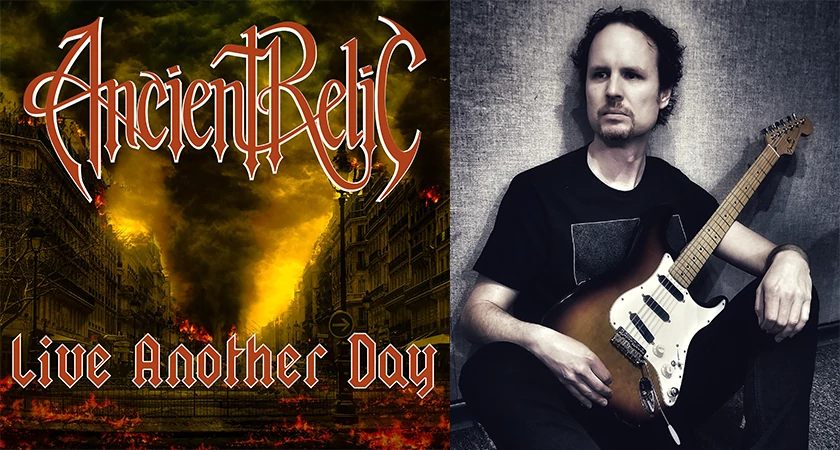 Under the name Ancient Relic, Jesse Feyen, the Founder, Instructor and Program Coordinator of the Music Industry Arts and Performance (MIAP) program, is fulfilling his passion for making music with his release of an original single called Live Another Day. His 80's meets metal style of music is represented in this song, which Jesse says comes very easy to him in terms of writing and performing. He explains, "Even in the past when I wrote other songs and wasn't trying to write in an 80's style, it always just kind of came out that way."
Music is such a big part of Jesse's life, which is highlighted through his other passion: teaching. "Before the program was launched at Centennial, I did a bachelor's, master's and a Ph.D. in music, and the goal of doing that was always to teach at the post-secondary level. That's what I've been doing at Centennial… and this is my dream job. I can picture staying here and doing the same thing for the rest of my working life, but there still has always been this performer in me too. I love making music and performing, but just in the process of getting my masters and Ph.D., and then building and running a new program, there wasn't always a lot of time, especially for songwriting," he explains. 
A few years ago, Jesse thought about how great it would be to release original music, and this desire to create and perform live cultivated within him. However, wanting to enter the music industry also stems from his desire to assist his students in the MIAP program. "As a head of a music program that's very practical, hands-on, and career-oriented, and where students are releasing material, I thought that as somebody who is running the program, this should be something that I have experienced as well. I should learn what it's like to release original material in 2020 and beyond," he says. "I feel like I'm in a really good position now, better than I was in before, to give students advice in formal settings like classes, and also just when they are talking to me. I can give advice like this is what you should be thinking about when you're releasing original music because there's a lot of different aspects to think about."
Generally speaking, his advice to those entering the music industry makes up two parts: Work hard and keep learning.
"It's a lot of work to record and release a song, as well as market it and get it out there. Part of working hard is continuing to learn - learn more about the industry, learn more about songwriting and recording, and about what's going on in the industry because it's always changing and there is new stuff happening," he says. This advice also applies to him. He explains, "The reason why it's important for me to stay on top of it, as I'd advise anybody to be, is because MIAP is a three-year program, so we might be teaching students certain stuff when they are in their first year, but by the time they are in their third year, there might be a new thing out. Even just very recently in the last few months, Spotify has started Canvas so that while a song is playing, a ten-second video is playing behind it. That's a very recent feature, and if you are not working hard and always learning, then you will be behind."
Since Jesse is very much a one-man band, as he is the one playing all of the instruments and singing on his songs, performing live is not possible. However, he says that once the pandemic is over, he would love to put a band together and perform live. In fact, prior to the pandemic, he had a rehearsal scheduled with some musicians who would form his band, Ancient Relic. Unfortunately, in less than a week before the rehearsal, the pandemic hit and made that not possible. 
What does the future of Jesse's music look like? Later this year, he will release two additional singles that are a similar style to Live Another Day, but he says an album is hopefully on the horizon. "I've written enough material for an album, so it would just be a matter of recording it, and hopefully I'll be able to do that sometime. Music is something I do on the side because I enjoy it and because I like to learn. I run the music program, which is a busy full-time job, and I also have two little kids, ages 5 and 2, so it's a huge priority for me to invest time into them."
Jesse's original song has already received airplay on ten different College radio stations across Canada! To listen to it for yourself and to keep up to date on all things Ancient Relic, click here.
Written by: Alexandra Few