Madison Dal Bello | GRAD-preneur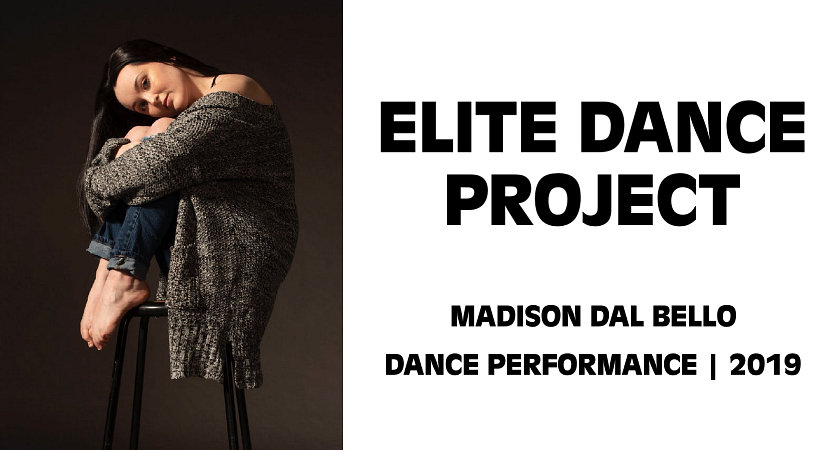 Madison Dal Bello is a 2019 graduate of the Dance Performance program. She opened Elite Dance Projectin May of 2019 in Guelph, Ontario shortly after graduating. "I am the owner and director of the studio, with a few amazing teachers helping along the way."
What's the most interesting thing you've done professionally since leaving the School of Communications, Media, Arts and Design?
Since I've left college, I travelled to Los Angeles to complete the Millennium Dance Complex Certificate Program, where I trained with leading choreographers. The experience was nothing like I have experienced before. Centennial College absolutely prepared me for what to expect and made my time very enjoyable!! I then came back in September 2019 to start Elite Dance Project back home. Since then, we have been training students to have the opportunity to go into a dance career.
What's your favourite memory from your time at the school?
Over two years there, we had so much fun and great memories together. I loved the chance to go to New York City with my graduating class, to take classes with some of the best instructors. Another would be during second year where we had a photoshoot in Audition Prep class, which was a great opportunity to have professional photos done.
How did your experience at the school shape your entrepreneurial goals?
Throughout my time at school, we learned different career paths that are possible with our schooling. It was great to know our options, but I knew owning a studio was a path I wanted to go down. In career class, we would talk about what it takes to own a business, which has helped me quite a bit, but there are a few times where you have to learn as you go.
What advice can you offer students who have entrepreneurial dreams?
If you have a goal, do it. You are never going to be "ready", take the leap of faith and go! No idea is too big, they are all manageable!!
What's the best piece of advice you received when starting your business?
"You can't please everyone". Which is tough to hear but very true. If you go into your business thinking you can make everyone happy, you will be very sadly mistaken. Go with your gut and make sure your business is authentic to you.
In one sentence, what does the School of Communications, Media, Arts and Design mean to you?
Centennial College opened up my eyes to possibilities that I was unsure of before. 
How did you come up with the idea or concept for your business?
I had an idea when I was around 15 years old but was unsure if this was obtainable. I loved to teach and had many different ideas of what I liked and disliked growing up in the dance world. I knew I needed a new feel and positive atmosphere for these new dancers growing up, and if I wanted to change it, I would have to do it like this. During school I developed the concept with the logistics of how the studio would run, our rules and our values. Everything fit, it was the perfect timing to go for it.
What have the results of your business been?
Overall, I have had nothing but positive feedback. However, with the pandemic it has been very difficult to manage opening and closing. Owning a business is never smooth sailing and I appreciate being humbled in my first few years of being opened. Currently, we are all online praying to be open for competition season. Our dancers have been training super hard before lockdown and we are eager to be back in the studio!
What's next for your business?
In the next few years, I would love to grow and expand both building size and clients. We have already brought in multiple guest teachers, which I have always loved the idea of. In November of 2019 we brought in Briar Nolet, which connected students from all over the area to share the love of dance. We bring in guest teachers (who are graduates from Centennial College) every so often to give the students a different outlook on dance. I never want to keep the students learning from one person, we want to share and inspire with everyone. Our next goal is to have monthly guest teachers who share something unique in the industry! 
It's your call - tell us something interesting, cool, odd, unique etc. about you or your business. 
I have made multiple connections in Los Angeles during my program who would love to come to our studio to share their knowledge! We are preparing our students and encouraging them to go for a career in dance.
Be sure to check out Elite Dance Project on Instagram @elitedanceprojectguelph 
--
GRAD-preneur is a weekly series that highlights some of the outstanding School of Communications, Media, Arts and Design graduates who have successfully started their own businesses. This series shares the stories of our graduates and their time at our school, as well as provides valuable advice about being an entrepreneur.